There are few experiences quite as disappointing as finding yourself at a bad restaurant. Sometimes it's completely unexpected—the establishment seems nice on the outside, the waitstaff is friendly, but the food is just terrible. Other times, like your ex, there are red flags all over the place. People are taking to Twitter to share their own signs of a bad restaurant and they're hilariously accurate.
1.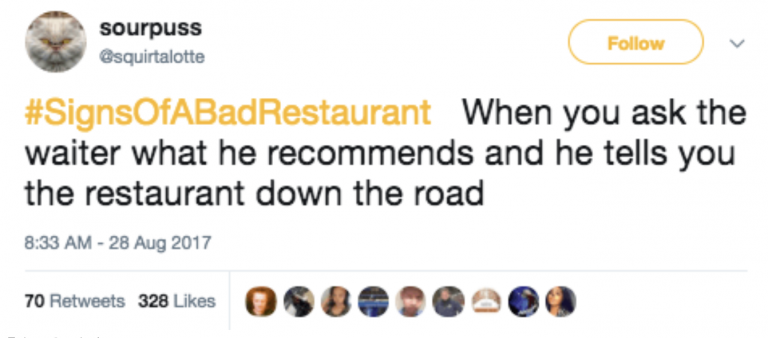 2.
Gordon Ramsey turns up with a film crew
#SignsOfABadRestaurant

— Bensworld (@Benie_ben) August 28, 2017
3.
#SignsOfABadRestaurant Italian Restaurant with no bread on the table…. pic.twitter.com/QYn1Z2h4GX

— Chilled Chaos (@ChilledChaos) August 28, 2017
4.
https://twitter.com/helenmaryme/status/902138706370240512
5.
https://twitter.com/goddamitalex/status/902209253447843841
6.
The head chef is a microwave #SignsOfABadRestaurant

— Crystal Farmer✨ (@piscesfullmoon) August 28, 2017
7.
8.
9.
You ask for clean utensils and the waiter tells you that's an extra charge. pic.twitter.com/Mc3Bjs9lww

— Monday Mayhem (@monday_mayhem) August 28, 2017
10.