In a world where Instagram dogs and kids who open toys on YouTube are considered celebrities, it's fairly easy to connect yourself to "fame," but what about weak connections to real stars?
Recently, writer Steve O'Brien took to Twitter and asked people to share their "weakest claim to fame." And it turns out, people have some doozies.
The tweet itself has over 22,000 responses as of press time.
What's your weakest claim to fame? I once dated the cousin of someone who played a cat nun on Doctor Who.

— Steve O'Brien (@MrsSteveMOBrien) November 2, 2020
Enjoy some of the best responses to this game of Six Degrees of Random Celebrity:
---
1.

2.

3.
Also once dated a woman who was Kate Winslet's younger sister's drama teacher.

— Steve O'Brien (@MrsSteveMOBrien) November 2, 2020
4.
5.
I once found Parks and Recreation filming in a park in Sherman Oaks near my home and got as close as I could. That's me below. https://t.co/2wYb7gIm3a pic.twitter.com/wSznwnNyCY

— Jason Inman (@Jawiin) November 3, 2020
6.

7.
I asked Patrick Swayze where the restroom was and he led me to a vending machine and said I could just pee into the dispenser. I declined. https://t.co/6yqYa9powF

— viet CALL ME DR. nguyen (@viet_t_nguyen) November 3, 2020
8.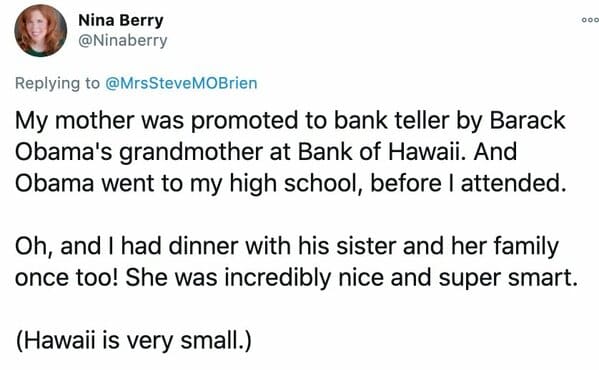 9.

10.
11.
I was in Latin class with this girl (on the right) who got covered in gore while riding the roller coaster with Fabio when the goose hit his face pic.twitter.com/QwrcFLrR7X

— ShirtlessWrasslin' (@ShrtlessWrassln) November 2, 2020
12.

13.

14.
Was almost in a water park commercial as a kid but my swim trunks came off on the surf ride and everybody saw my penis. Camera guy was too embarrassed to ask for another take https://t.co/dESs7FFDEZ

— The Medieval Latino (@len0killer) November 2, 2020
15.
I tripped over Sebastian Stan's foot exiting a bathroom at a bar in Philadelphia https://t.co/z2oOzfhelT

— BD (@BrandonDavisBD) November 2, 2020