11.
Our duly elected officials acting out a skit from @ShermansShow wasn't on my 2020 bingo card either. pic.twitter.com/sMhPeqWd44

— Phonte (@phontigallo) June 8, 2020
12.
I actually DID have Trump saying an old white man bleeding from the head after being shoved by angry police had it coming on my 2020 bingo card. Because what else would a giant piece of shit say?

— Ron Perlman (@perlmutations) June 9, 2020
13.
Okay, who had "Escorts join forces to expose Lindsey Graham as gay and use his hypocrisy and his anti-LGBT record to kick him out of office" in their 2020 batshittery bingo card?

— Santiago Mayer (@santiagomayer_) June 5, 2020
14.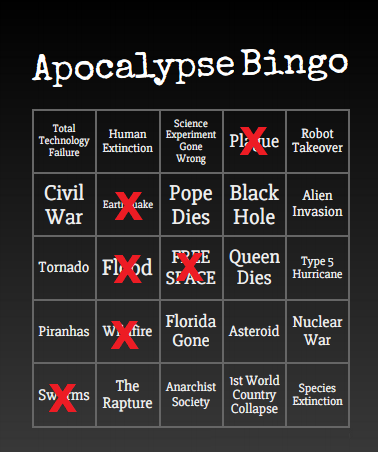 15.
didn't have 'kpop fancam allies' on my cyber-apocalypse bingo card but man i'm glad they exist and i take back everything i said in annoyance about fancam spamming, good luck and god bless

— ~Abolish the Police~🌹 (@TheMittani) June 3, 2020
16.
The guy who had Third Amendment on his apocalypse bingo pic.twitter.com/oouMZuHECE

— Dani K 🤍 (@dani_kerley) June 5, 2020
17.
I did not have Kelly Clarkson filing for divorce on my 2020 bingo card

— Worst Year, Gayer Nic (@CloneNic) June 11, 2020
18.
Have to say, Miley Cyrus calling out Leo Varadkar was not on my 2020 bingo card https://t.co/3wWh26YOKJ

— ryan (@ryanmcdyer) June 13, 2020
19.
Wait. B Simone shitted on protesters and 9 to 5 workers while making a million dollars off stolen Pinterest content? This was not on my 2020 BINGO card.

— call gunna if you want you a birkin (@KiaSpeaks) June 13, 2020
20.