The year 2020 isn't even halfway over and it seems like more has happened in six months than in the past decade. Has it really? No, of course not. But the things that are happening are so huge and complicated and unexpected I definitely feel as though I've aged ten years. In the midst of this turmoil, the "2020 Bingo Card" meme has risen as a way to list off all the many bizarre and surprise events hitting us this year.
Sometimes people use the 2020 Bingo Card Meme to describe stuff they didn't seem coming, sometimes they make actual bingo cards they made that show the events that have already come to pass in this "hellscape" of a year. The funniest ones to me are the moments of note that seem like they were produced by a plot generator: add these two random famous people together, throw in a conflict, and boom, you got a Bingo square for 2020. If it involves a huge number of animals somehow, even better.
The 2020 Bingo Card memes are very funny, but I'm starting to worry that they're conjuring up some stuff. If you have anything on your Bingo card that you don't want to see come to pass, now might be the time to tear it up.
1.
Who had "Neil Gorsuch writes 6-3 opinion declaring that federal employment discrimination laws protect LGBT people" on their 2020 Bingo card?

— Scott Bixby (@scottbix) June 15, 2020
2.
Who had "duck army" on 2020 bingo? https://t.co/81KY35bAmP

— Holly Thomas (@HolstaT) June 7, 2020
3.
I definitely didn't have "woke Mitt Romney" on my 2020 dystopian hellscape bingo card. pic.twitter.com/o6KSkpeWNc

— Matt Rogers 🎙️ (@Politidope) June 7, 2020
4.
To be fair, I did have Lady G coming out of the closet in my 2020 Batshit Crazy Bingo Card. But the real crux of the matter is his change of personality, and becoming a sycophant. pic.twitter.com/STMHLZgWCc

— BLACK. LIVES. MATTER. (@CatFalzon) June 5, 2020
5.
I didn't have anti-racist tea on my 2020 bingo card but I am delighted that it is here. https://t.co/DRKiqQqbqG

— Maureen Johnson (@maureenjohnson) June 8, 2020
6.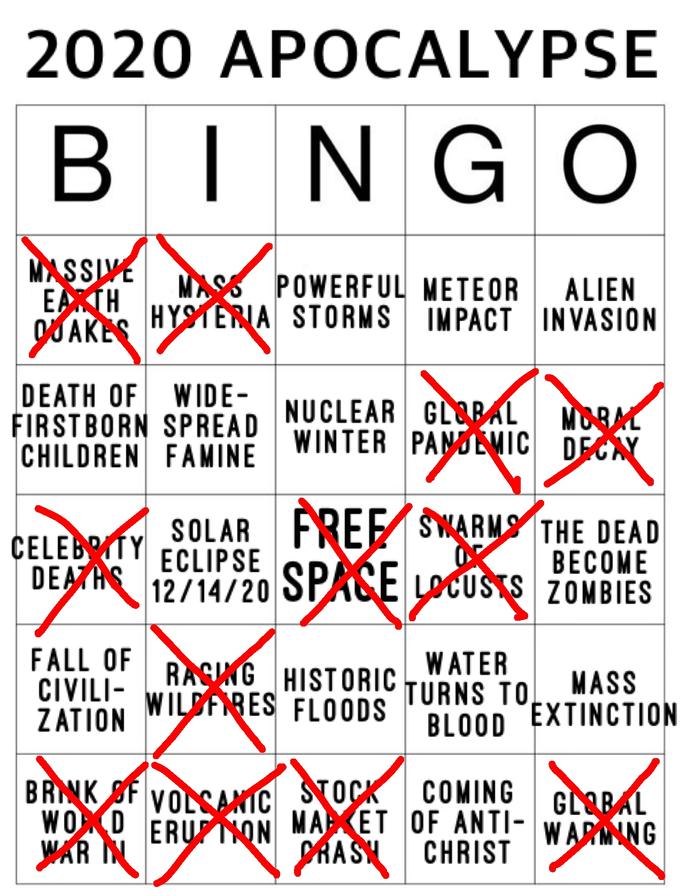 7.
Apparently some folks liked my 2020 Batshit Crazy Bingo Card. So let's play, shall we? pic.twitter.com/AfI6GxosJb

— BLACK. LIVES. MATTER. (@CatFalzon) June 5, 2020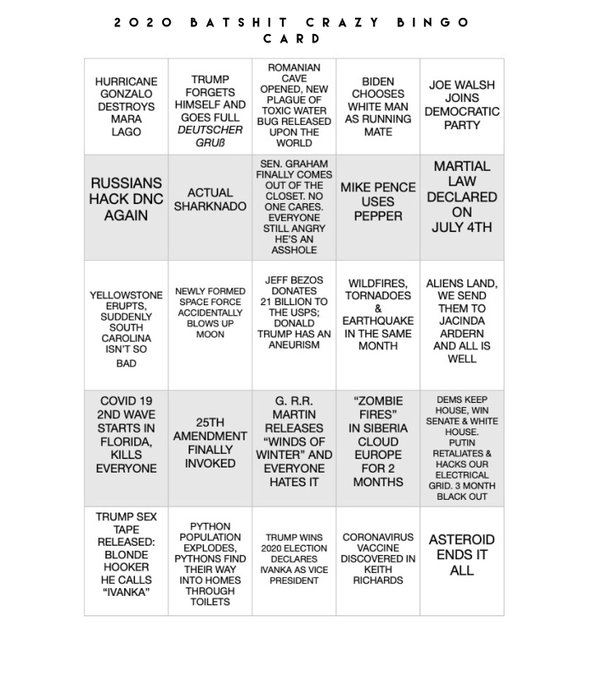 8.
2020 Hellscape Bingo!! pic.twitter.com/EYH7j9wtz7

— Rick Wilson (@TheRickWilson) June 5, 2020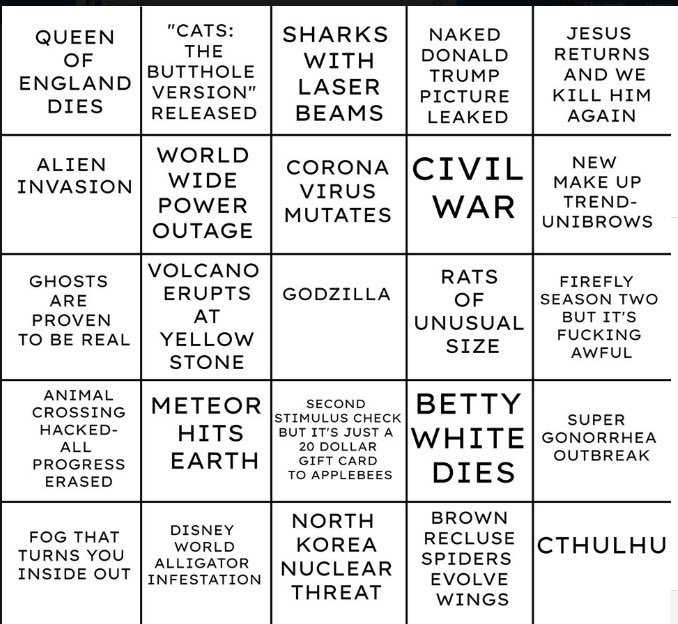 9.
The NYC Dept of Health encouraging gloryholes was not on my 2020 bingo card https://t.co/43pXyPgpfS

— grant 🧔🏻 (@urdadssidepiece) June 9, 2020
10.
Ice Cube becoming a q guy is literally all we need to complete the 2020 insane bingo https://t.co/sfBYRe8aXX

— lil babushka (@cowgirl_beebop) June 10, 2020