Well, there's a pandemic, aliens exist, and we're entering the second global recession of the last 12 years, but don't worry—things can still get worse. Reports of Murder Hornets arriving in the U.S. have captured the public's imagination, and murder hornets memes were not far behind.
The Independent reports that entomologists are trying to warn people that any sign of a murder hornet must be reported immediately to keep them from gaining a foothold on our soil. Originally from Asia, a murder hornet can kill a person who receives multiple stings, even if they have no known allergy.
That's pretty scary, but to be honest I'm more alarmed by the murder hornet's potential to decimate an already struggling honeybee population. Their M.O. is to invade beehives, take no prisoners, and feed bee thoraxes to their larvae. It's bad news for agriculture if they spread, and officials are saying if we don't do it this year, we might never be able to get a handle on them. Hmm, does this seem like the year for coordinated federal efforts to help anyone do anything?
At least Twitter is helping by making lots of good jokes about yet another disaster raining down upon us. Here are the funniest murder hornets memes and tweets to distract you from the fact they'll soon take over a meadow near you.
1.
You know the saying, April diseases bring May killer beeses

— Evie Nagy (@EvieN) May 3, 2020
2.
March: 😷
April: 😷👽
May: 😷👽🐝
June: 😷👽🐝 ????

— Matt Oswalt (@MattOswaltVA) May 3, 2020
4.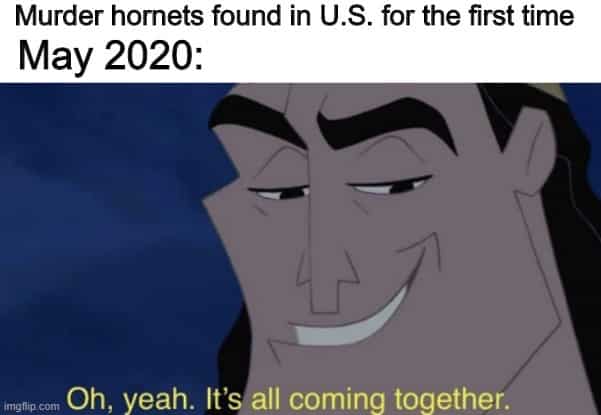 5.
I will beat the fuck out of one of those killer wasps bro please leave me the fuck alone I don't even come outside anymore

— Aye throw that Boyz II Men on (@DragonflyJonez) May 3, 2020
6.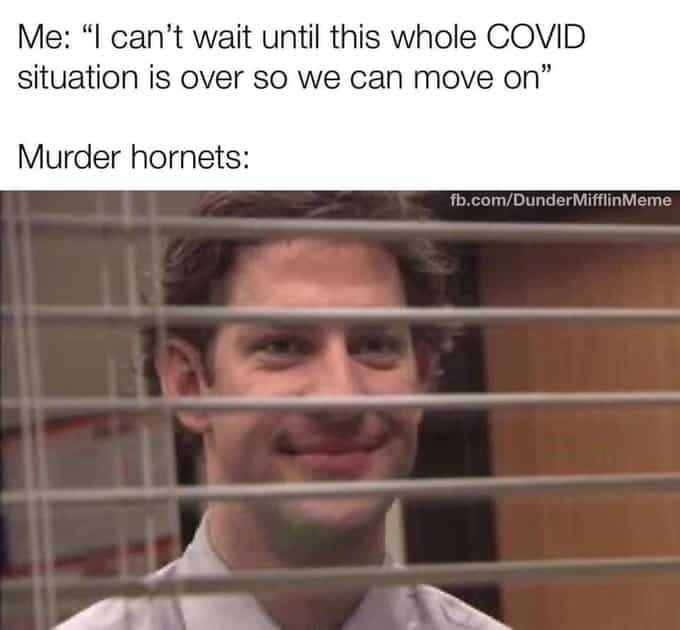 7.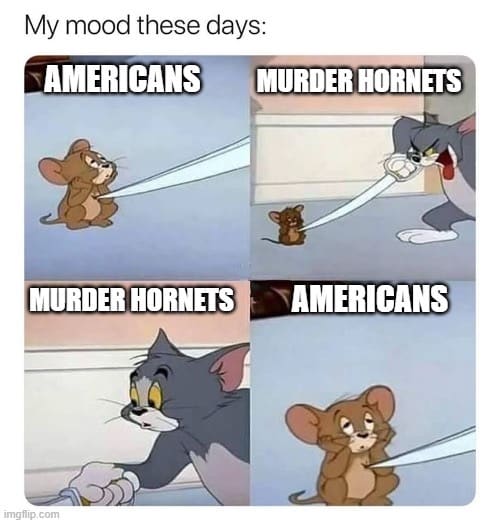 8.
Therapist: so what makes you most proud, John?

John Hammond: you know, I am really proud of the dinosaurs I made from the murder hornet DNA

Therapist: the what DNA?

John: eh. um. mosquito! mosquito DNA

— Lia (@lifeisforkedup) May 4, 2020
9.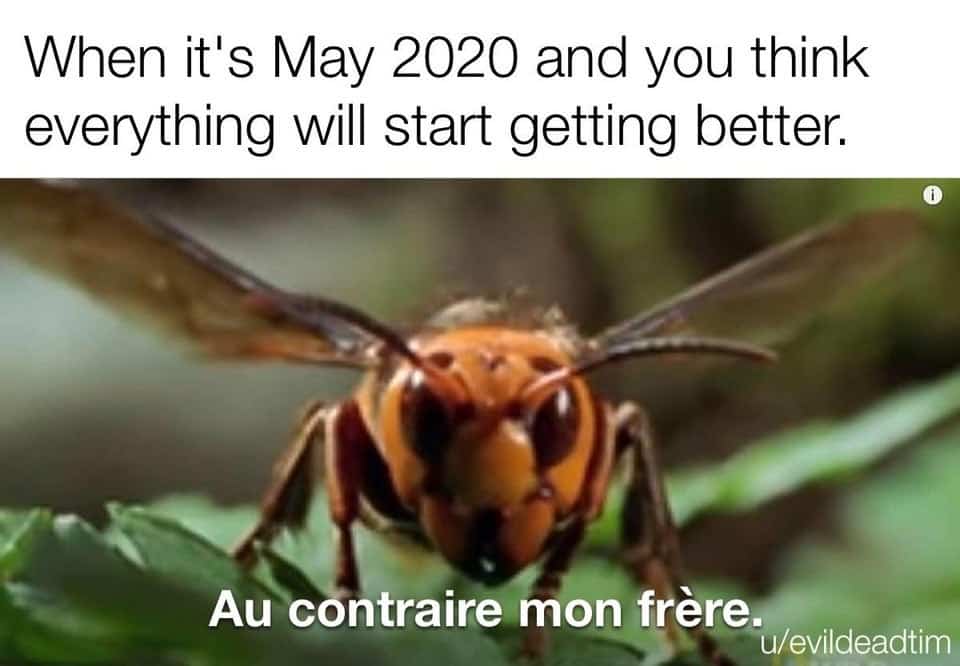 10.
God sprinkling some murder hornets on 2020 https://t.co/GAYQ3UcEf4 pic.twitter.com/W22HmcaaJu

— Chris Long (@JOEL9ONE) May 3, 2020