It wouldn't be Super Bowl Sunday without memes and Tweets about everything from the commercials to the halftime show, and occasionally the game itself.
As you may know by now the LA Rams got the job done in the last 1:25 of the game, beating the Cincinnati Bengals 23-20, but the funniest and most meme-worthy moments came from all the crypto and Lays commercials, and the Pepsi Halftime Show featuring Dr. Dre, Snoop Dogg, Eminem, Mary J. Blige, 50 Cent, and Kendrick Lamar.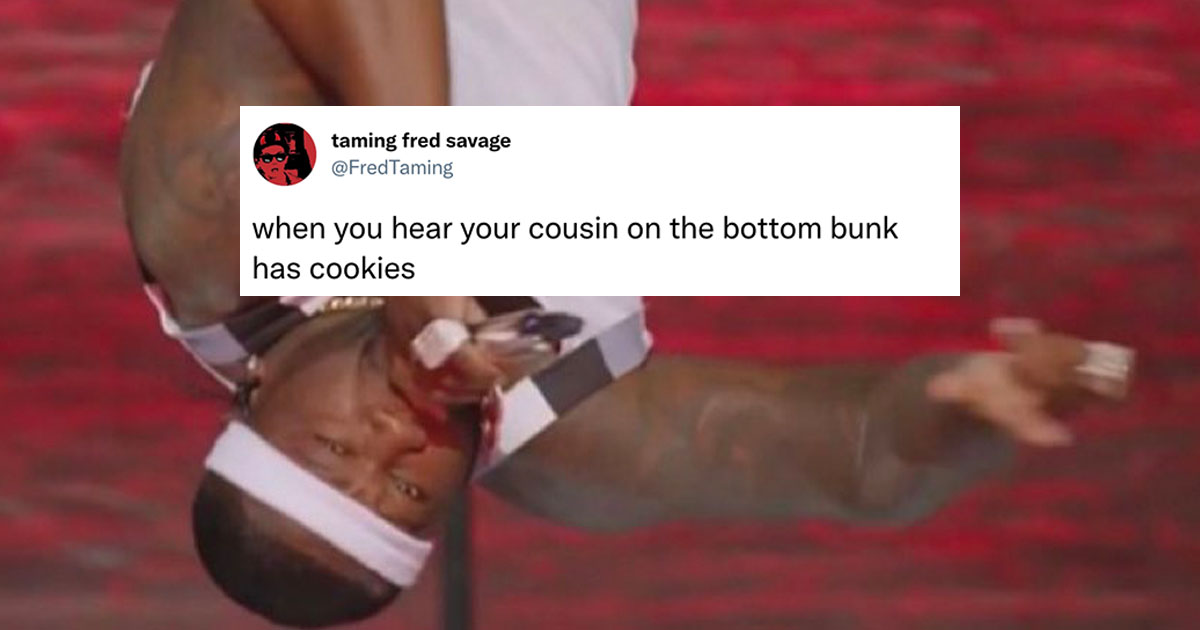 35 Of The Funniest Super Bowl LVI Memes & Tweets
1. "Hey give me some!"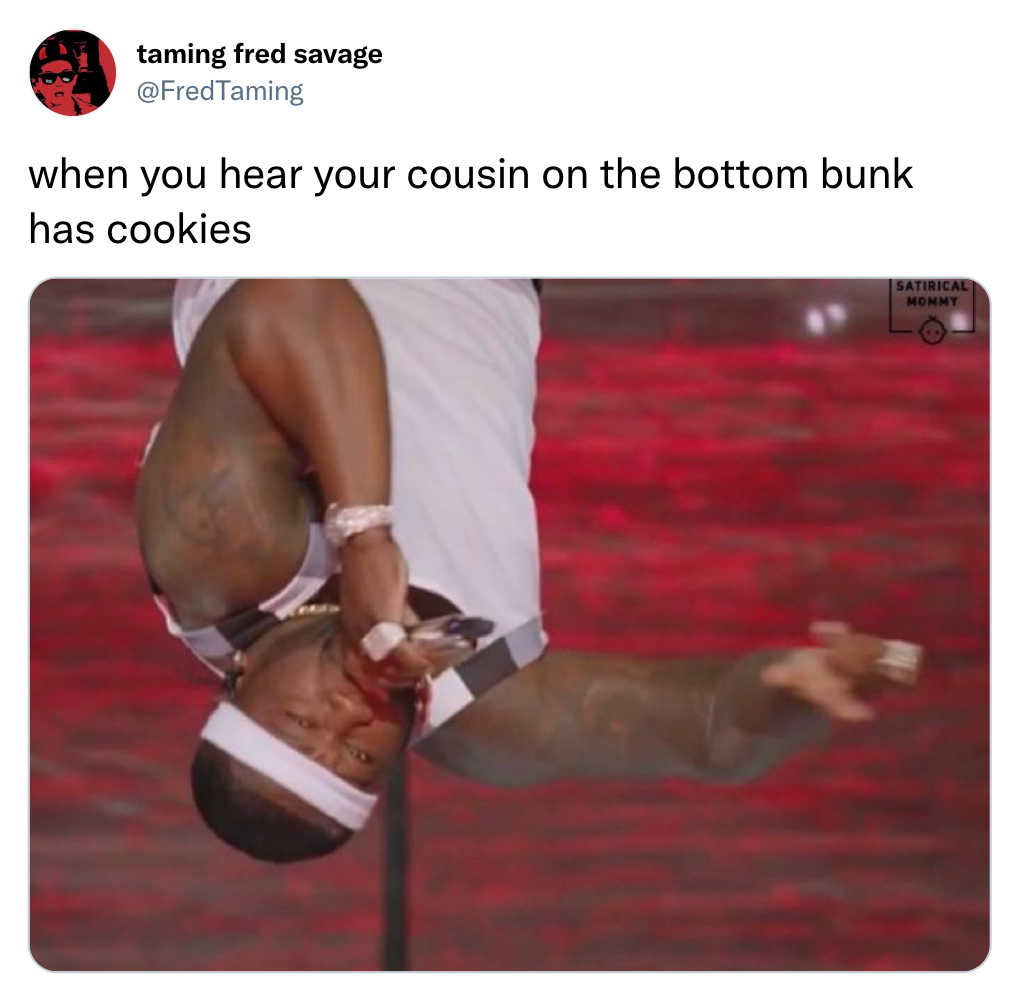 2. Crypto commercials certainly accounted for what seemed like…all of the commercials?
You either die a hero or you live long enough to see yourself doing crypto ads

— Mike Drucker (@MikeDrucker) February 14, 2022
3. Admit it, you screenshotted the QR code didn't you?
a floating QR code commercial is a test of how vulnerable Americans are to being hacked in the dumbest ways

— Brian Floyd (@BrianMFloyd) February 14, 2022
4. Not everyone watches the Super Bowl, keep that in mind.
PBS is not even messing around with this counterprogramming pic.twitter.com/gvQvFDRjHr

— Nick Turner (@NewsyNick) February 13, 2022
5. 50 Cent upside down got the funniest meme treatment, IMHO.
50 Cent waiting for his beat to drop #SuperBowl pic.twitter.com/caFJ60lwzl

— 317 Sports Memes (@317SportsMemes) February 14, 2022
6.
7. 2003 called, it wants it's halftime show back.
Damn this line up is making me worried we're gonna invade Iraq soon

— broti gupta (@BrotiGupta) February 14, 2022
8. "I LOVE HIPPITY HOP"
The Super Bowl crowd watching the half time show pic.twitter.com/qwFCLGxnB6

— Chenay Arberry (@CheArberry) February 14, 2022
9.
wtf I love being the target demographic for super bowl halftime show pandering

— Brandon Wall (@Walldo) February 14, 2022
10. The crypto ads were really just the worst.
Nice to see any CO2 emissions reduced by all these electric car ads will be offset by all the crypto ads

— Ken Klippenstein (@kenklippenstein) February 14, 2022
11. But hey, at least crypto will fail eventually?
Man, looks like crypto is here to stay, just like every other business that ever bought a super bowl ad.

— Daniel Kibblesmith (@kibblesmith) February 14, 2022
12.
https://twitter.com/13st3ban/status/1493039070917939200
13.
Did Gwyneth Paltrow just eat her own…. #SuperBowl pic.twitter.com/G1BU0nt0p8

— Phil Spain (@philenespanol) February 14, 2022
14.
I'll tell my grandchildren these were The Avengers

#SuperBowl #HalfTimeShow #PepsiHalftime pic.twitter.com/YFahcmF5xX

— Alejandro🇨🇴NY.Mets⚾️ (@Colombian_NYM) February 14, 2022
15.
Me while my food is heating up in the microwave #SuperBowl #SuperBowlLVI #HalfTimeShow2022 #HalfTimeShow pic.twitter.com/r8oJLwe3WB

— A (@Aadam_12) February 14, 2022
16. It's gonna be hell on 50 Cent's back, I don't care how jacked he is.
you cannot do this to someone in their 40s pic.twitter.com/3Xy2S3MIUO

— Matt Ufford (@mattufford) February 14, 2022
17.
18.
at 18 I got drunk at a Super Bowl party & bet my friend 5 min of boobs if he beat me at Uno. I lost, he drove me home & we sat in my driveway him touching my boobs until a 5 min timer beeped. then I sat next to him in English the rest of the year & we never spoke of it again lol

— ely kreimendahl (@ElyKreimendahl) February 13, 2022
19.
20. I really liked the open kitchen and rest of house concept.

21.
Larry David in a crypto ad is a pretty succinct answer to "Is it ever possible to have enough money?"

— Patrick Monahan (@pattymo) February 14, 2022
22.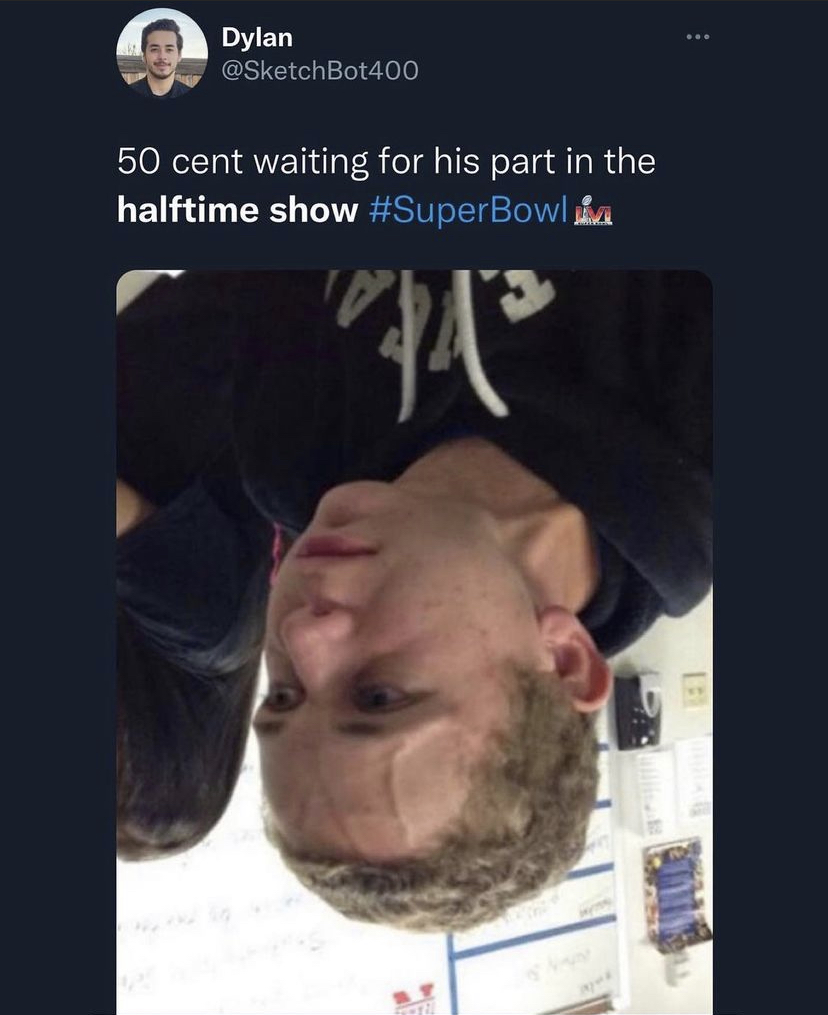 23.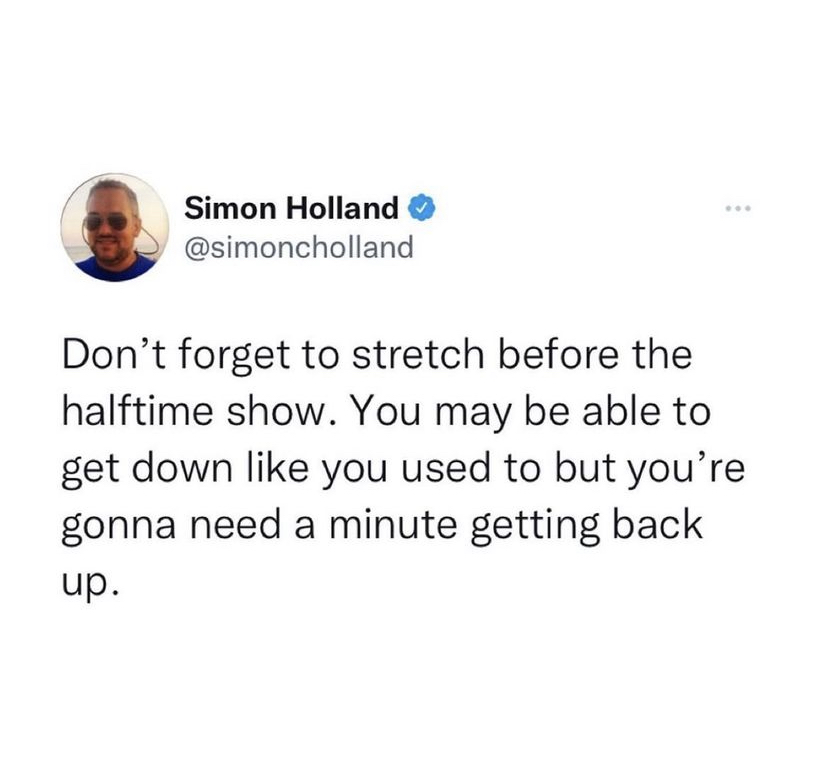 24.
How 50 entered the stage #SuperBowl #PepsiHalftime pic.twitter.com/WWckH48Zn9

— Alan (@_lostvibez) February 14, 2022
25.
26.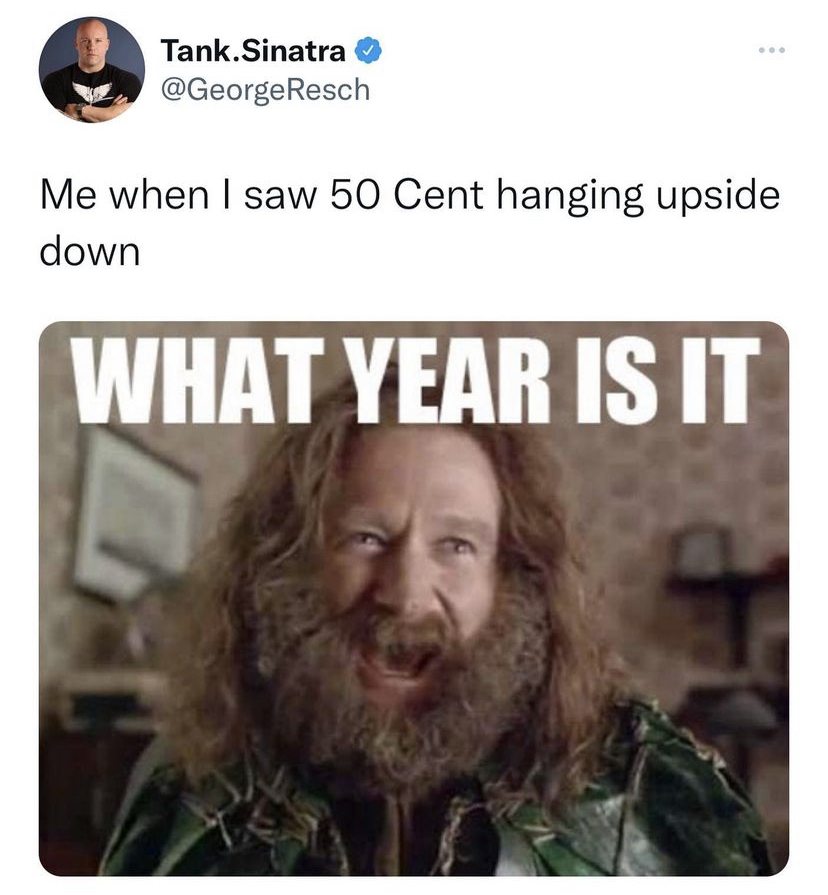 27.
Not a great day for people who like normal bowls

— Ygrene™ (@Ygrene) February 13, 2022
28.
29.
30.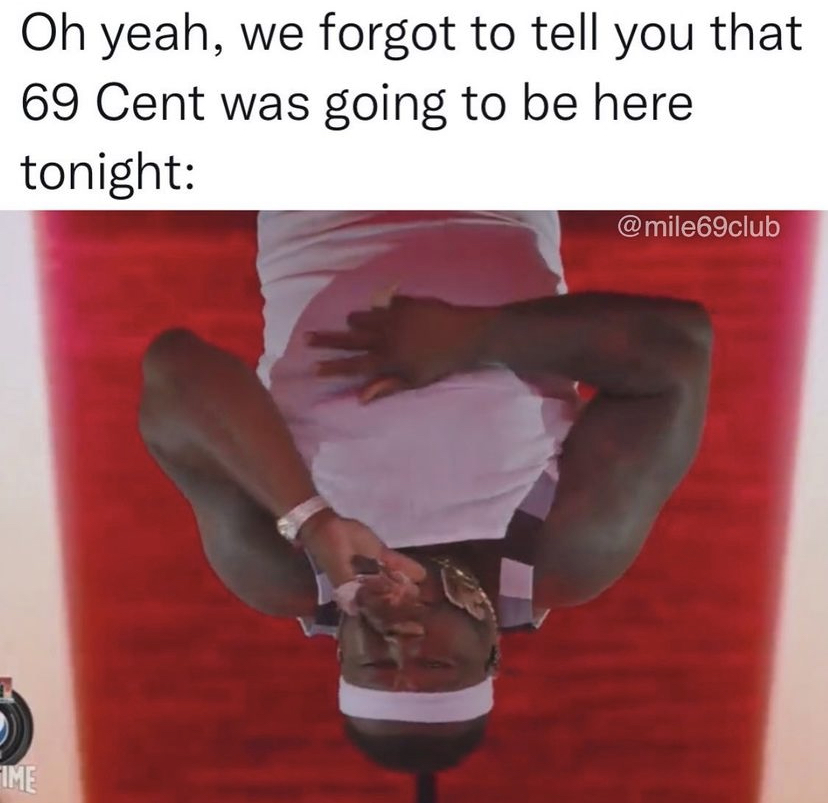 31.
Dre, Snoop AND Cable Guy? Holy 1996

— Levi Damien (@LeviDamien) February 14, 2022
32.
33.
34. Kanye had to make the Super Bowl all about him, wearing a mask so no one could see him?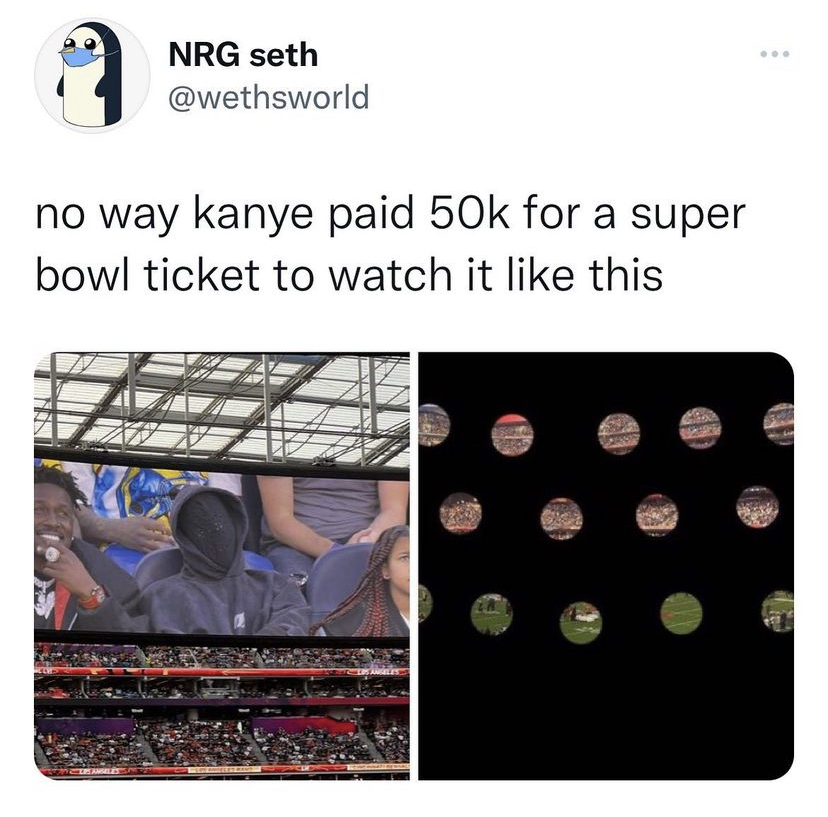 35. Tom Brady may have had the best Tweet of the Super Bowl though:
Sh*t… pic.twitter.com/TR6kr6Bgss

— Tom Brady (@TomBrady) February 13, 2022
And of course, just a reminder if you didn't watch:
The real Super Bowl winners are the people not watching it

— Ginny Hogan_ (@ginnyhogan_) February 13, 2022