First people were getting fake vaccination cards (and getting caught), now they're on to something much easier to do: Telling people that ask if they've been vaccinated that doing so violates HIPAA (Health Insurance Portability and Accountability Act of 1996) and their rights to privacy under it.
Spoiler alert you know is coming: that's not how HIPAA works. And Twitter is having a field day making memes about it.
Not to get too into depth, because it's boring, but TL;DR employers and businesses are well within their rights to ask if you've been vaccinated.
And employers can legally require that workers get the vaccine, with some medical and religious exceptions.
HIPAA does prohibit healthcare providers, health insurance companies, and some related businesses from disclosing your medical information without your consent, but that's not what is going on here. People aren't calling your doctor asking about your medical records, they're asking you to your face if you've been vaccinated against COVID-19.
Anyway, since it's so silly, let's not spend any more time on it and just move onto the memes:
1.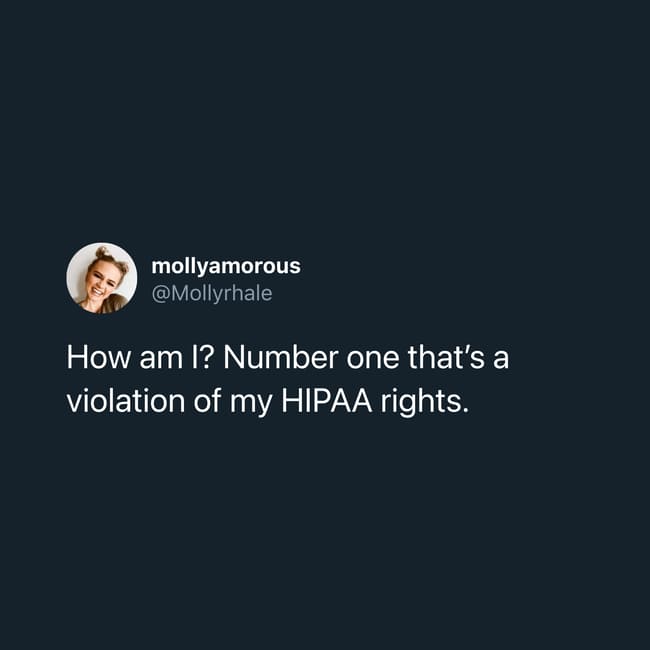 2.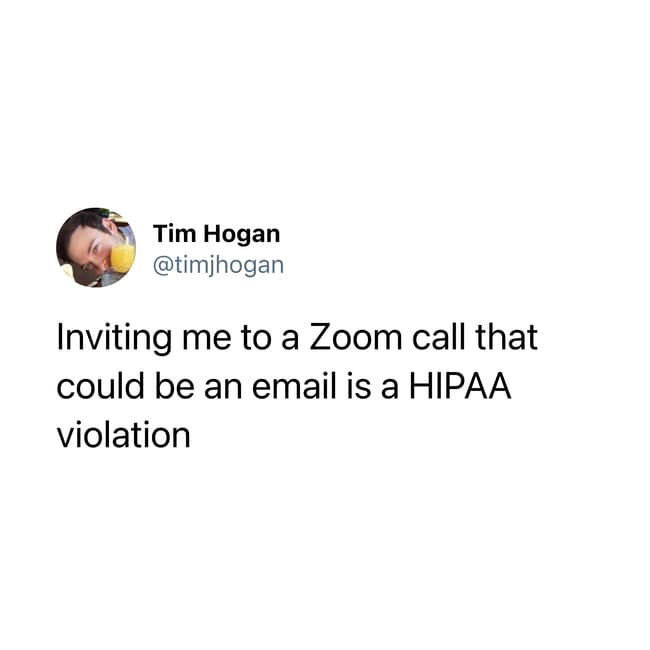 3.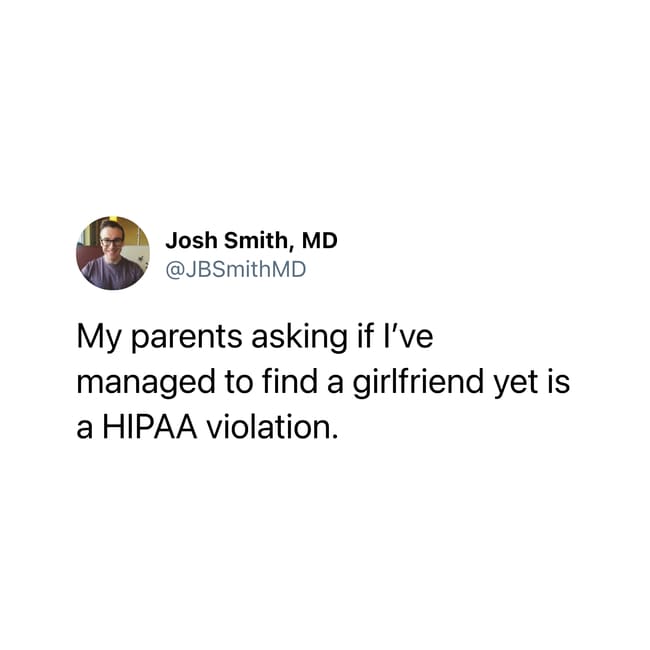 4.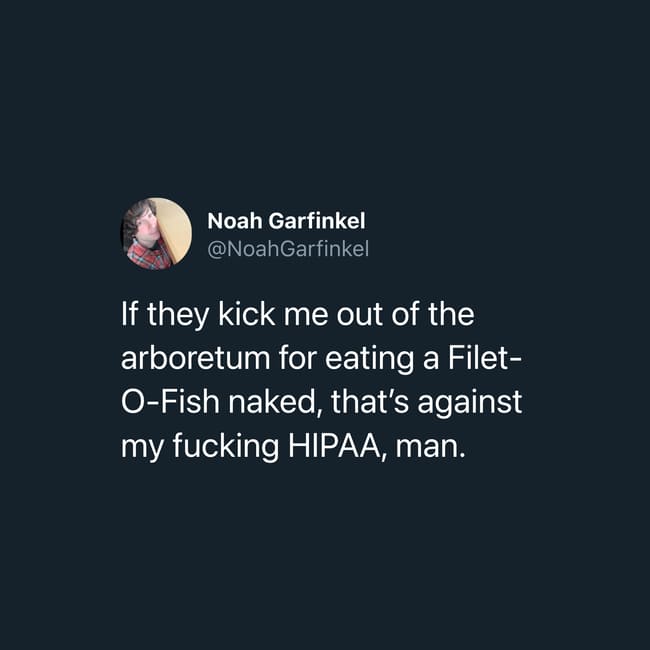 5.
asking me whether I'm an ancient and terrifying forest spirit is a HIPAA violation

— the moon's wife (@bookishseawitch) July 22, 2021
6.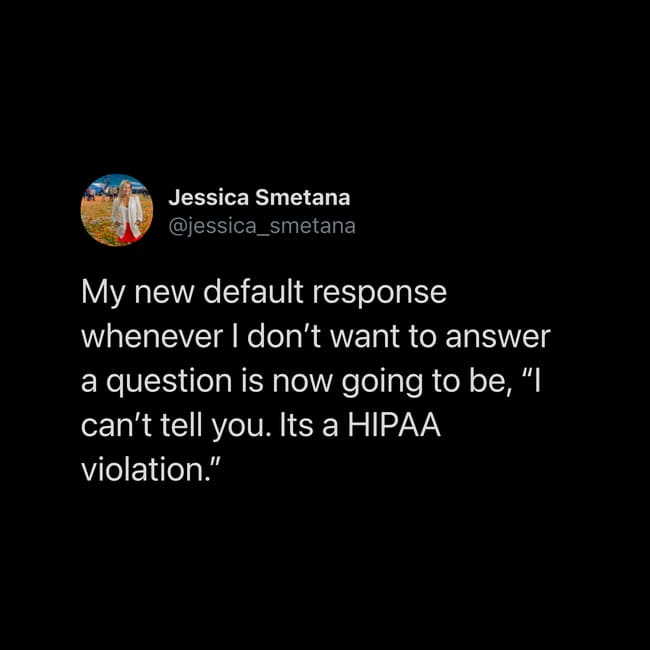 7.
I'd love for someone to violate my HIPAA:

Horny and
Intensely
Powerful
American
Ass

— Sophia Benoit (@1followernodad) July 23, 2021
8.
me: sends 1am text
him: are you drunk?
me: babe that's hipaa

— Mia de Graaf (@miadegraaf) July 23, 2021
9.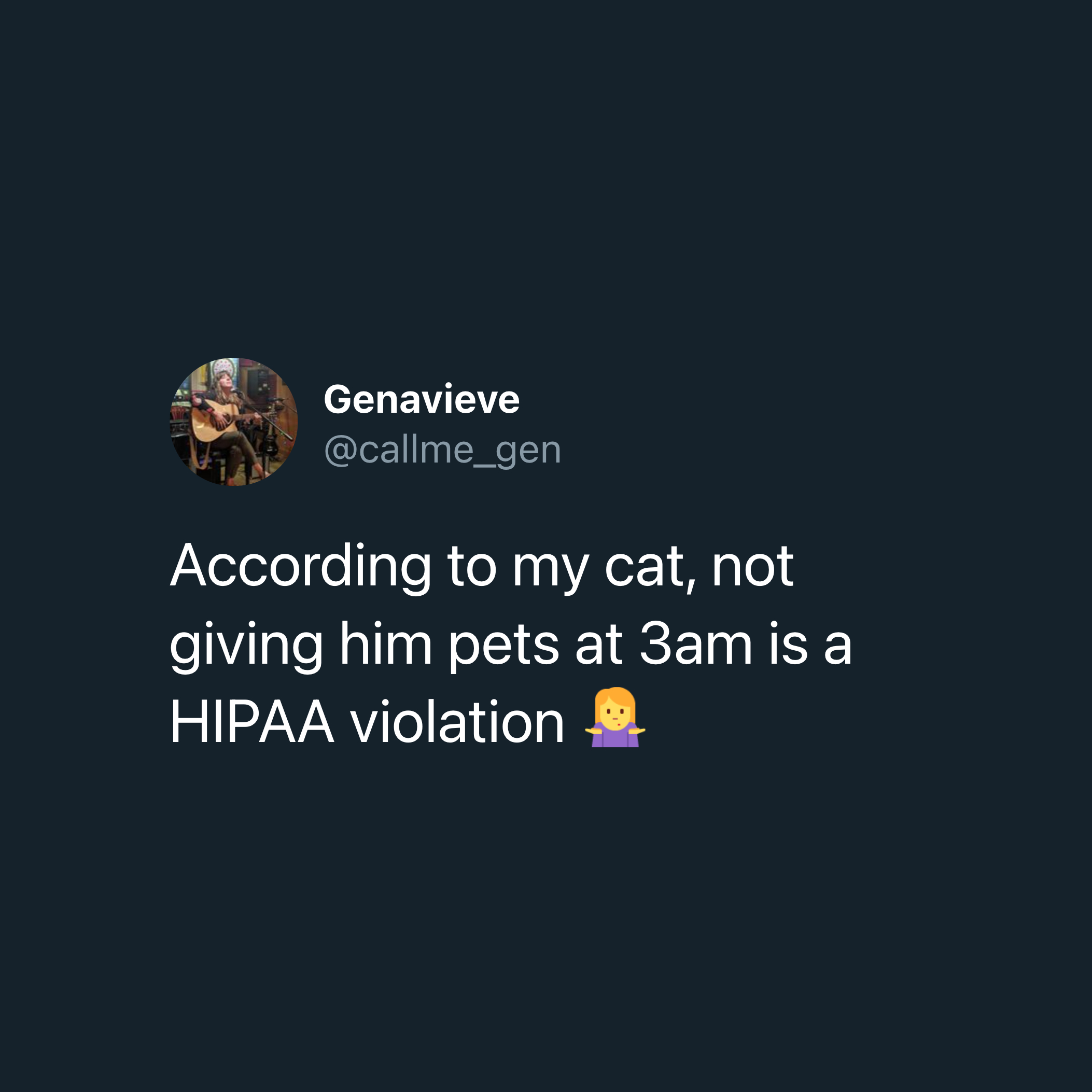 10.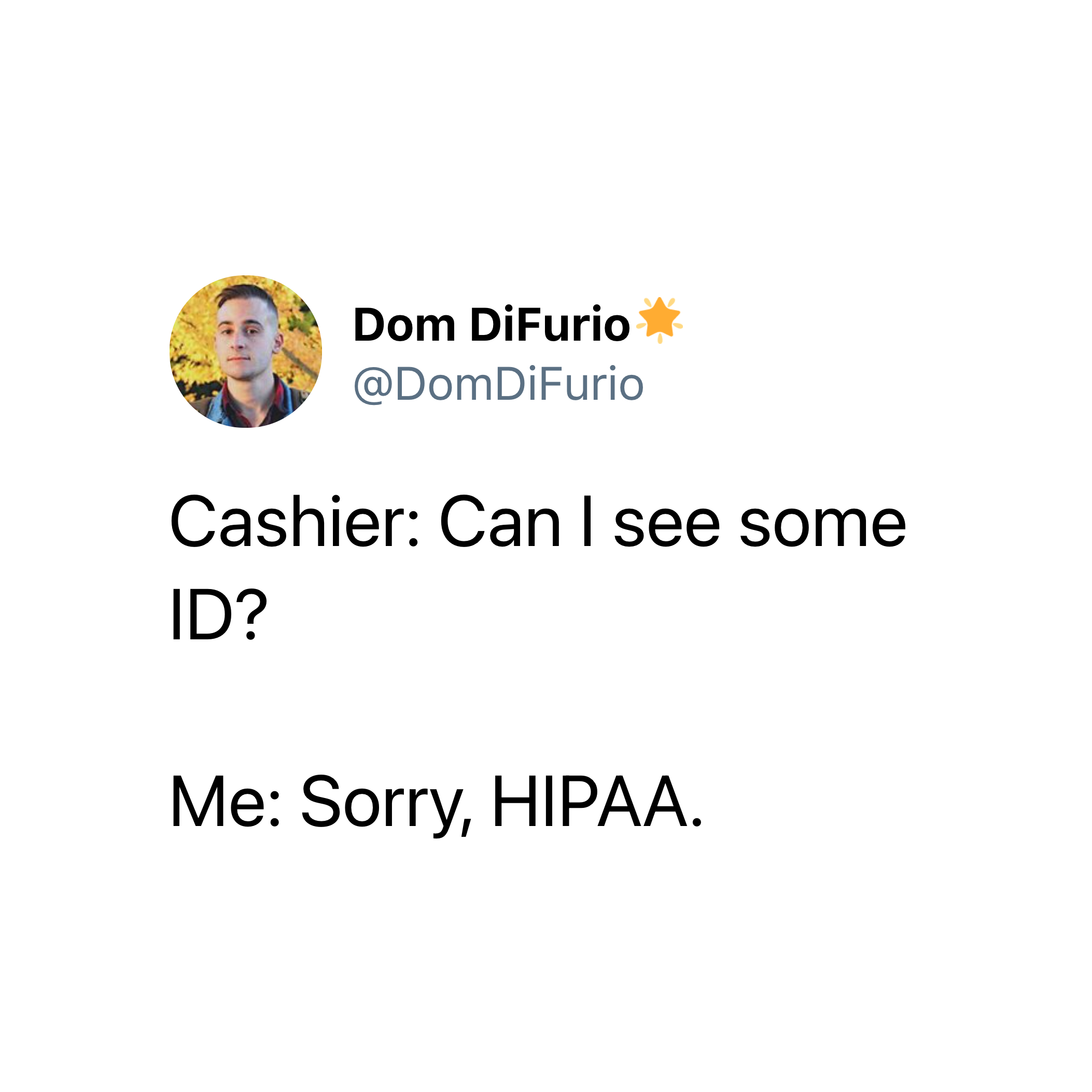 11.
It is a HIPAA violaton to ask me if I farted

— PFTCommenter (@PFTCommenter) July 24, 2021
12.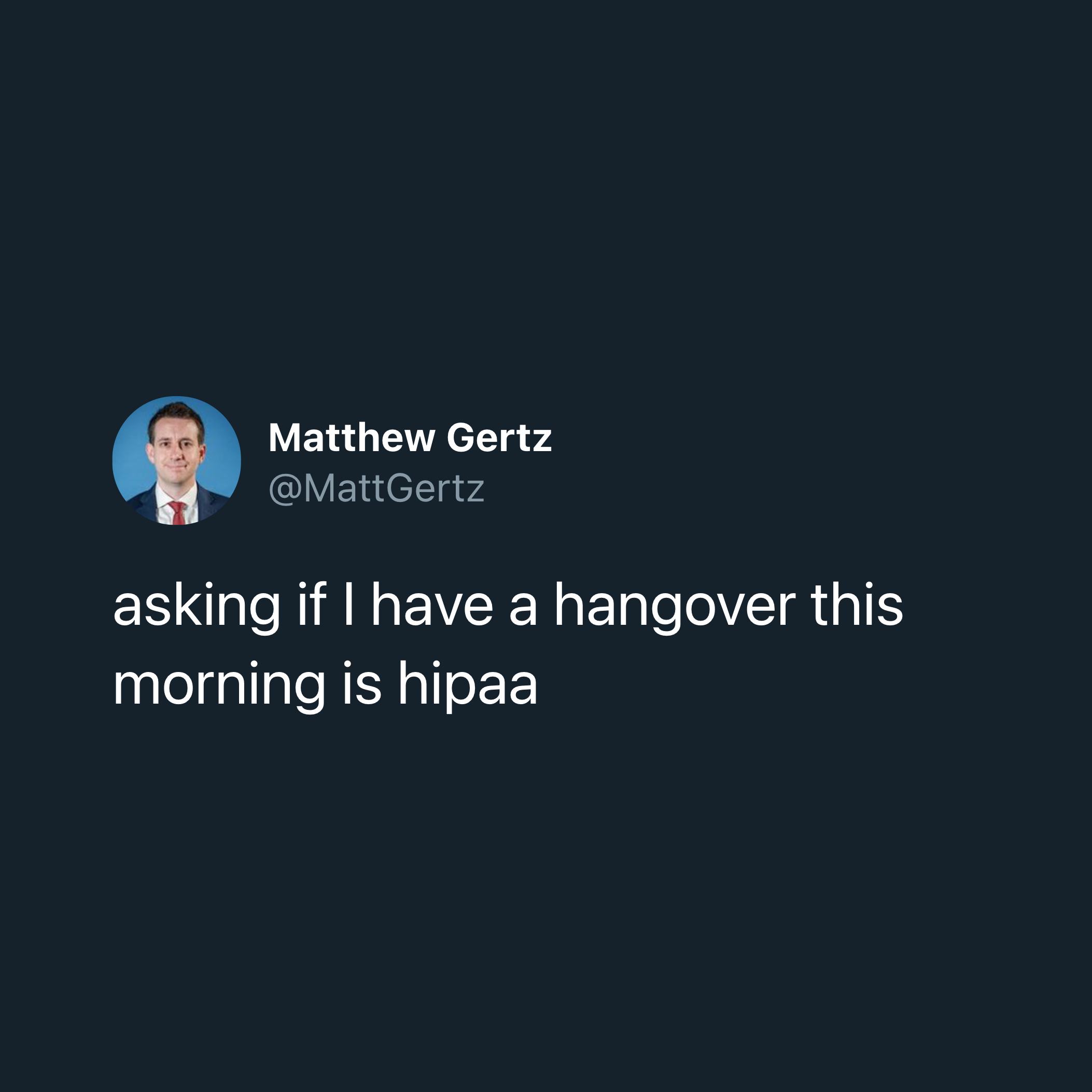 13.
What's my favorite Naughty By Nature song? Legally, you're prohibited from asking me that on account of HIPAA HOPAA HOORAYAA.

— Josh Gondelman (@joshgondelman) July 24, 2021
14.
Be the HIPAA violation you want to see in the world…

— Aunt Joey Bear Goes To Therapy (she/her) #BLM (@RevJoBear) July 22, 2021
15.
"How many marbles did you eat?"

"Wow talk about a violation of my Hungry Hungry HIPAA rights."

— Jesse McLaren (@McJesse) July 24, 2021
16.
COP: do you know how fast you were going

ME: that's protected by HIPAA

— Funny Or Die (@funnyordie) July 23, 2021
17.
"Get up, come on get down with the sickness" Umm, that's a HIPOHAHAHAHAH violation.

— Jason Mustian (@jasonmustian) July 25, 2021
18.
"U up?" is a HIPAA violation

— danny vega (@holyduck) July 23, 2021
19.
it's actually a violation of my HIPAA rights to ask me how i'm doing

— slate (@PleaseBeGneiss) July 21, 2021