#1 for the Eagles, #1 in our hearts. Jalen Hurts is the starting quarterback for the Philadelphia Eagles, who will be playing this Sunday in Super Bowl LVII. Aside from being a phenomenal athlete, Jalen is also pretty ease on the eyes.
If you're not a football fan, football memes probably aren't for you, but these memes can be enjoyed by anyone. You know, like most good jokes.
It hans't taken long for even the non-football fans on Twitter and Tiktok to roll out the Jalen Hurts memes, and with the Big Game coming up, there's been no lack of publicity. This dude is IT.
The Jalen Hurts memes, tweets, and Tiktoks are coming hard and fast.
This is problematic on several levels.
My mom just told me she has a crush on Jalen Hurts 🤣🤣 this man is two years younger than me bruh

— Jordan Dunlap (@JDunlapTV) January 29, 2023
I won't lie, he's been showing up more in my TL
TikTok knows I have a crush on Jalen Hurts and they exploit it all over my fyp

— Rosie rosè (@d_roseee_) January 31, 2023
You want composure from your QB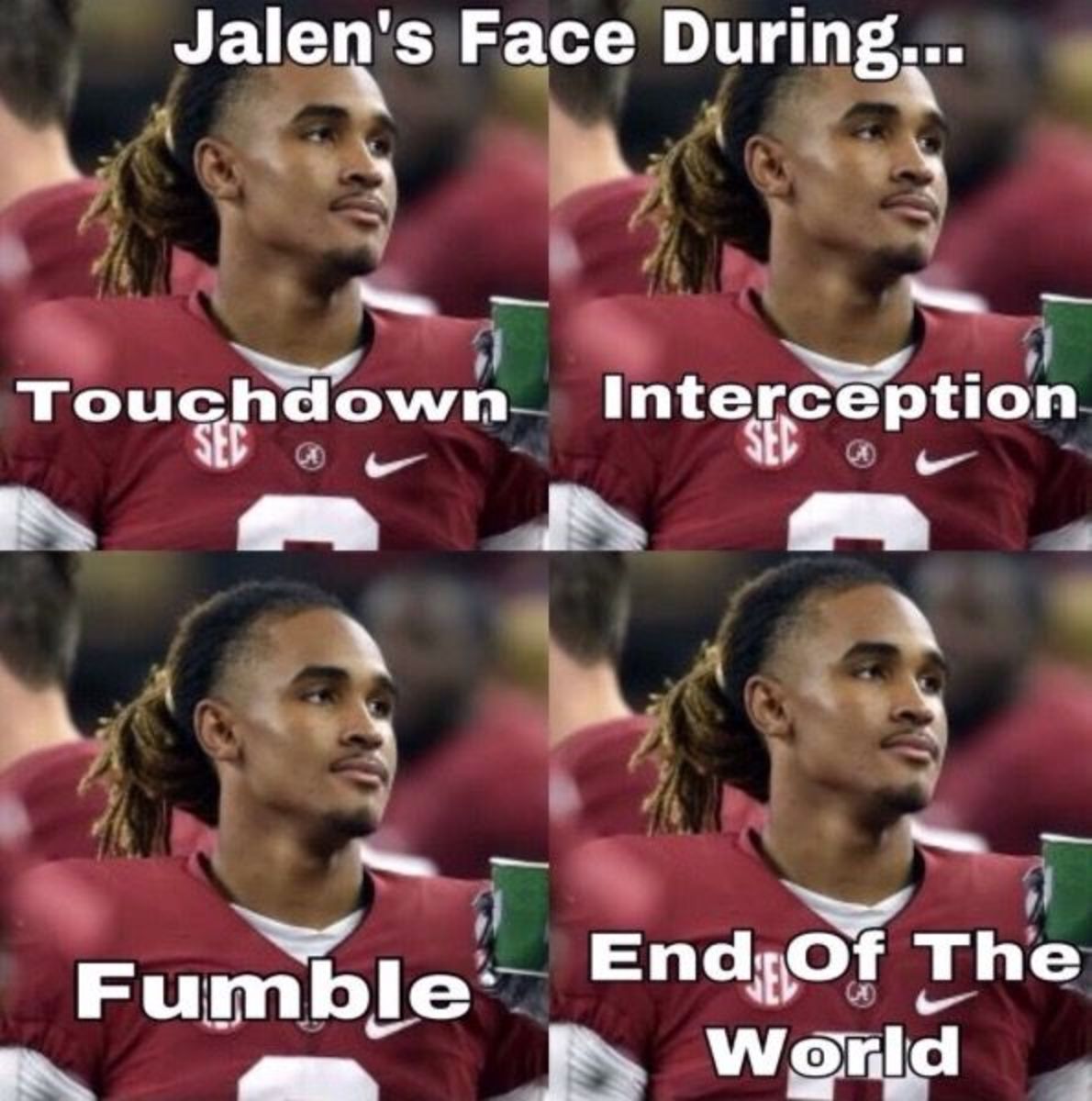 And if you know anything about NFL football, this is a big deal.
Not me developing a crush on the ENEMY, Jalen Hurts. What kind of Cowboy fan am I? It's giving Romeo and Juliet.

— Ta'Niya Breana ✨ (@TaNiyaBreezy) January 29, 2023
Damn, am I developing a crush on Jalen Hurts?
Now that the Eagles are in the Super Bowl, I'm so glad that we're having a national conversation about how hot Jalen Hurts is pic.twitter.com/kE3Rss6v7f

— Emily O'Donnell (@emily_odonnell) February 6, 2023
Also…
also because I think Jalen Hurts is hot https://t.co/gvYD4JtptQ

— julieta (@calytrix99) January 30, 2023
Sorry to break it to you
y'all I just found out Jalen Hurts has a girlfriend. pic.twitter.com/JFDbyp8Hbo

— Ron (@ronthacreator) January 30, 2023
Shedding some tears
Obsessed with this man
@isaiah_momma

@philadelphiaeagles her feelings are hurt but it's still all about Jalen! LOL
What are your thoughts on Jalen Hurts? Are you a fan of his game? His hotness? Are you going to watch the Super Bowl? Are you going to come back for our list of Super Bowl tweets? I'd like to think it's a yes to all.