Kawhi Leonard, the new face of the Los Angeles Clippers, welcomed the crowd to the Staples Center last Tuesday and in doing so cemented his "hey hey hey" line as yet another clutch Kawhi meme.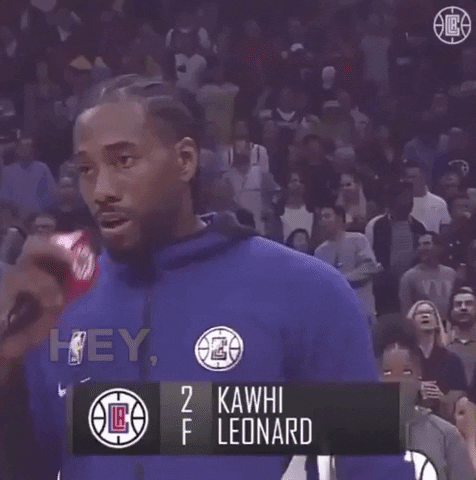 You may remember the beautifully robotic awkward laugh Kawhi graced us with during his Toronto introduction, as well as his "what it do baby" phrase upon winning the title (one that he's currently seeking a trademark for). The Kawhi "hey hey hey" meme is just the natural progression of the above.
"Let's get it going."@kawhileonard addresses #ClipperNation pregame. pic.twitter.com/xozPIBhyiy

— LA Clippers (@LAClippers) October 23, 2019

It didn't take long for the sound bite to make its way to Twitter, where the "hey hey hey" Kawhi Leonard meme was born.
"Hey! Hey! Hey!" 😂😂😂 The first two seconds of Kawhi's intro is hilarious

(via @LAClippers)pic.twitter.com/N2Avlsrqxk

— SLAM (@SLAMonline) October 23, 2019
Same.
All these Kawhi hey hey hey memes got me like pic.twitter.com/fS3yHxytuV

— Kowalksi (@Niqqardly) October 25, 2019
1.
When you're using in the bathroom stall and someone comes in tryna open it pic.twitter.com/Ha7JM3Qo13

— Rom (@Romi_OP) October 23, 2019
2.
When we're 27 mimosas in at the brunch and the problematic friend says "why does that bitch keep looking at us" pic.twitter.com/qAtHacRnLC

— Little Miss Lizards (@Miisssliz) October 24, 2019
3.
When you about to pass a 18 wheeler and they turn on their signal pic.twitter.com/Xl8ymYoKwd

— SpooKetay 🎃 (@PlaywitKay) October 25, 2019
4.
When she starts reaching for your food after she said she wasn't hungry pic.twitter.com/wm89U35OEK

— Thaddeus Matthews Stan Account (@Encredibal) October 24, 2019
5.
this is how fathers "watch" the kids from the couch while the game is on pic.twitter.com/vYRQBXzZQ5

— Pennypinch Hardaway (@WhoSFlyy__) October 23, 2019
6.
When he introduce you as his girl to his fine friends pic.twitter.com/vNTJtqYjG0

— DaBaby Baby Mama. (@CatwalkDarling) October 26, 2019
7.
When I show my mom a picture and she start scrolling pic.twitter.com/rmsbYEMkYA

— el perreo es su profesión (@raqalegria) October 25, 2019
8.
When you see her trying out your hoodie pic.twitter.com/rs2vGqnjfa

— pdp. (@WHOISPDP) October 25, 2019
9.
when you ghosted her for months and shes finally starting to move on with a guy who treats her right pic.twitter.com/V800ETVluR

— 🦂 (@lonzolinks) October 25, 2019
10.
the extended cut. pic.twitter.com/2UEV53koGV

— Matt (@theKingKeohan) October 23, 2019
11.
When my dad sees me messing with the thermostat pic.twitter.com/BAeDuWEFec

— 👎🏼 (@MonicainSpanish) October 23, 2019
12.
When you and yo sibling fighting and yo dad see 😭😂😭 pic.twitter.com/Pef9I6eVMN

— Bragard (@brogawd_) October 23, 2019
13.
When ya girlfriend commenting on your post making it seem like y'all talk 🌚 pic.twitter.com/MEBDxTyTWY

— THE GOAT (@mrgetbuckets_05) October 23, 2019
14.
.@Lakers pic.twitter.com/Po1Qj4jWvT

— Wobthony Davis (@WorldWideWob) October 23, 2019
15.
Kawhi said "hey hey hey" like he was talking to some bad kids in math class pic.twitter.com/EuONBfRddv

— Rap Game Forrest Gump 🇬🇭 (@Sixfever) October 23, 2019
16.
When I came over to watch Netflix and she starts grabbing at my pants pic.twitter.com/OgQu1YdRt7

— Copo De Nieve (@IamAFelon) October 23, 2019
17.
When she tries to slide that finger up your butt. #HEYHEYHEY pic.twitter.com/VQnZjFbxU1

— Shaan Millim (@delaluxe1) October 25, 2019
More celebrity memes: