Unless you've been living under a rock that's under a pile of leaves that's under a rotting pumpkin, you're aware that Tuesday was Election Day in these United States.
Two days later, however, we still have no idea who the next president will be. Has Joe Biden eked out a narrow win? Has Donald Trump clung desperately to power? We don't know, and neither do the experts, because a few states have been lollygagging in their vote counts.
While Georgia, Pennsylvania, and Arizona are still completing their tallies as well, all eyes have been trained on Nevada, where a surprise Biden win would hand him the presidency if other results hold. And yet, shockingly, a state known for late nights and later mornings is taking its sweet, hungover time in finishing up.
That's fine, we all know what the morning after is like, but meme-smiths everywhere are letting Nevada know that the world would like it to hurry the eff up.
1.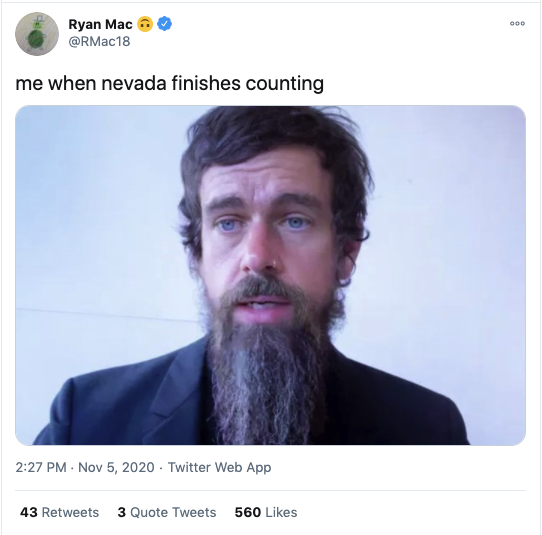 2.
Nevada after counting 3 votes pic.twitter.com/kjYPVIydlN

— Kelsey (@notorious_KRG) November 5, 2020
3.
me driving to nevada to start counting these mf votes myself pic.twitter.com/txjW6auah9

— abby (@darrencwiss) November 4, 2020
4.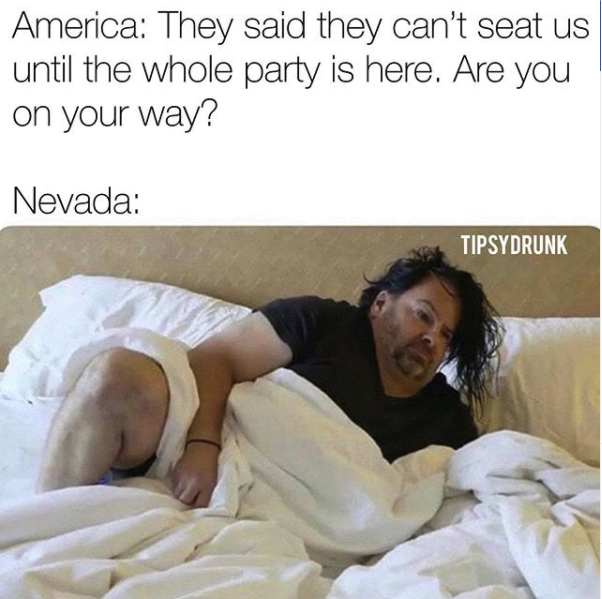 5.
Nevada taking a long lunch after counting two votes pic.twitter.com/n4cdU07p4k

— TeaWithTammy (@TeaWithTammy1) November 5, 2020
6.
This is everyone checking the map every 5 minutes to see if the votes in Nevada changed pic.twitter.com/GwfFff77ID

— s☻lly⁷ (@strawbearysal) November 4, 2020
7.
8.
Waiting for the Nevada numbers pic.twitter.com/Qw3jYqJgDo

— Tiana 🏆 19x (@jaimelannisters) November 4, 2020
9.
10.
nevada pulling up to finally announce the results after taking two trips around the world and four bubble baths before they decided to count the votes pic.twitter.com/tlA2XCUqDG

— sofia ♡'s reggie (@GOLDENHOUAYLOR) November 4, 2020