Celebrities are attention whores by nature. I mean, it comes with the territory. You need to have that mindset to stay relevant. That's how you end up in an black, vinyl, inflatable jumpsuit at an award show.
Sam Smith is no stranger to gobbling up attention. So, no one should be surprised that they showed up to the Brit Awards in a custom inflatable Harri outfit.
It is ridiculous looking, but hey, it got everyone talking about them, so there ya go.
Like all things that catch a buzz online, the Sam Smith meme roasting this over-the-top outfit was born. People weren't exactly shocked, but had plenty to say about the singer/songwriter/weirdo.
The best Sam Smith meme selection we had time to find:
1. That jiggle though…
me walking into the cinema trying to sneak in all my snacks

— Meh (@Spilling_The_T) February 11, 2023
2. When a celeb isn't getting enough attention.
him: you better not be a cunty rotisserie chicken when i get there

me: pic.twitter.com/chWicA0bxn

— wiLL (@willfulchaos) February 11, 2023
3. Yes, that's the exact walk.
Someone put the squidward walk sound over Sam smith on the red carpet and I can't breathe 😭😭😭😭 #Brits2023 #BRITs #SamSmith pic.twitter.com/sziuX847Bm

— tasha louise | 𝙰𝚞𝚝𝚞𝚖𝚗 🍂 (@eds_afterglow) February 11, 2023
4.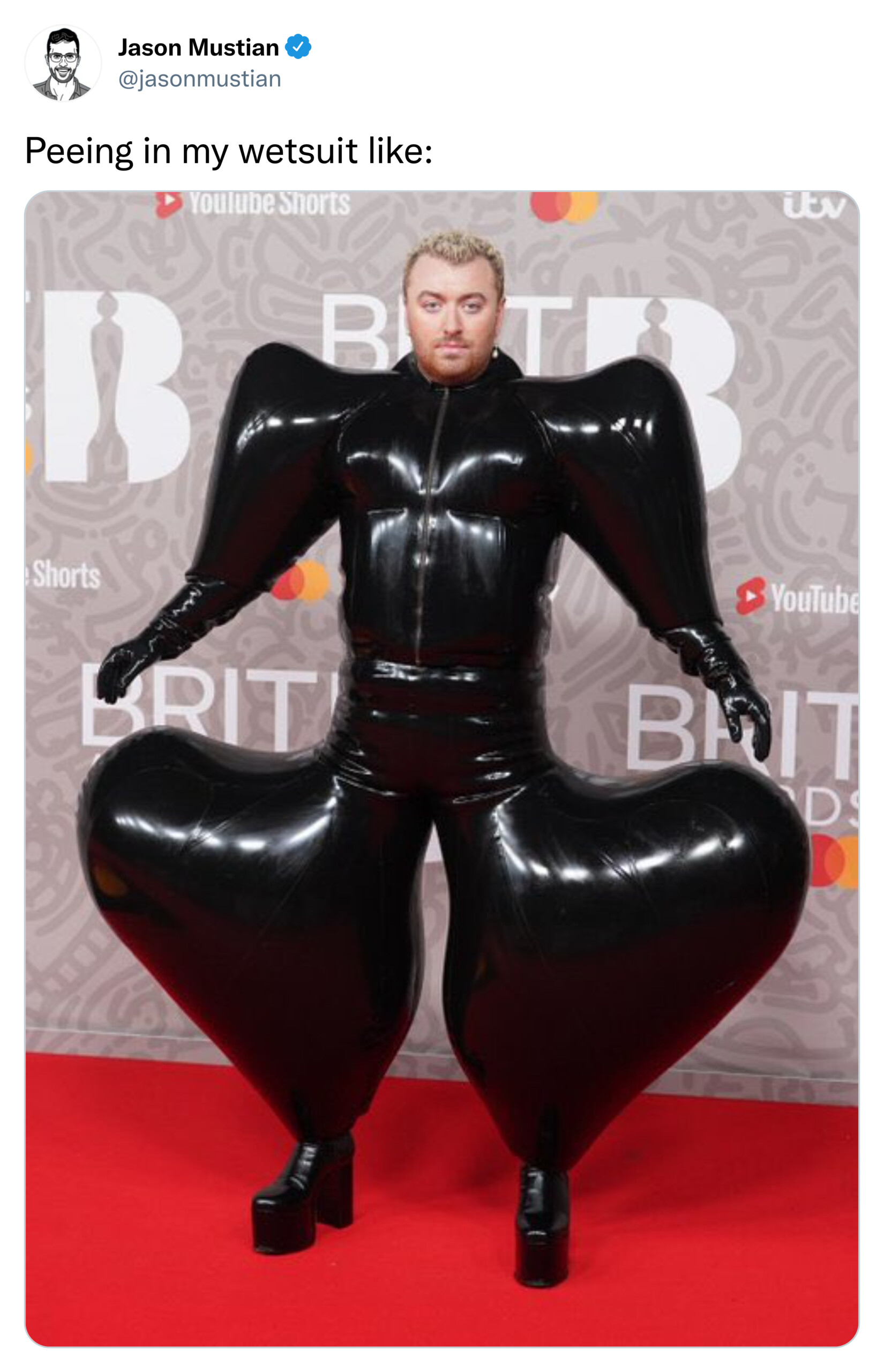 5. A fierce and confusing look.
Sam capaldi x pic.twitter.com/UfQBCRc55g

— Lewis Capaldi (@LewisCapaldi) February 11, 2023
6.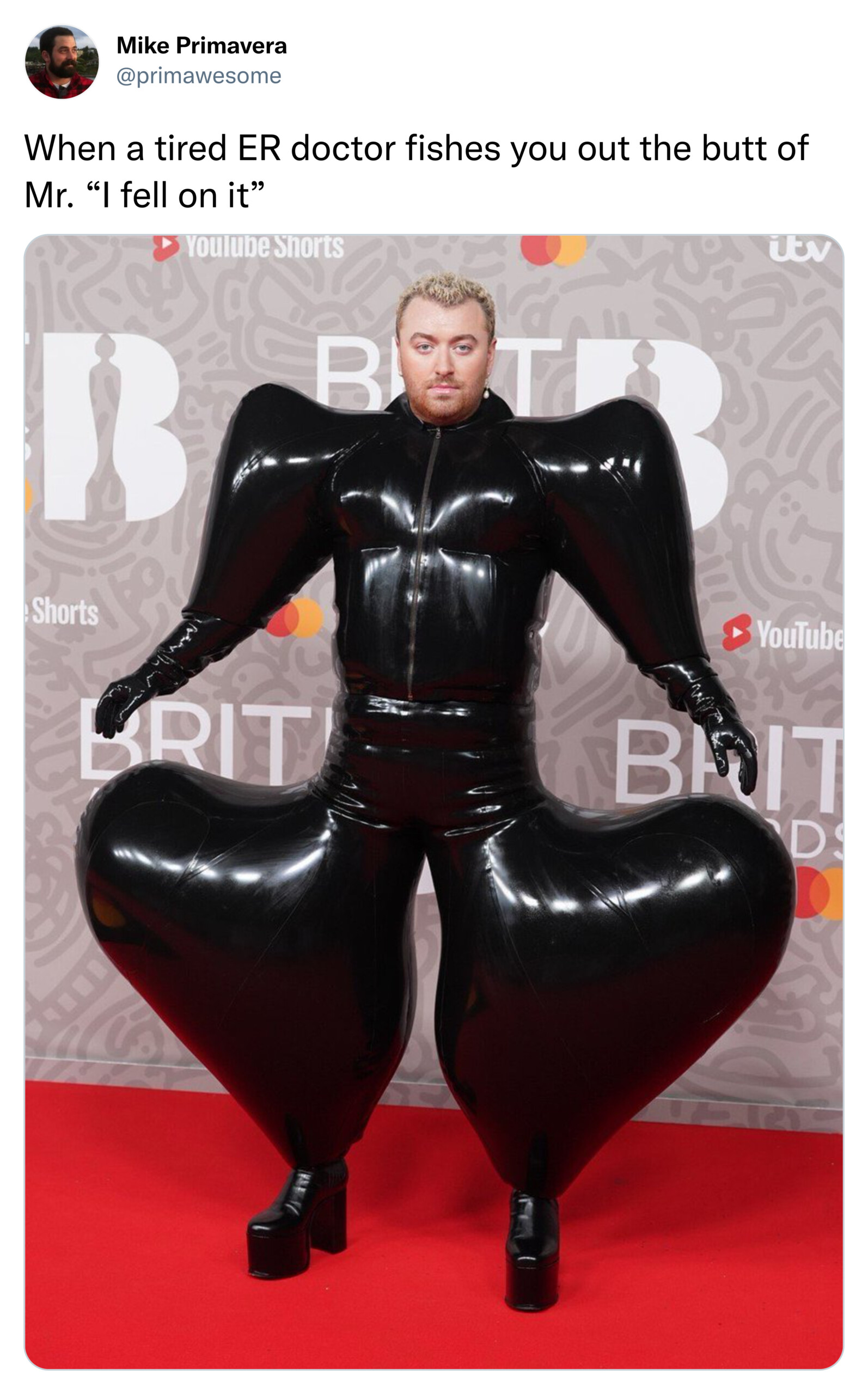 7. How I go into a movies theater with snacks.
Me, when I haven't paid for a bag on Ryanair #SamSmith pic.twitter.com/gXzjiFpCeZ

— Dee (@DeeHayes) February 12, 2023
8. How low can you go?
Me when friends tell me to keep a low profile:pic.twitter.com/upfnBrdDsU

— Halief Ardiasyah (@halief) February 12, 2023
9. Yep, nailed it.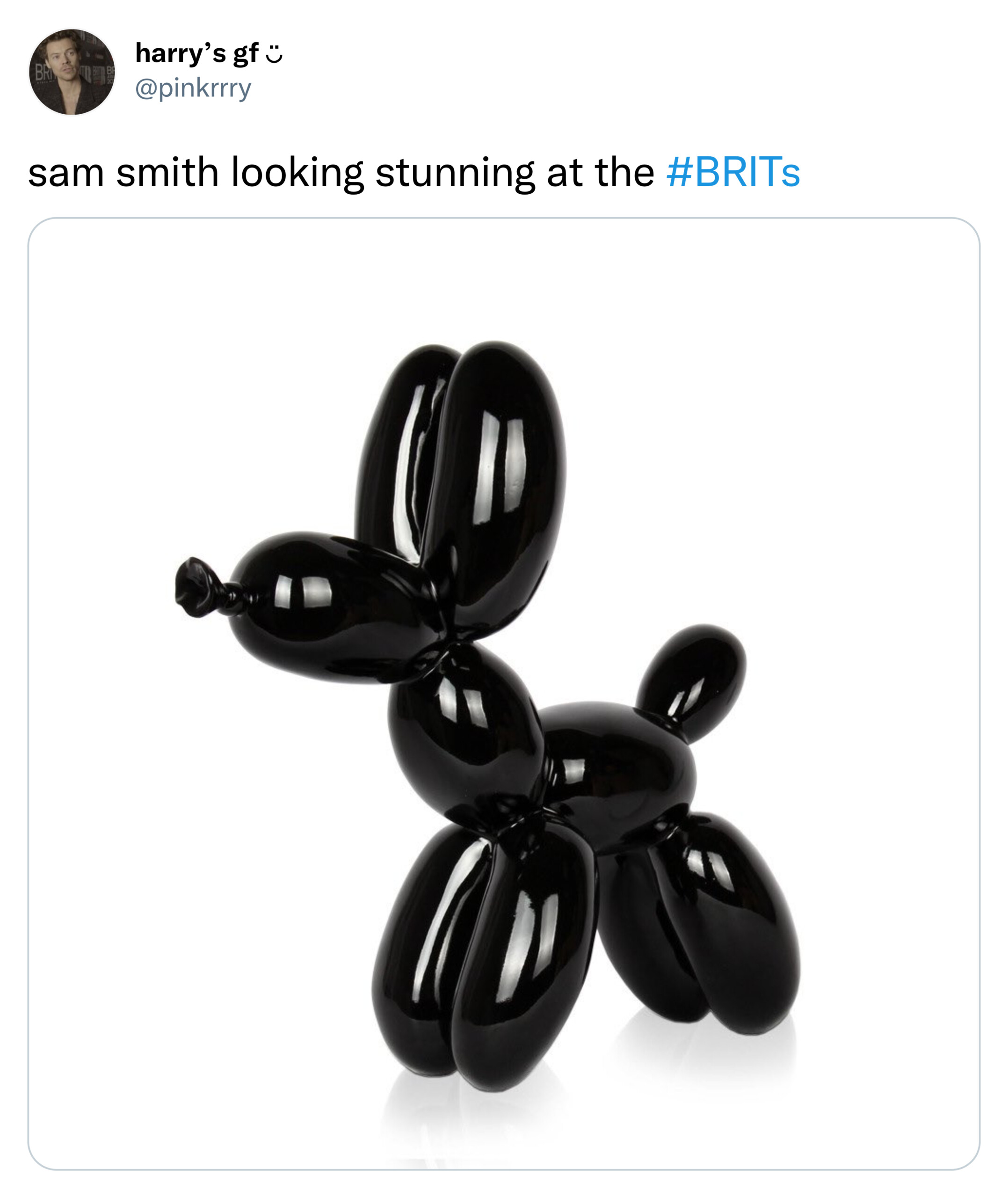 10. Might be even more inconspicuous tbh.
That's the UK's spy balloon that we're sending over China. https://t.co/bWMPTXJ1HE

— AFCVegan (@AFCBeef) February 12, 2023
11.
fixed it https://t.co/AaKpQBYkQG pic.twitter.com/USHn9dcPjD

— wilf prime (@friendlykitties) February 11, 2023
12.
He looks like one of those ink blobs therapists show you

— syn (@uncanny_gf) February 11, 2023
13.
Sam Smith turning up at the #brits #Brits2023 pic.twitter.com/7opN9in1ii

— Paul (@PaulN84) February 11, 2023
14.
Sam smith at the #Brits2023 pic.twitter.com/PK16okoI96

— brrrr (@sucmadig) February 11, 2023
15.
BREAKING NEWS: Sam Smith shot down by US military pic.twitter.com/XN7LXCjsrp

— Mockeree (@mockeree) February 11, 2023
16.
Sam Smith Sam Smith
2014-2018 2019-2023 pic.twitter.com/xawJc0EXep

— gil (@groupiexcx) January 27, 2023