There are a lot of kids out there who need a safe place to grow up and depend on foster parents to give it to them until they're able to take care of themselves. Some children in the foster system might just need some stability as their biological families get it together and can care for them again. Being a foster parent can literally save a kid's life. That's why this story from u/FosterFix is so horrifying. Instead of care, this wannabe foster mom was offering indentured servitude.
It was posted on r/AmItheA**hole because the OP says that her sister and some family members are super angry with her over and she's not sure if she did the right thing. She says she lived with her older sister for two years, and says it was "a miserable time" that changed their relationship. Her sister expected she babysit and clean for free, and when the OP found a part-time job, she demanded half her income.
Since then, they haven't talked much except at family gatherings. But the OP heard some alarming stuff anyway:
Now after I moved out, she started complaining how "She has no help with the kids and never gets a break!" I babysit sometimes but I have made it clear, just cause I am off work, doesn't mean I want an 8 hour day with my niece and nephew.

Anyway she started talking about how she wanted to foster a kid. Not a kid but a teenager. I pressed her for more info on this. She wants to adopt a teenager so she has a live in babysitter for her kids. This is her logic: "I want a kid around 16 or 17, you know someone who may have been in the system for awhile. They can share a room with your nephew (she only has a three 3 bedroom house) or sleep in the garage. They can help me with house work, chores, cook and help me with my business.(She bakes and sells cookies) Also babysit the kids so me and Bob can go out sometimes or have some alone time. They'll be so grateful for a home and won't complain. I won't have to pay them at all. And then when they turn 18, I can just sign up for another foster kid! A teenager will be so much easier than a little kid, they will be grateful just to have a roof, food, siblings if they have been separated from their real ones and clothes."

I was horrified! Told her it was a horrible idea!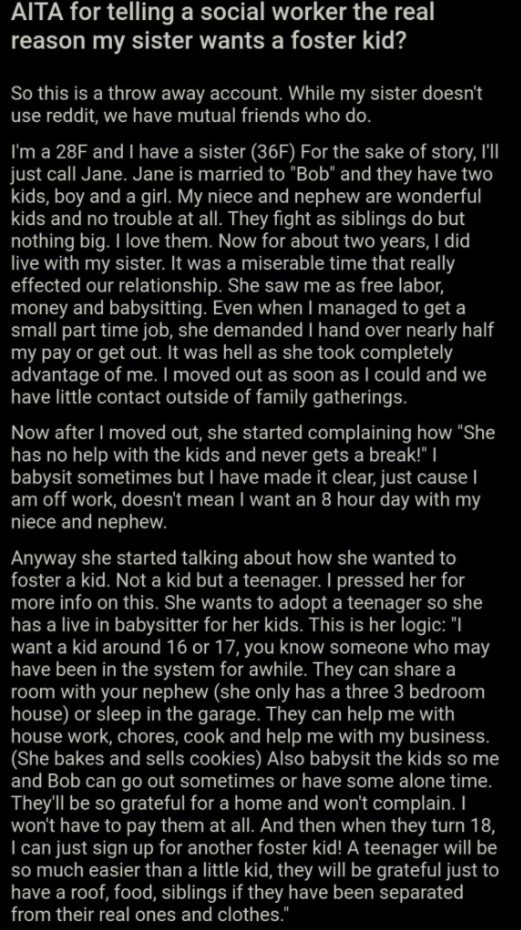 Despite this advice, the sister went through the foster parenting process anyway. A social worker came to the OP's apartment because her sister had listed her as a character reference. Thank goodness:
I immediately told the social worker why my sister really wanted to foster a kid and how she treated me when I lived with her. The lady thanked me.

My sister called crying saying that she wouldn't be considered for any adoptions or fosters. The social worker told her that they felt her home and her weren't a good fit. She asked if I said anything and I told the truth. She went off on me, hung up and we haven't spoken since. She has sent some angry texts. A couple family members are on her side. They think foster kids are f**king dogs or something and would be so happy just to have a roof and would gladly do all the housework.

So AITA here?
Are you the a**hole, or is your sister a literal monster? I think it's the latter. It is also obvious from the social worker's response that this is exactly why they do checks like this. Lots of geniuses have thought of this horrible abusive scam, and they should be weeded out.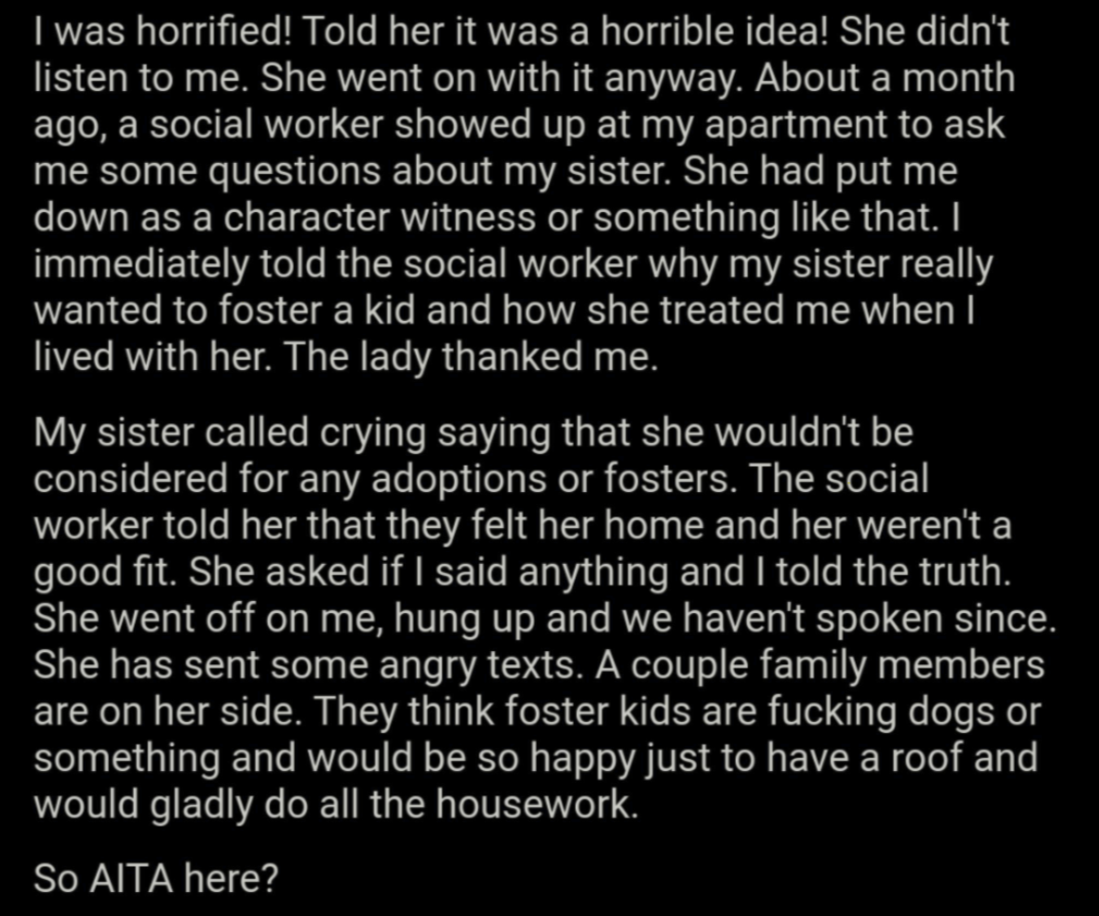 That's pretty much what everyone said, and she shared some more details about her sister that really painted a picture:
The OP updated later with a thank you for all the support and responses:
So wow! I didn't know my post blew up like this till I got home from work! Thank you everyone for the kind words, messages and awards. Remember no child is in control of the circumstances that may have landed them in the foster care system. They are children and still human. They deserve a loving home and care. Do right by a foster kid. And thank you again.
No, thank you.
More best of AITA: