Everyone has rules they have to follow growing up, but some people's parents are stricter than others. My parents both worked full-time and I had 4 other siblings and it was the '90s so I basically had no rules as a kid. But I knew kids in the neighborhood who had strict curfews or weren't allowed to watch The Simpsons, like a few of the folks in this Twitter thread.
Twitter user @The_Dingus_Khan asked children of strict parents to share their weirdest rules, adding how they weren't "allowed to wear shorts on Sunday" because "it made us too wordy for Jesus."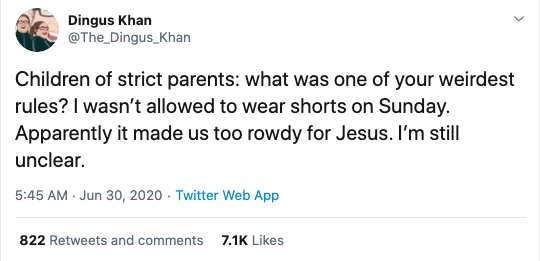 A lot of people responding were raised strictly because of religious reasons, but some seem to be sort of random. Read through some of the weirdest rules children of strict parents had to follow, and see how you stack up.
1.
If there was something I wanted to go do with friends, I had to give 24 hours notice for them to "think about it" and "talk it over." Otherwise it was a blanket "No."

— Matthew Powell (@matthewtpowell1) June 30, 2020
2.
Barney was magic, magic is evil, Barney = evil so no watching Barney.

— Whale Shark (@Vhalechark) June 30, 2020
3.
I wasn't allowed to watch Disney movies or say butt at my dads.

— Professional Worrier (@pro_worrier_) June 30, 2020
4.
I had a bedtime of 9:30 on school nights all through high school.

When I left for college and my brother entered high school, suddenly that bedtime wasn't a thing, so basically the 9:30 bedtime only applied to me.

They justified it by saying I got up earlier to fix my hair.

— Kiss my Fat Ash🍑 (@Tobi_Is_Fab) June 30, 2020
5.
Yes child of strict parents here. My curfew in HS was:
9pm for Freshman
10pm for Sophomore
11pm for Junior
12pm for Senior

My Dad would say "nothing good is going on after midnight"
Okay Boomer tell that to ERIC CLAPTON. 😑

— hollsballs♎ (@hollsiemo) June 30, 2020
SATAN COMES OUT AT MIDNIGHT! Got that same shit. My curfew was always 11 because of that. Even the night I graduated high school.

— Dingus Khan (@The_Dingus_Khan) June 30, 2020
6.
I was raised in a cult.

No necklaces for men, because they made you gay.

No long hair for men, see above rule

— ☠️✞ø✖ḯḉ☣️🏳️‍🌈 ✊🏾BLM Mixer Refugee (@Toxic_lmml) June 30, 2020
7.
I couldn't watch Captain Planet. God created the Earth and it wouldn't be destroyed by humans.

Had to be called by my God-given name. No nicknames.

No eating breakfast before everyone gets up.

Couldn't say fart. Had to use fluff or whisper.

— Carrie Conrad (@ExperimentsRFun) June 30, 2020
8.
I could have action figures but if they came with guns, all those went into the trash. Absolutely no t-shirts with any kind of print on them or name brand shoes because "I won't allow you to be a walking billboard."

— Kyle | BLM (@SpaceLeftEmpty) June 30, 2020
9.
my parents would take away my contacts as a punishment.

— Gianna Dior (@Gianna_DiorXXX) June 30, 2020
10.
Turn on the shower and get wet. Turn off the water to soap up and scrub. Turn the water on again to rinse. NEVER run the water constantly in the shower. Apparently this is a "Navy" shower due to short supply of fresh water on ships. I was thus well prepared for life at sea.

— Mark Wannemueller (@MWannemueller) June 30, 2020