Restoring a historical painting is a very specific skill that requires a great deal of experience and knowledge, along with the right tools and materials. Or you could just rub some varnish on it and call it a day because a botched painting restoration will probably make you more Internet famous.
The Guardian reports that a copy (hopefully that means there's another one) of a famous painting by the baroque artist Bartolomé Esteban Murillo has been ruined after a private art collector in Valencia paid a furniture restorer to clean it.
Here's the original: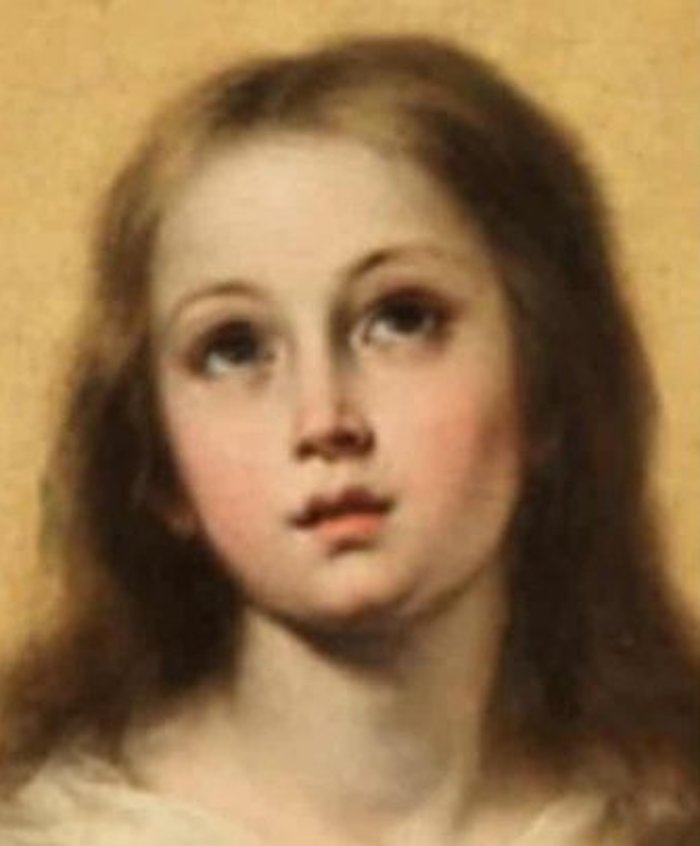 Here's the horrible first attempt at "restoration."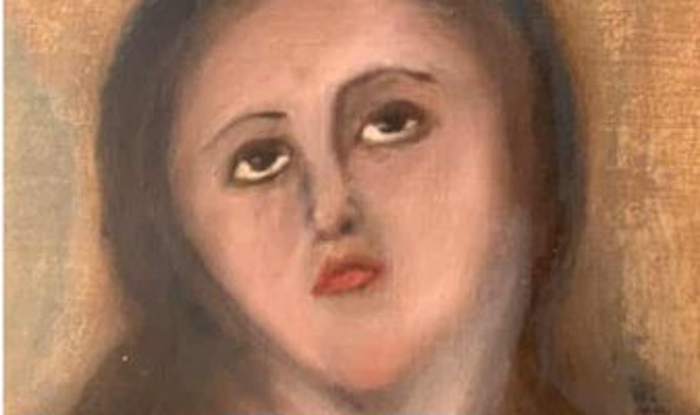 And here's the second attempt, because they thought they could still improve the situation somehow:
Basically, the furniture restorer thought wiping the slate clean and then painting over it a second time was the best way to restore the painting, which any actual painting restorer and art handler will tell you is dead wrong. The person who did this to the Immaculate Conception's face was paid €1,200. Pretty good scam!
The screw-up has been compared to the infamous "Monkey Christ," a painting of Jesus Christ that was on the wall of a church in north-eastern Spanish called Borja that was destroyed by a parishioner who was trying to make it better. One could argue they did:
Remember the infamous "Monkey Christ" affair?
81-year-old Cecilia Giménez became world famous for her *ahem* "amateur restoration" of Ecce Homo by Elías García Martínez… can you guess which is the original?https://t.co/S3g4bMFSlf pic.twitter.com/AEZJEi40wW

— Mark Rees (@reviewwales) June 22, 2020
Both of these desecrations happening in Spain is a little fishy to me. I do believe Monkey Christ was a sincere accident, but no one gives press to a painting that gets professionally cleaned and then looks fine. And the same thing apparently happened to a statue of Saint George and the Dragon, again in Spain, when it got painted all the wrong colors during a terrible restoration job. If all of these are mistakes, something very serious is going on with the citizens of Spain and their relationship to ancient art.
But the people of the Internet are delighted by the Virgin Mary's new melted face:
The original is on the left. The two attempts at "restoring" it are on the right. Ouch.
"Experts call for regulation after latest botched art restoration in Spain: Immaculate Conception painting by Murillo reportedly cleaned by furniture restorer."https://t.co/t3kAIZYnNS pic.twitter.com/m8Kabrt7Qu

— Mark Rees (@reviewwales) June 22, 2020
ecce homo has a friend now https://t.co/7c2JedK45t pic.twitter.com/FxD8Xm1zfU

— the tom autonomous zone (@thetomzone) June 22, 2020
Monkey Christ part two, eight years later https://t.co/9fKRaF2Yqp

— Graham Hunt (Valencia Property) (@grahunt) June 22, 2020
FaceApp… pic.twitter.com/5bcH2adAaf

— numbereightball (@numbereightball) June 22, 2020
It's certainly a mood pic.twitter.com/8mWGGQJ45f

— Agnes (@agnesfrim) June 22, 2020
Oh my god, they Mr.Bean'd it. pic.twitter.com/0hC7vCFjbP

— DatNoFact ↗ (@datnofact) June 22, 2020
It looks like something Redd would try to sell me on Animal Crossing pic.twitter.com/m7Jeit0Nsl

— Nhu-Y Ngo (@nhuyngo) June 22, 2020
Life is tough, and much is depressing, but I will still laugh to the point of tears at a botched restoration of a painting. pic.twitter.com/fWtETDEqTs

— Brad Johnson (@AhabLives) June 23, 2020
The universe knew we needed another Monkey Christ to lighten the horrors of 2020

— Holly Brockwell (@holly) June 23, 2020
It's true, I would likely never have seen the original painting without this botched job. In a way, this is the best thing that could have happened.
More Pics & Memes You May Or May Not Enjoy: