A woman named Peggy in San Antonio, Texas, allegedly posted a photo of a bunch of fresh homemade tortillas for sale. The price was $15, which seems very high for tortillas unless there's two hundred in the pack.
Maybe the high price can be attributed to the extra love Peggy rolled into every one of them with her bright purple vibrator, which is also clearly visible in the image:
The pictures were posted by Twitter account The State of Selling, along with a conversation Peggy supposedly had with an interested buyer.
Well, more like an interested viewer, because they don't seem to want to buy her sex toy tortillas. They want to know what is going on at Peggy's house.
"You been rolling them with a dildo," they helpfully told her.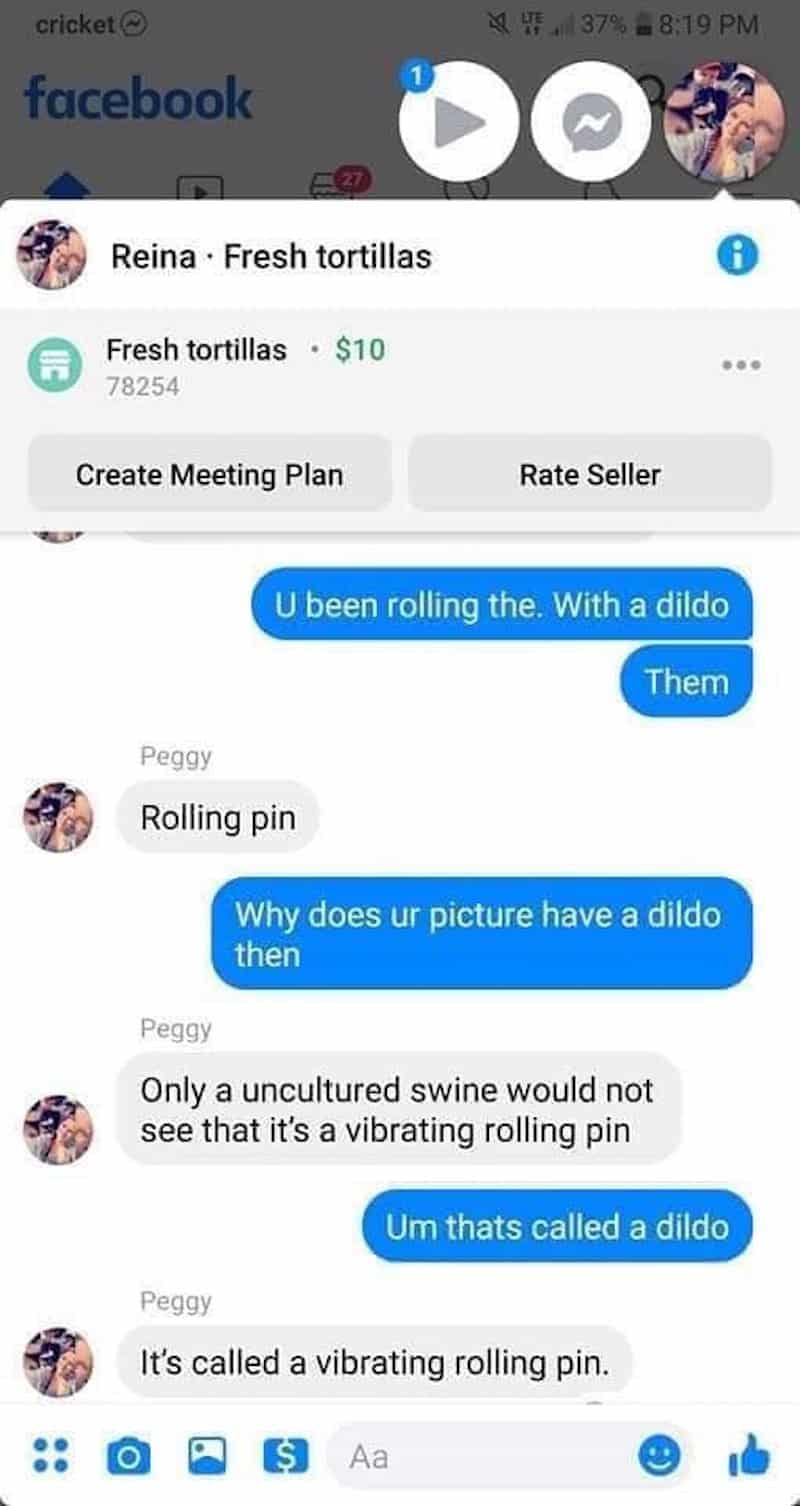 "Rolling pin," Peggy corrects.
"Why does your picture have a dildo then?" replied the insistent consumer.
Peggy answered, "Only a uncultured swine would not see that it's a vibrating rolling pin."
"Um that's called a dildo," they responded.
But Peggy insisted, "It's called a vibrating rolling pin."
At this point, the mythology of Peggy and her dildo tortillas is completely falling apart for me. The kind of person who is so out of it that they're unknowingly using a vibrator to roll out their dinner is probably not going to be responding to people with insults like "uncultured swine." I think they'd be more like to answer with, "Huh? Whaaa? I don't know what you mean," but with worse grammar.
A lot of other people were pretty skeptical as well, so much so that they started tagging an account called Didn't Happen of the Year Awards, which is run by the same people as the State of Selling. DHOTYA basically posts stories and pictures from the Internet that they're absolutely sure didn't happen. They probably get lots of submissions, including this one from the now infamous Peggy.
The clearly fake story is goofy enough for people to enjoy, and while I don't believe Peggy's malarkey for a second, the person messaging her might not realize they're talking to a phony.
Hey, if you're gonna post fake stuff on the internet, at least make it funny!
More funny memes, tweets, and pictures: