We all hope we live a life that we can look back on without regrets, but that is rarely the case. It is human nature to make mistakes then spend years and years beating ourselves up over them. Redditor u/Crazy__Donkey recently asked people aged 60 and up, "What is your biggest 'should have done that differently'" moments in life, adding, "What's the better way?"
Save your money, take care of your body, and don't take your family for granted. And don't be a jerk.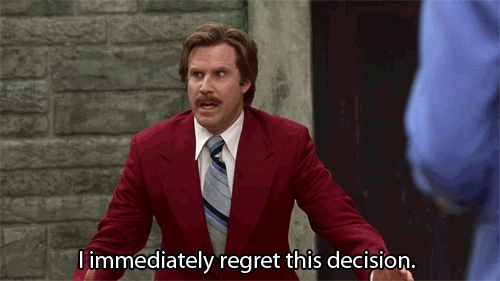 1.
I will be 64 tomorrow 7-25-2020. I wish I had saved for retirement.—u/rainman904
2.
I asked my 88 year old grandma this and she said to stop placing value on what other people think of you. Recognize this is your life and get on with it. Do the things you want to do.—u/EveFluff
3.
Pre nup. I've ridden that rodeo three times. They all left with fabulous parting gifts. Spoiler alert. I'm a woman. Don't think it just happens to men, ladies—u/basketma12
4.
Relax. This stuff isn't so serious. I'm 3/4's done with life, probably 20 more to go. 10 good ones and then it will start to get rough. Don't chase after things. Be simple. Eat simple. Enjoy life. Stop being critical. Enjoy this brief time.—u/MrPrettyKitty
5.
It took me a long, long time to realize that most people only do and say all the things they say and do to benefit themselves and their family.—u/sparrowbrown2104
6.
Pay yourself first no matter what. Don't do anything too much, smoking, drinking, games, porn, anything in excess will hold you back. Learn to honestly deal with your emotions.—u/fishingman
7.
67 here. I've become a contrarian in many regards. Do the opposite of what the crowd does and in many cases (not all) it works out.

Also, take care of your effing ears. I LOVED loud music and pumped it into my ears through headphones for decades. Now I've got tinnitus. It's not awful, but I'm never going to experience pure silence again.—u/Desact
8.
Don't get married to someone just because they'll have sex with you. Or as my staff sergeant said, "whatever you do don't marry the first women to make you breakfast"—u/RevanchistAmerican
9.
– Save money early. – Don't care what other people think. – Get out of your comfort zone. – Take care of your body.—u/decorama
10.
DO NOT GO TO A COMPETITIVE COLLEGE RIGHT OUT OF HIGH SCHOOL. GET YOUR PREREQS DONE AT A COMMUNITY COLLEGE. TRUST ME.—u/Aceandmace