Pranks have their time and place in life. When done so harmlessly, they're all good fun.
However, there is a fine line between a harmless prank and one that is harmful. Take, for instance, when Jared Leto mailed his Suicide Squad castmates inappropriate items and called it "method acting."
See, there are many pranks that are not fun at all.
One man learned this lesson when he pulled a very bad prank on his girlfriend of six years.
TikTok user Hannah Luck uploaded a video of what looks like her boyfriend proposing.
In the video, he takes out a jewelry box and turns to Hannah to say "I love you so much." A visibly emotional Hannah turns to her family with excitement.
The boyfriend continues by saying "It has been six years," and starts to get down on one knee.
He opens the box and says "will you please … take these earrings?" and the camera pans down on some nice earrings, but probably not the kind of jewelry Hannah was expecting.
Since Hannah uploaded the video two weeks ago, it has received 1.2 million views and 155.8K likes.
Oh, and a whole bunch of comments telling her to break up with him after this particular stunt.
People were really, really not happy with this guy.
Probably not expecting the boyfriend hate, Hannah uploaded a video of the two of them that did not satisfy TikTok users one bit.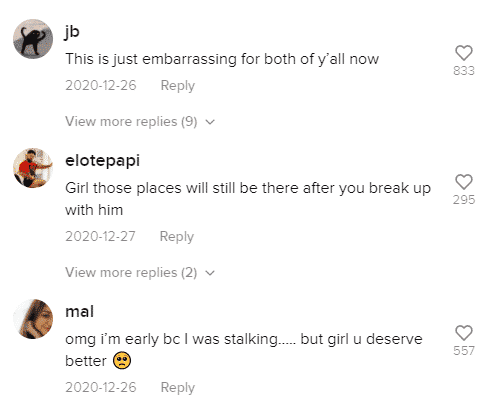 BUT! In a turn of events, we have learned that the video is from a year ago and the two are now engaged.
For real! No pranks!
She even had to upload a video of herself telling TikTok users to back off.
Which, yeah, y'all have taken it too far. If Hannah and her fiancé are happy and healthy, then good for the two of them!
More high-quality links you may or may not enjoy: