The cicadas have returned in the United States! The insects have been seen in Washington, D.C.; Bethesda, Maryland; Knoxville, Tennessee; and Cincinnati, Ohio. Even places as far north and west as Detroit, Chicago and St. Louis have had sightings. That's right, these bitches are everywhere.
Cicadas typically only emerge every 13 to 17 years and the last time we saw them was in 2004. Trigged by warm rain, these little demons emerged this year in early May and should burrow back into the ground in four to six weeks in late June into July. They're supposed to come out again in 2038.
As gross and squirmy as they are, cicadas are important to the ecosystem because they prune trees, aerate soil, and their bodies provide nitrogen for fertilizing soil. So while it may feel like they only exist to make you feel like you're living through a Biblical plague of locusts for one of God's sick pranks, they do actually serve a valuable purpose.
---
1.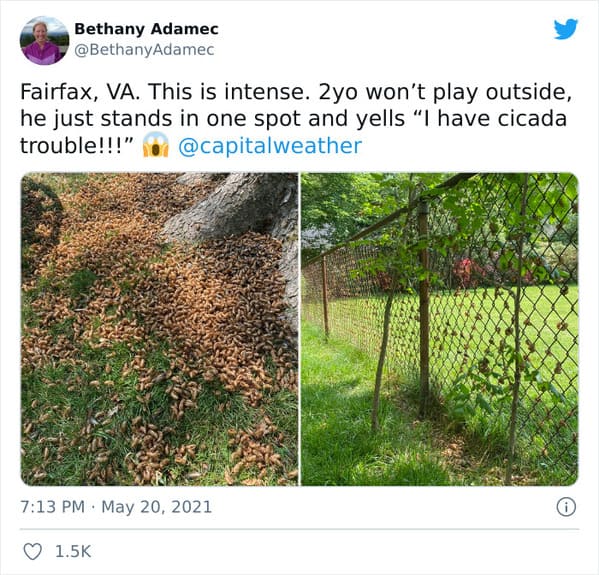 2.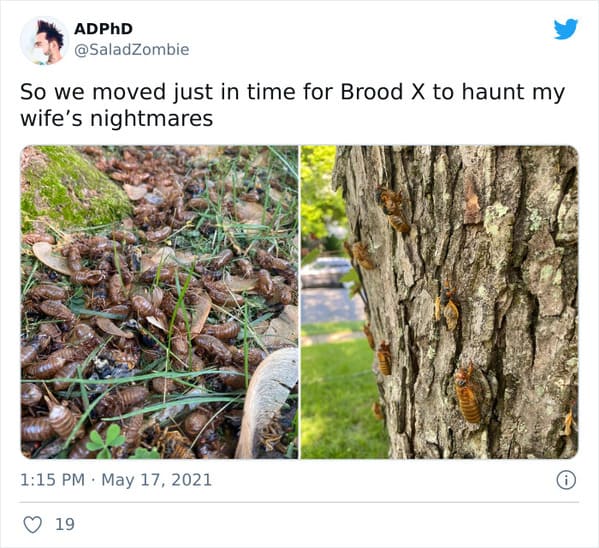 3.
4.
5.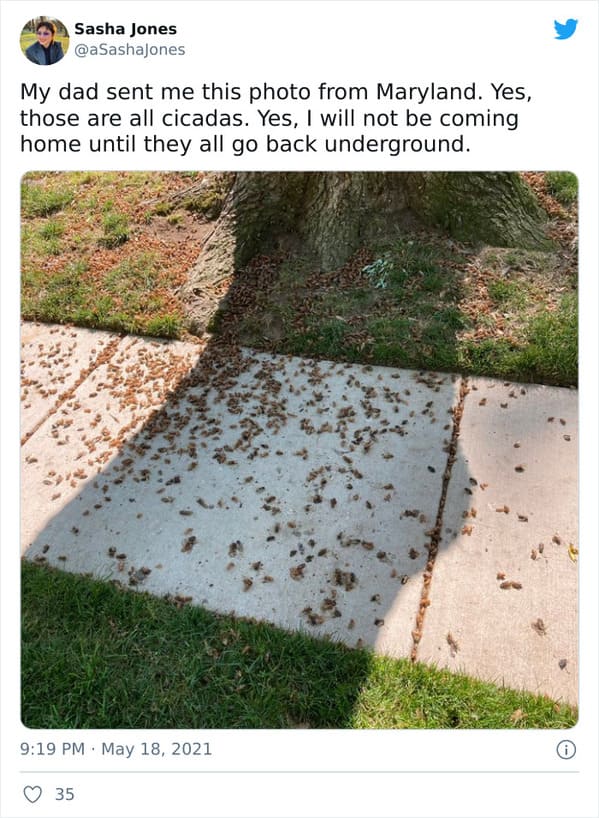 6.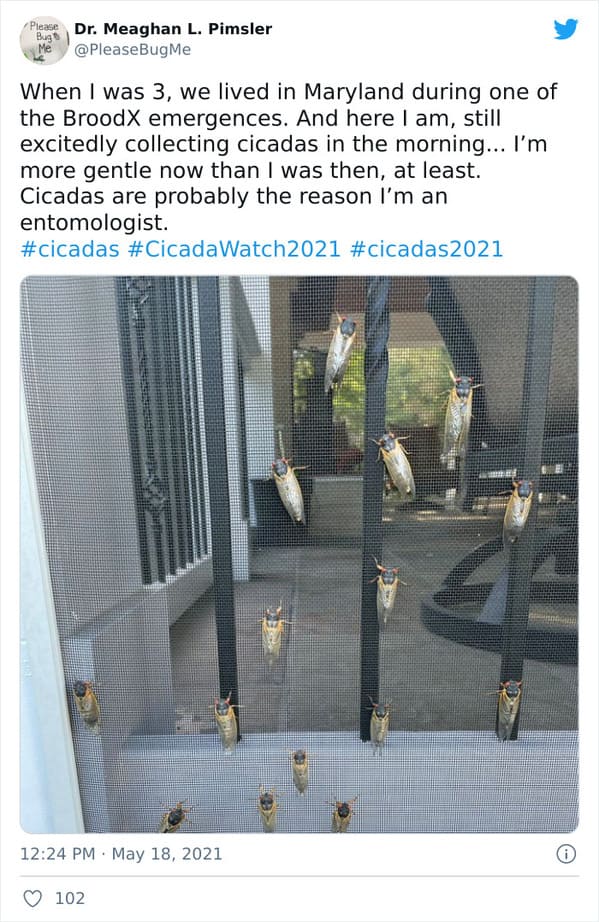 7.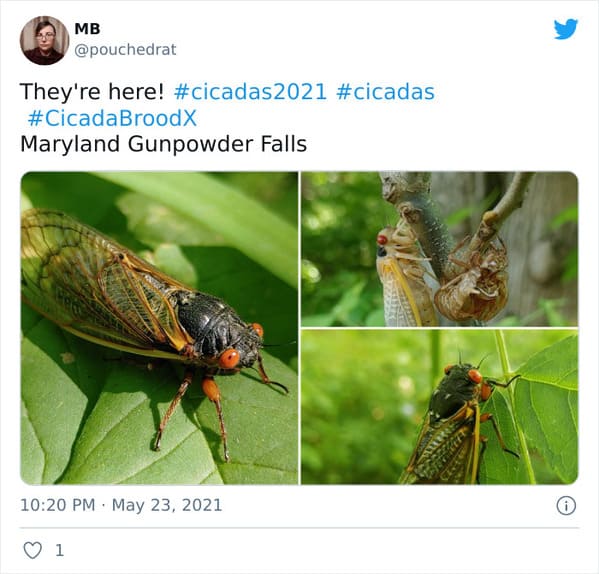 8.
9.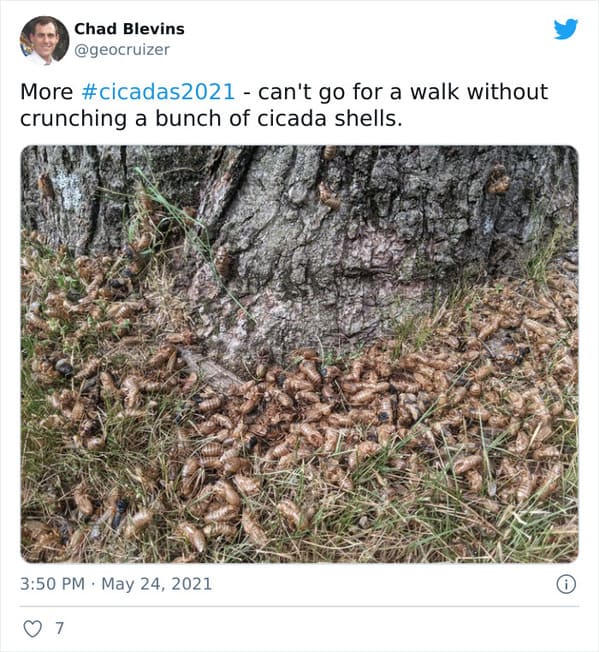 10.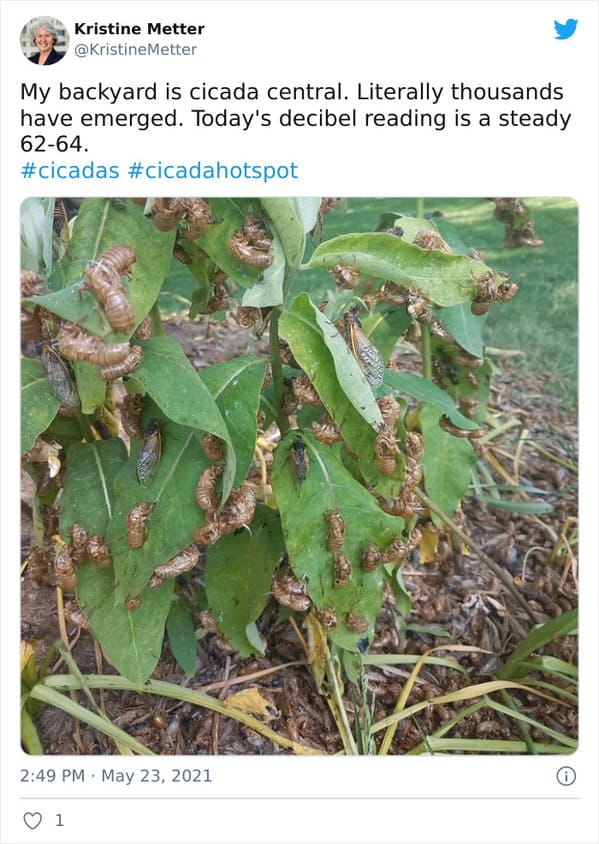 11.
12. "Cicadas Underneath Of An Old Tarp That We Pulled Away"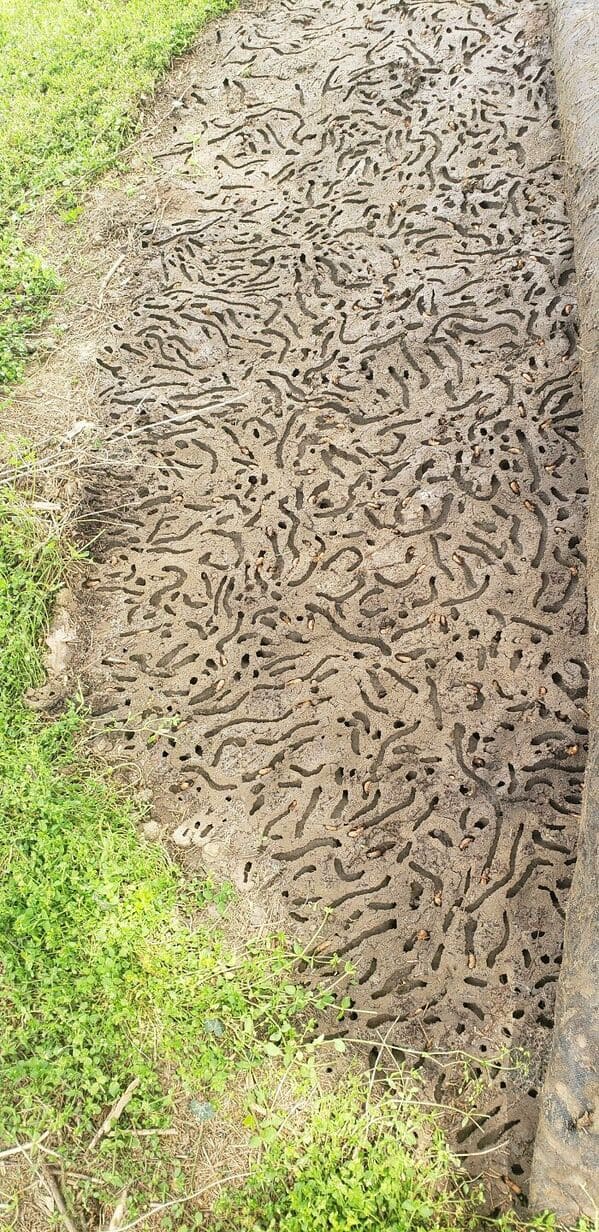 13. "Live From The Front Lines. Aka, My Backyard. Brood X Showing Up Strong In Mount Vernon."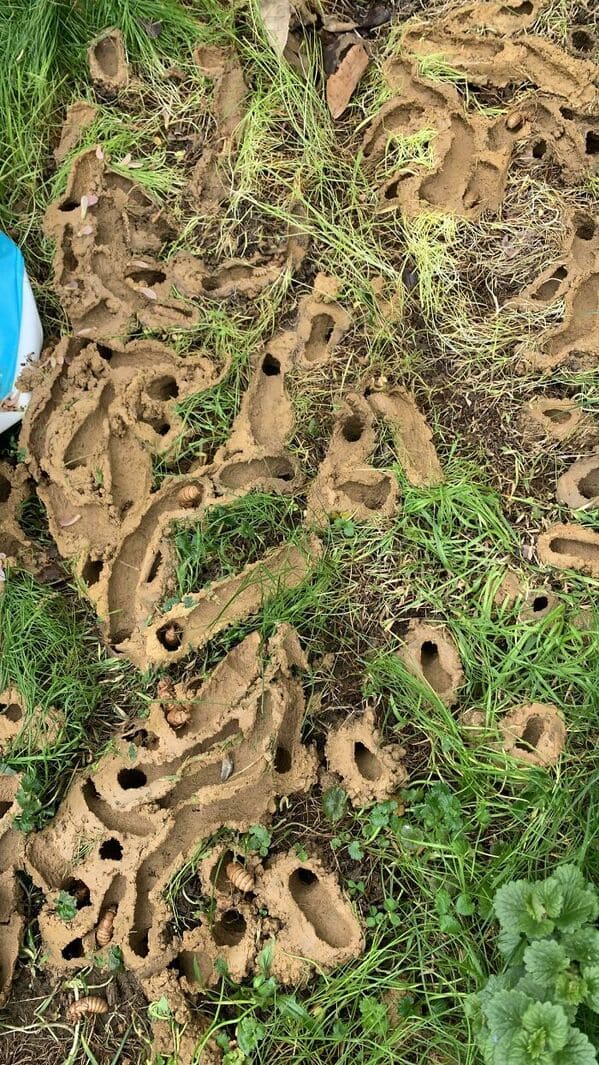 14.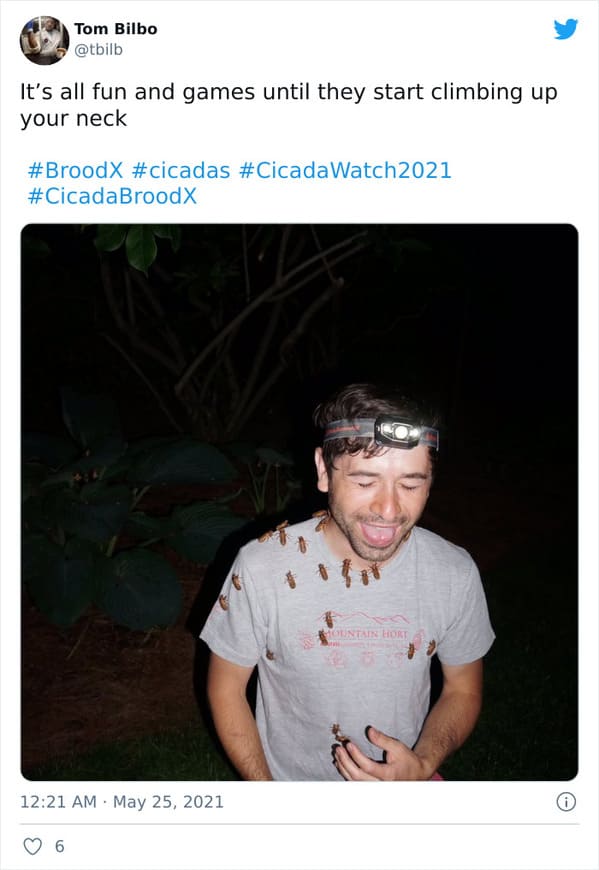 15.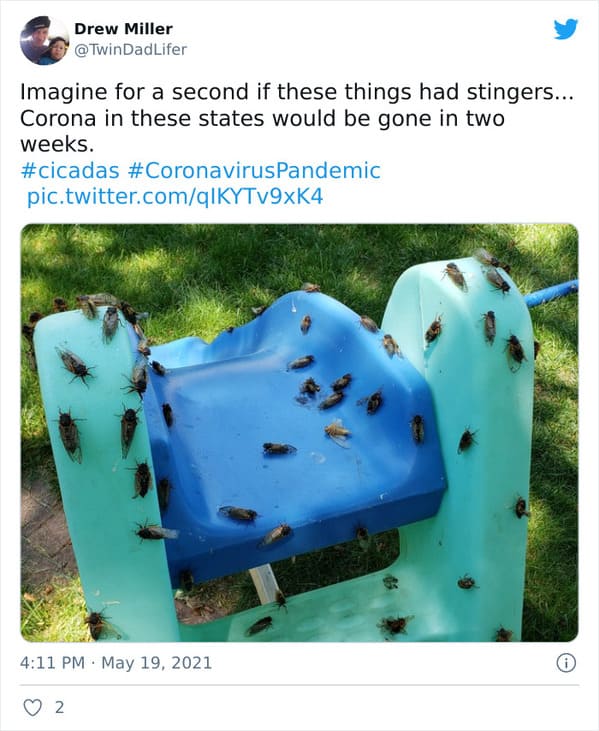 16.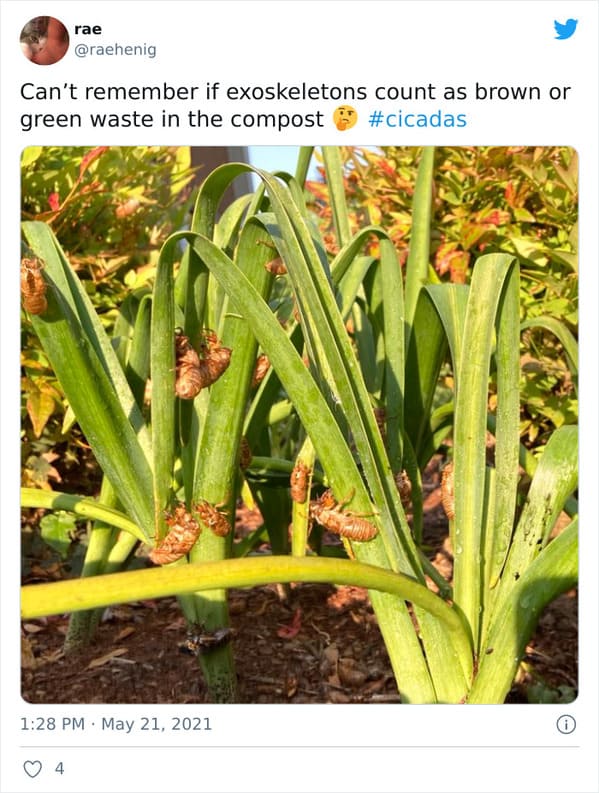 17.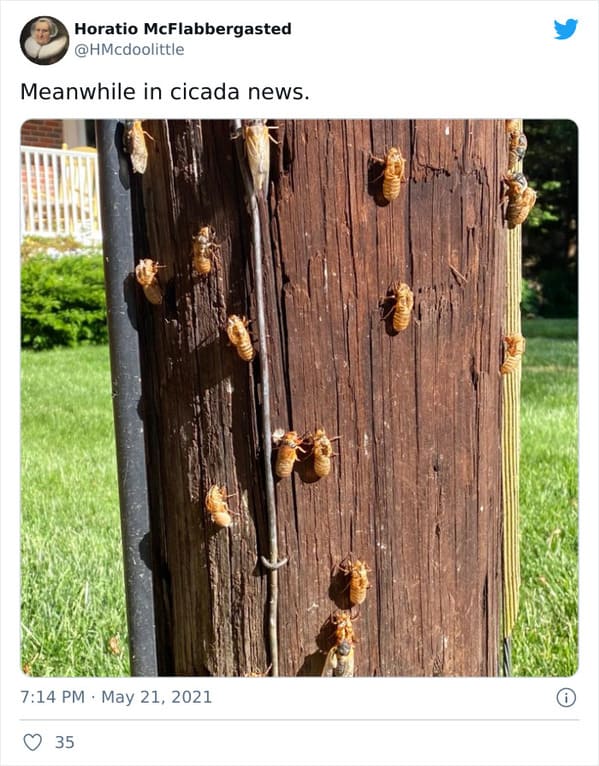 18.
And they keep coming and coming #cicadas #cicadas2021 #CicadaBroodX @nbcwashington @dougkammerer #BroodX pic.twitter.com/Ms5jf9jNew

— NBCPhotog (@bforte22) May 23, 2021
19.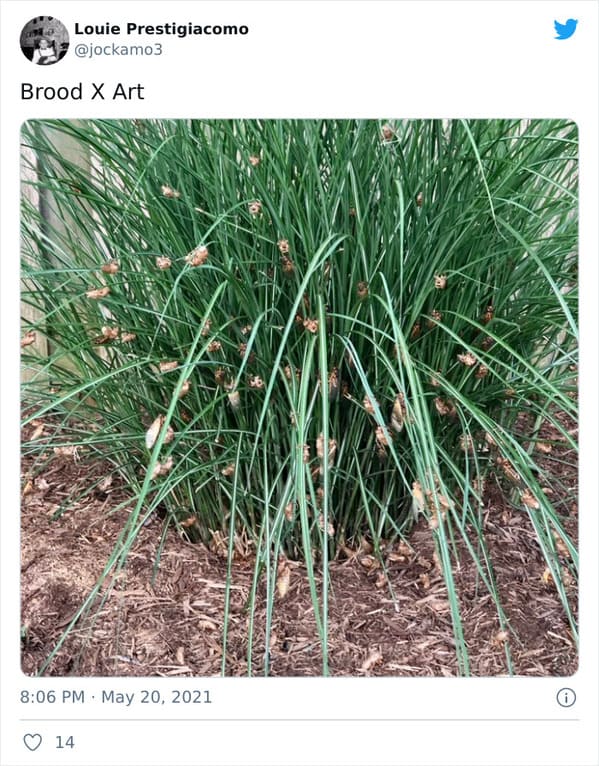 20. "East Coast Cicadas decided to all come to my house"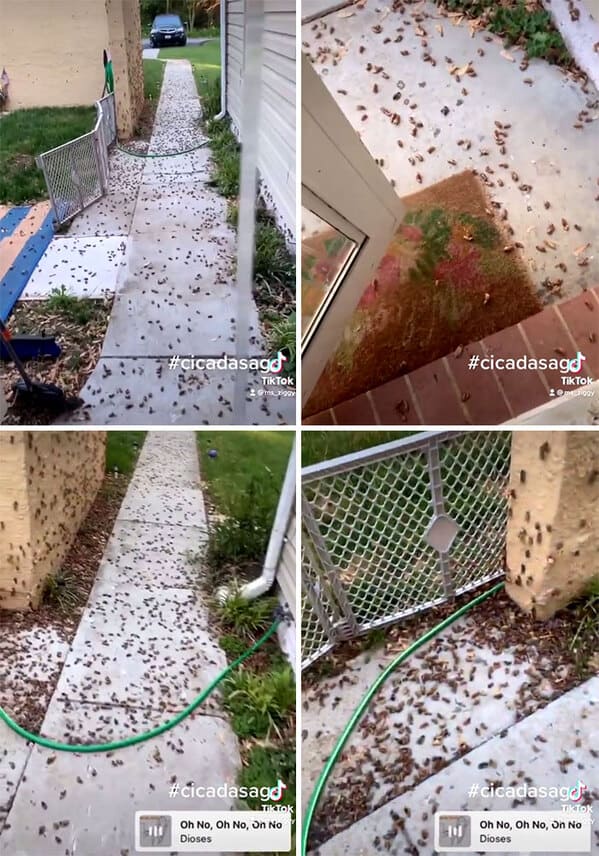 21.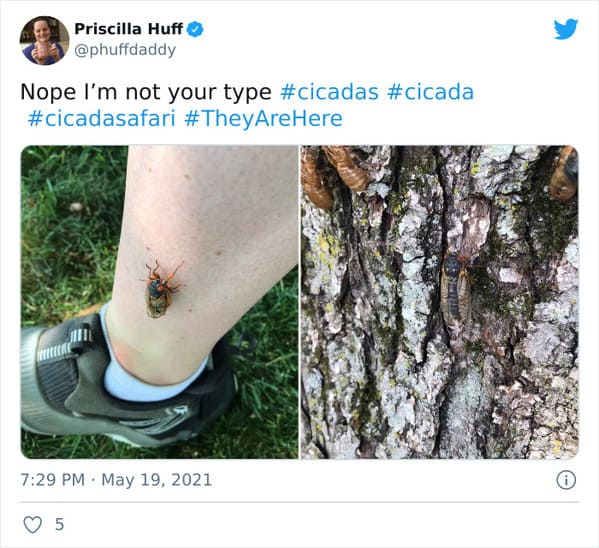 22.
23.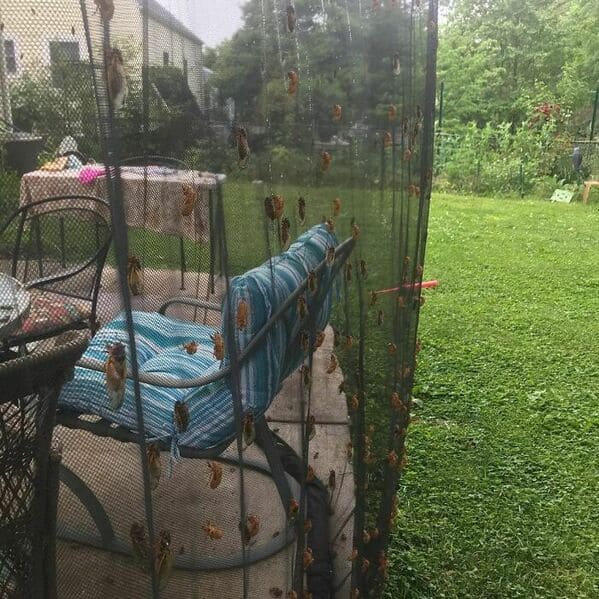 24. "Y'all got cicadas too?"
25.
26.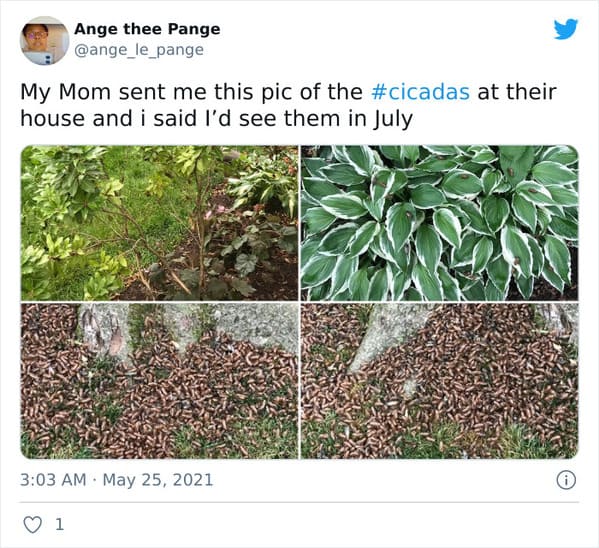 27.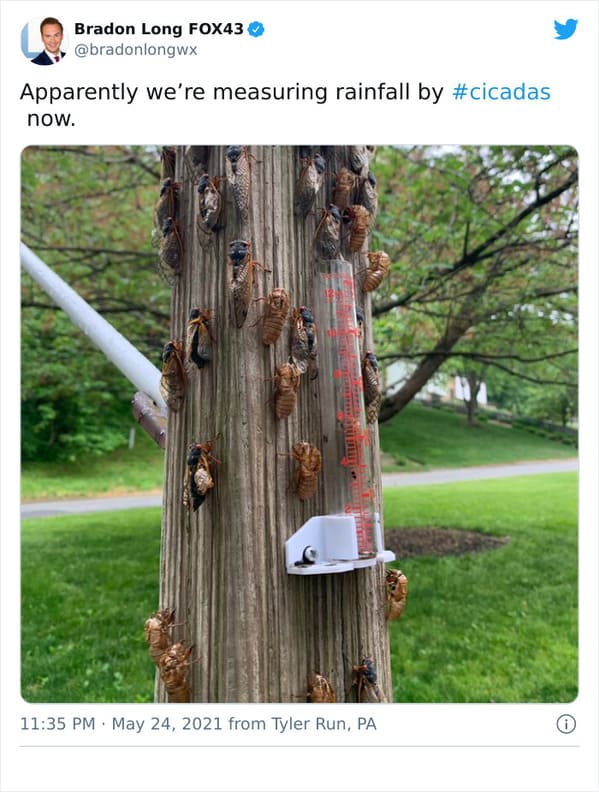 28.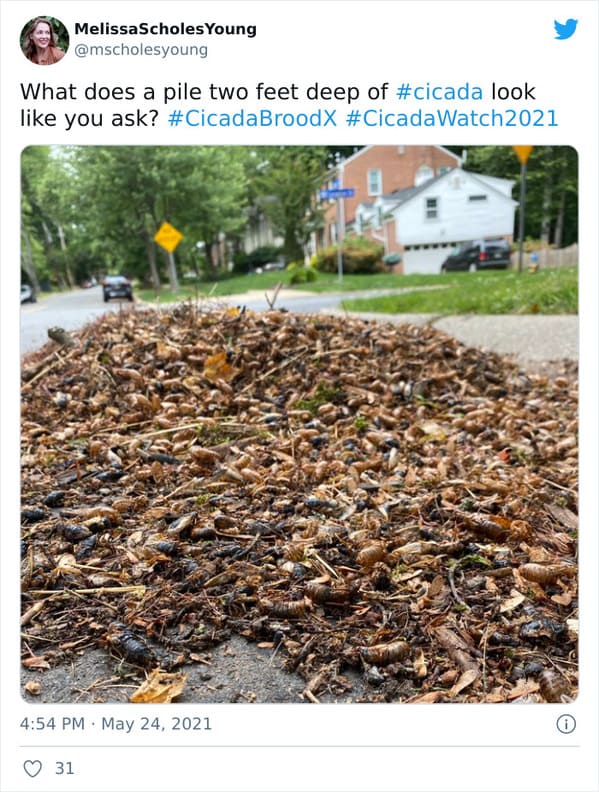 29. Here are some good jokes from Twitter:
everybody masc til the 17 year cicadas come out

— hannah (@hannahgruen) May 19, 2021
30.
Every male cicada in my neighborhood right now pic.twitter.com/i2G7D9Cgdv

— Katie Day Good (@ktdayg) May 25, 2021
31.
Why I step outside and the sidewalk was covered in cicadas AND slugs.. I'm not strong enough for this pic.twitter.com/ip6Il31uxE

— Ariam (@iambrattyb) May 25, 2021
32.
These lil Cicadas are so loud, they chirp all day and here and I can't get any peace.

🙁

The Cicadas outside my window: pic.twitter.com/BDoEu7VR24

— Beatrice-Elizabeth Peterson (@MissBeaE) May 26, 2021
33.
the cicadas are so loud but i guess you ain't seen each other in 17 years, you gonna have a lot to talk about

— 7 Fig Nig💰 (@ricric_denae) May 23, 2021
34.
A cicada tweeted this https://t.co/blxS0jmdmd

— ️️ (@ZeeToThe) May 24, 2021
35.
accidental stepped on a cicada

imagine surviving 17 years to see your life ended by a millennial guzzling iced coffee

— Michael Gold (@migold) May 20, 2021
36.
would you rather fight 1,000 cicada-sized F-35s, or one F-35 sized cicada

— Haley Britzky (@halbritz) May 19, 2021
37.
When the cicadas ask what's happened since 2004…just tell them they didn't miss much. They don't need to know.

— ᴛʜᴇ ᴛᴏɴʏ™ (@TweetsByTheTony) May 25, 2021
38.
I envy cicadas. I too want to just sit in a tree and yell.

— Gabi Fleury (they/them) 🏳️‍🌈 🇧🇷 🇦🇴 🐆 (@fleurygs) May 23, 2021
---
More Sciencey Stuff: