Cleaning fees for Airbnb rentals can vary depending on the location, size of the property, and level of cleaning required.
Some hosts may charge a higher fee if the property is particularly large or if there are a lot of guests staying but many argue that these fees have become increasingly egregious over the years.
Typically, the guests are all checked out by the time the cleaning staff arrives, but that was not the case for this cleaner.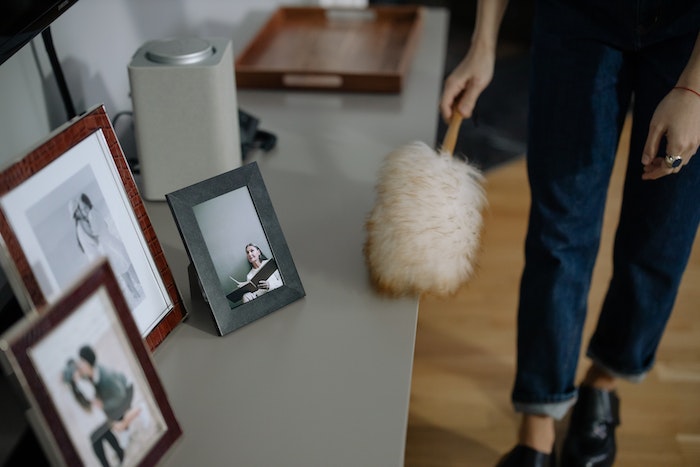 Regina, also known as @thebabybestie, shared a now-deleted TikTok video where she shared her experience as an Airbnb cleaner. In the video, she arrived at the property to find that the guests had not checked out on time. As a result, she had to wait in her car for 45 minutes before being able to start cleaning the property.
In the text overlay of the video, Regina wrote, "I arrived at 10:05am to find guests still at the cabin. Happy to wait a few minutes. But… check out is 10am."
Regina, who had been waiting in her car for a while, was eventually told to go knock on the door of the Airbnb cabin where the guests had not checked out on time. "No one is responding, so I was told to go knock on the door. This is so awkward," she said as she walked up the driveway of the cabin. The delay had turned into 25 minutes.
"Keep in mind we often clean more than one cabin in a small amount of time," Regina explained. "They were in their pajamas and said they needed to pack up still."
To pass the time while waiting for the guests to check out, Regina provided updates to her viewers and also took the opportunity to make fun of the late guests. "10:33, first sign of movement," she said.
After 45 minutes of waiting, the guests started to load their cars at 10:40am. Finally, by 10:45am, an hour past the checkout time, they left the property.
Regina expressed her frustration, saying "Thank you for having me sit here for 45 minutes and waste my baby's nap time."
Regina continued to express her disappointment as she walked through the house and commented on the state of the property left by the guests. She noticed some unusual things like water left in the bathtub and trash cans moved beside the beds. She was clearly not pleased with the condition of the property and felt the guests left the house in poor condition.
"You know it was a good time when there's a trash can next to where they were sleeping," Regina noted.
Regina then moved to the kitchen where she found two cups and two spoons in the sink. "Can't wait to wash those," Regina said with a hint of sarcasm and frustration.
Finally, Regina showed the dirt that came off her rag from cleaning the inside of the hot tub. "Yuck," she said, expressing her disgust. She ended her video post with a reminder to viewers to be considerate of other people's time and to clean up after themselves. "Please be considerate of others' time. Thank you!"
Unfortunately, Regina's video did not receive the response she had hoped for. Many viewers called out the Airbnb host for their 10:00am checkout time and likely high cleaning fee.
"10 am is way too early. These Airbnbs need to make it 11 or 12 like hotels. I understand the cleaning but higher more help," one viewer said.
"The audacity to complain about 3 spoons in the sink when you know DAMN WELL you charged these people $150 cleaning fee," another TikToker stated.
According to a Nerdwallet analysis of 1,000 reservations for 2022 or 2023, the average cleaning fee for a one-night Airbnb stay was $75 in June 2022.
In response to complaints from both guests and hosts, Airbnb introduced a new feature in November that enables users to search for results that show the total price, which includes all fees or to stick with the traditional nightly rate only. This way, users can make an informed decision about the total cost of their stay.
Despite the new feature, many people still believe that Regina's stance on cleaning fees and the high cleaning fees charged by some Airbnb hosts are a problem.
"They left it very clean. Confused with your judgment of them?" noted another.
Viewers were also upset that Regina showed up 5 minutes past the checkout time. "You being there 5 minutes after they're supposed to check out is crazy," a user noted.
Some believed that Regina's video and her attitude towards the guests and cleaning fees may have had a negative impact on Airbnb's reputation and could drive away potential customers.
"Thank you for reminding me TO NEVER stay at an Airbnb. Ughhhhh," a commenter said.
Based on the comments, it appears that Regina's video had an opposite effect than what she intended. However, some viewers could understand why Regina was upset about the guests being late and leaving the property in poor condition.
"I agree with you I used to clean Holiday Inns/Airbnbs and they all typically have the same check out check in at 2 o clock so it means you have to rush to get all of them done by 2 if someone is late checking out!" one viewer wrote.
Regina also received some sympathy from other house cleaners who can relate to her experience.
"Pro cleaner here! I feel you," one commenter wrote. "Even being behind by 15 minutes can screw your whole day up!" This comment showed that Regina was not alone in her frustration and other cleaners can relate to the difficulties of dealing with late checkouts.