A Baskin Robbins customer has gone viral on TikTok for calling out the store after finding it closed due to under-staffing. Usually, this wouldn't be that big of a deal, but in this instance, Chelsea was scheduled to pick up an ice cream cake for her daughter's birthday. The clip has sparked a discussion of staffing on the platform.
In the video, user Chelsea (@chelseatyme) shows herself holding the receipt for the cake, explaining that she was informed by the ice cream shop that she would need to pick up the cake earlier in the evening as they were closing early. Knowing this, she arrived two hours before her scheduled time, only to find the door already locked.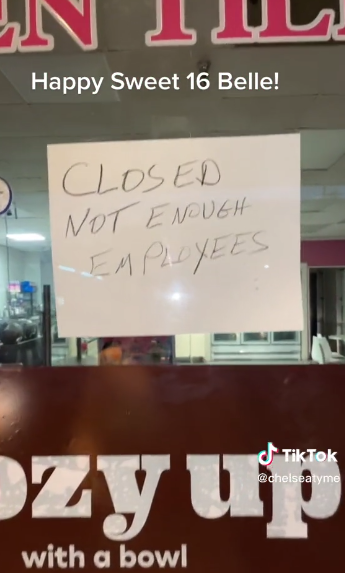 "Paid $49 for my daughter's cake, and tipped them," she says in the video. "They said be here by 7 because they're going to be closed early, and it is like 5:24. Now my daughter's Sweet 16 cake is locked up in there. Cool, Baskin-Robbins. Fuckin' cool." She says sarcastically.
At the end of the clip, Chelsea showed a sign on the store's door that reads, "Closed Not Enough Employees."
The video of a customer finding Baskin Robbins closed due to under-staffing got over 2.7 million views.
Chelsea clarified in her own comment section that she received a full refund for the cake, but viewers empathized with her frustration. Under-staffing is an issue all around America with the recent labor shortage resulting from the Covid-19 pandemic. Many businesses are failing due to their lack of workers and the amount of people deciding to suddenly quit.
Commenters on the video expressed their sympathy as well as disdain for the current lack of labor:








What are your thoughts on this situation? Have you ever experienced anything of this magnitude due to labor shortages?