Baskin-Robbins is really having a quarantine moment right now. Last week, lockdown protestors demanding the right to get haircuts and infect salon workers with a potentially deadly disease were photographed outside of one, setting off a round of Baskin-Robbins jokes:
"Oh, for fuck's sake. GOTDAMNIT."
– Baskin Robbins Marketing Department pic.twitter.com/cycY3SacJ5

— Nathan Winston Saifer, Esq. (@nathanwinston18) April 18, 2020
If I learned one thing this week, it's that if you're going to violate a stay-at-home order to protest what you call authoritarianism while holding a sign that says "Give Me Liberty or Give Me Death," don't stand outside a Baskin Robbins or Fuddruckers with a Big Gulp in one hand pic.twitter.com/C7980ML4ex

— Seth Abramson (@🏠) (@SethAbramson) April 19, 2020
Others have had time just to reflect on the ice cream franchise and their time working there:
Speaking of Baskin Robbins: pic.twitter.com/AhMjx3VdUi

— FrooVids (@FrooVids) April 18, 2020
First time in my life I realized Baskin Robbins' logo has a 31 in it. For context, I used to work at a Baskin Robbins. pic.twitter.com/x6QnmFUqhW

— Jesse McLaren (@McJesse) April 18, 2020
But the biggest splash was made by Peggy Heldstab, who owns one of the shops in Junction City, Kansas. TMZ reports that a sign outside of her establishment has been getting photographed by everyone passing by, because it makes a connection to the Netflix hit Tiger King, and the infamous Carole Baskin, queen of big cats and possible murder suspect.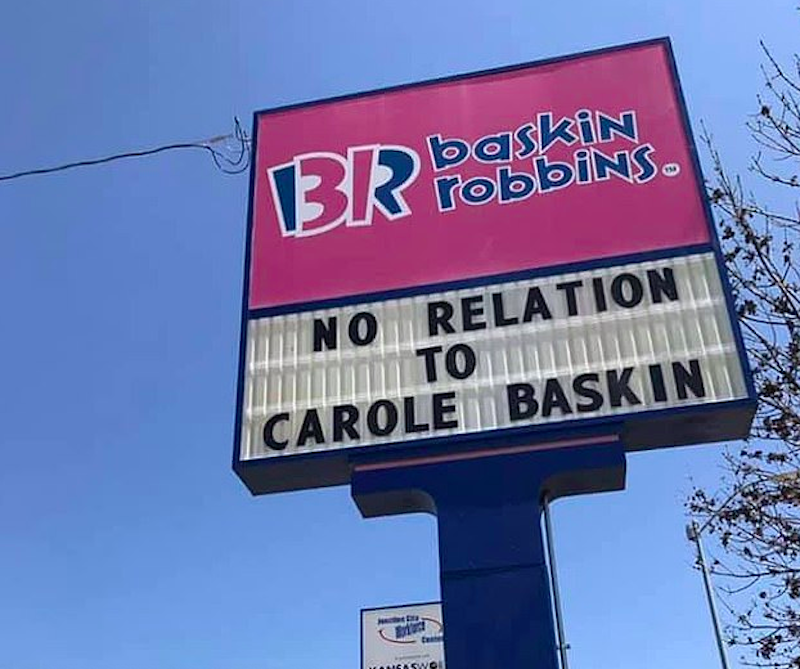 Under the Baskin-Robbins logo, Heldstab posted, "No relation to Carole Baskin."

Apparently, when she posted it, she hadn't yet seen nor heard of Tiger King, which is maybe even more shocking that Baskin being a potential husband murderer. She just took her son's advice, and he turned out to be completely right. The sign went up on Sunday, and the next sales doubled. While most restaurants and eateries are closed for sit down service, some still do delivery and drive-by pickups. It wouldn't have occurred to me to hit up the ice cream shop for service, but I can imagine that sign is a real draw.
Now I want to see how business does when they post a sign that says, "Actually, we are related to Carole Baskin."
More Tiger King: