Holly Polly, a woman who posts under the handle @swankysquirrel1 on TikTok shared some less-than-uplifting content, and it may be her most popular. In the TikTok video, she shares that she looked up the numbers on her student loans because she needed the information for something else.
"What the f*ck?" she says. "I started with $80,000, I've been paying for 10 years. I paid $6,000, lump sum, because that's the only way I could get it low. That took me to $76,000 after I'd been paying for nine years."
She then says that over the entire ten years, she's paid $120,000. But her balance is now only at $76,000.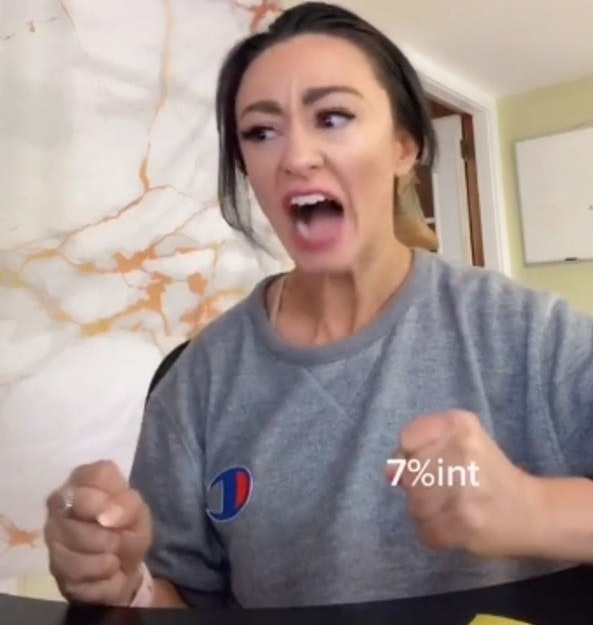 "How the f*ck is this possible?" she yells. She admits she might be late to the game but "student loans are bad."
Twitter user @ToyaRochelle posted Holly Polly's story on Twitter, writing, "Y'all watch this video. ugh. My heart hurts. This system is so f—ked."
Y'all watch this video. ugh. My heart hurts. This system is so fucked pic.twitter.com/YUDSbNiWKu

— Fan Favorite 🦁 (@ToyaRochelle) August 28, 2020
Not everyone is so compassionate towards Holly Polly, saying she should have understood about compound interest and what it means to take out unsubsidized loans:
Fuck you. Most people take these loans out at 17-18 years only with no understanding of how it works. Also it shouldn't be this way. We should be penalized for wanting an education and it should cost 250k for 80k in student loans. That's disgusting

— Liz Campbell (@beautybyliz2016) August 28, 2020
I'm sorry, but I'm not going feel bad for someone who willing took out student loans and didn't know what interest is. No one forced you into anything. Save the sob stories for something that actually isn't your fault.

— Seth Carr (@SethCarr5) August 29, 2020
But many more people wrote about how predatory student loans are. They directly target young people who may not have the financial literacy to understand what they are committing to. Not only that, but people are inundated with messages about how higher education is the only way to succeed and improve their lives, so these teens are more willing and ready to take on a huge financial burden to pay for that diploma. They might not even have many other options if they want a job. Not just a job in a particular field, but any job at all.
That's not really true though; I beg kids I know to go to trade schools instead of colleges. College is not the place to go to make money or have a good life. I have a GED and never had any higher learning degrees or training and make more than most college educated people.

— Its Me (@_LemmeGetUhhh) August 28, 2020
Bro I knew how intrest worked as a kid its pretty fucking easy to understand thats why I wasn't dumb enough to go to college, but its the constant "You have to go to college to succeed" bullshit that gets a lot of kids and I can tell you from experience that's not true

— Cameron Akana (@akana_cameron) August 30, 2020
Then there's the forgiveness route where you take an even bigger pay cut to work at a non-profit and make payments for 10 years so you qualify only to have your application turned away by DeVos because you didn't dot an i

— crocodile deathspin (@beenjammin123) August 28, 2020
She probably took the loan as an 18-20 year old w/o knowing much about it. Student borrowing is predatory just like payday loans. The WH stripped away a payday loan regulation last month. Some of those loans are 300-400%. It's open season.

— Dre Green (@imdregreen) August 28, 2020
The sick thing is that it's fucking accumulative, like if you don't pay, the 7% becomes 7.49% of the base amount which then keeps on multiplying quicker and quicker, instead of a stable amount, which means one month's late payment can fuck you up very very hard m

— Joy (@Joy91179085) August 30, 2020
Even if you get a good job still doesn't mean them loans get paid. I know lawyers who make and have made 200k+ for years and still have student loans to pay off 20 years after graduating.

Get a trade and get paid at least you making something as an apprentice

— alphabet gang (@IntellectNerd) August 29, 2020
Some shared how the same thing has happened to them.
LOL!!!! One of my high school teachers said she's paying $10 a month for her student loans till the day she dies. She's not lookin back neither 🤷🏾‍♀️😂

— Elom Musk (@NicoleForson) August 28, 2020
It's due to predatory practices by the loan servicer. The worst one is Navient, who I have. You can go on the Federal Student Aid site and do a direct consolidation to get a new servicer. I'm going thru this right now. Im in the same boat as her tho.

— ani riots not diets (@AniMonteleone) August 28, 2020
You can learn online quicker than in school. I was making payments for a few months when I realized it wasn't going as far as I wanted. Hopped on reddit, learned about the snowball method and the avalanche method, restructured my payments, boom one loan already paid off

— 👄✨EvilByChoice✨👄 (@WorshipAlexa) August 29, 2020
Yeah my school total for Associates, Bachlors, and Masters was about 45k. I paid it all as I went though working full time paying out 3k a month about. I really don't feel sorry for anyone with school debt wanting freegiveness

— €t$ (@EStrutner) August 29, 2020
It is a little late perhaps for Holly Polly to be realizing what she's gotten herself into, but the fact that her story isn't uncommon at all shows that it's not really a "mistake" so much as it is a part of the design of education and capitalism. Put people in debt to survive the economy and they'll never have financial freedom again.
You may or may not also enjoy these high-quality links: