There has always been a consistent debate on what's right and wrong when it comes to permanently altering a child's appearance. Whether it be piercings, tattoos, or sometimes even circumcision, parents and non-parents alike usually have something to say. One mother and TikToker, Meagan Black (megz_nichole217) recently received a ton of backlash for taking her 9 year-old daughter to get a nose piercing. As you can expect, viewers were not happy but, ironically, the little girl doesn't seem to mind at all.
Expectations of piercings and tattoos fluctuate across cultures. It's not unheard of for a mother to take her 1 year-old to go get their ears pierced. Does the child have a choice? Not really. However, the pain is equivalent to an ant bite, and the majority of people don't remember anything before the age of three. Additionally, once the kid is older and changes their mind about wanting earrings, or any piercings for that matter, all they have to do is take them out.
On the flip-side, something like a simple ear lobe piercing is a little different than a nose stud. Look below to follow the whole story. Who knows? By the end you may not be as fed up as you thought you would be.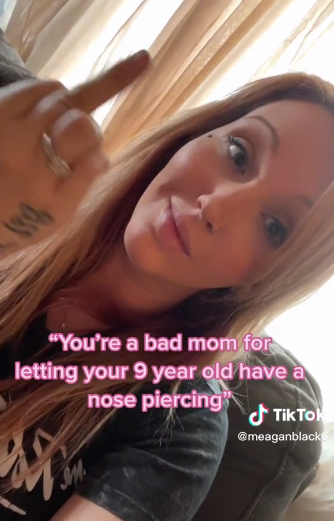 The 28-year-old mother from Illinois responded to the hate in a series of TikToks. In one clip that collected over 1 million views, the mother played an invisible violin with her fingers to a cover of "Stan" by Eminem. As a final response to the haters, she sticks up the middle finger and smiles.
This TikTok mom who is being criticized for taking her 9 year-old daughter to get a nose piercing has sparked a debate across the platform.

In a cute Q&A follow-up video, Meagan and her daughter discussed the nose-ring and how it came to be. Her daughter reminded naysayers to not "say anything about it." She continued, "I mean the nice people can say something about it, but if you're gonna say something mean about it, just don't say anything."
Meagan explained in the video why she let her daughter get her nose pierced saying, "I let her get her nose pierced because she does not like earrings." Mom explained how in Illinois "a minor can get any piercing with parent consent and there is no age restriction."
Meagan's follow-up video with her daughter and their nose rings gained a little more support in the comments than her original post.


In her clarifying video, Meagan continued to validate her daughters silly behavior seen in other videos that had viewers speculating on the child's well being. "She is a very silly girl and that is her personality and we love it so much." Meagan proudly explains.
She continued, "So keep the negative comments to yourself because she is a completely normal child that is just goofy that's it. She won student of the month at her school she has the highest reading level in her grade. The world is already crappy so can you just be nice I mean it is a child."
She then asked her daughter if it hurt her to get her nose pierced to which she promptly responded, "No." Then the mother asked "Did you want the piercing or did I force you?" Her daughter very seriously says "I wanted it."
By this video, there was a lot more support. Given that piercing a newborn's ears is deemed socially acceptable, many saw that her daughter's nose stud actually suited her well and figured 'Why not?' However, there were still those who took the time out of their day to lash out at a child. One TikTok user asked Megan flat-out if her nine-year-old child was "on drugs" and the TikToker made it quite clear she didn't appreciate the comment.
"I have no words really. Is she not allowed to express herself?" Meagan asked in her response to the comment.
Meagan was quick to defend her child. "Her nose ring makes her happy and it's not hurting anybody, not even her." She says in the TikTok post. "Stop saying weird stuff." She asks, right before she concludes her video with a final roast: "I'm sorry that your kids aren't funny."

So, after getting some insight on the situation, what are your thoughts on this tiny human's new stud? Do you think there could have been better ways to express herself that didn't involve adolescent mutilation? Or do you agree with myself and others that the little stud is basically harmless and was a good compromise for a kid who thinks "earrings are ugly"? Let us know!