If there are two things that seemingly go together like oil and water, it's the so-called "Karens" of the world and taking basic preventative measures against the spread and transmission of coronavirus. To this point, a woman's Facebook post complaining about a Starbucks employee who simply asked her to wear a mask while ordering has completely backfired
"Meet lenen [sic] from Starbucks who refused to serve me cause I'm not wearing a mask," wrote the woman, Amber Lynn Gilles, in the since-deleted Facebook post. "Next time I will wait for cops and bring a medical exemption."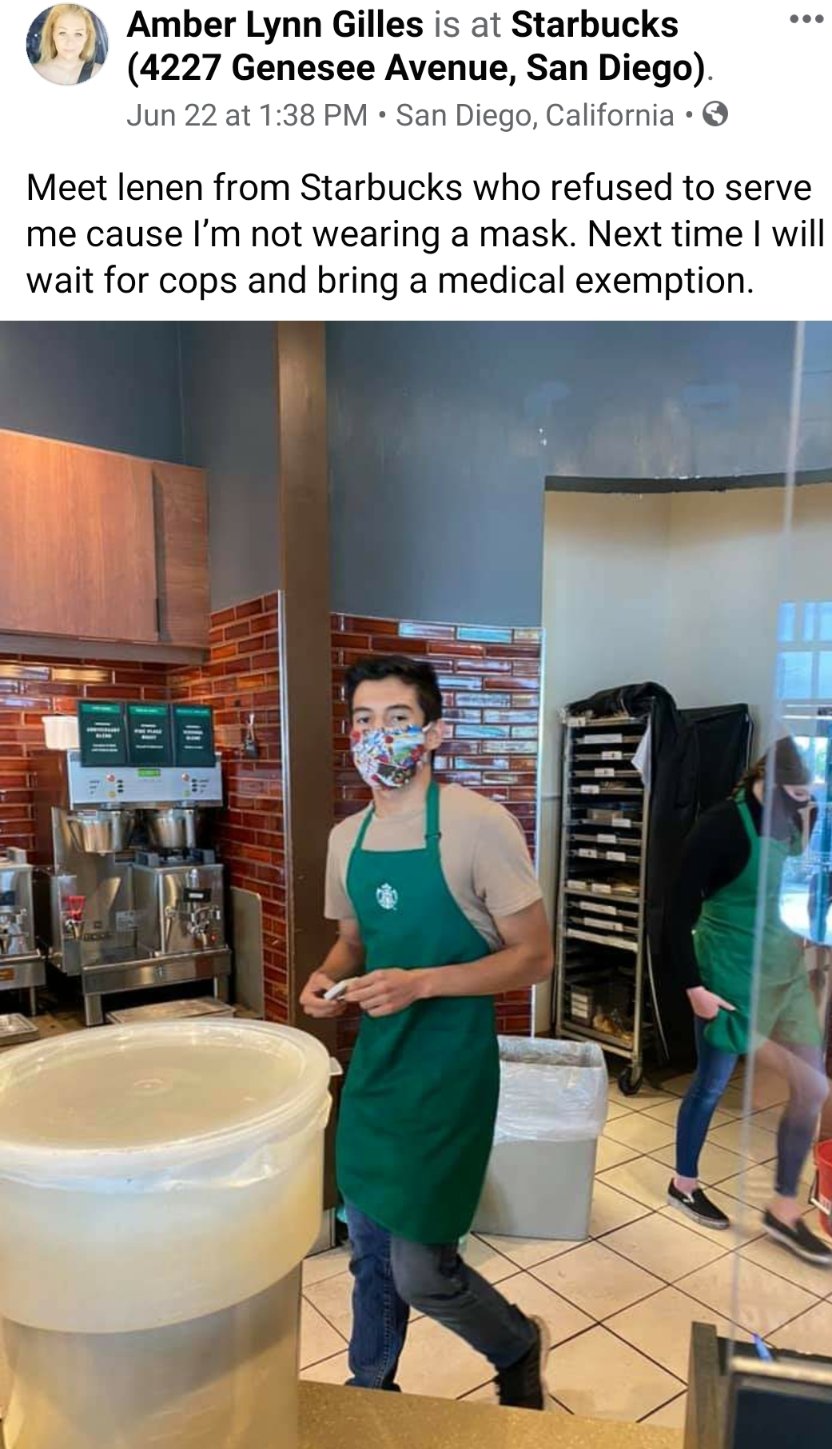 As if threatening to call the police on a BIPOC kid working at Starbucks wasn't enough of a faux pas—like seriously, read the room, lady—her post went viral as people began chiming in with their support for Lenin Gutierrez, the employee in the center of the firestorm.
"There's no reason to publicly shame a kid who's trying to work his shift like any other day," wrote one user, prior to the post being removed. "They are following what they're told. I understand your frustration But it's aimed at the wrong people," added another, while one user wondered why Gilles simply wouldn't just choose to go through the drive-thru?
Hi Lenen. Nice to meet you brother. 😂❤✊🏽

Like what did she think? 🤣 pic.twitter.com/rb3W8A1TtK

— StanceGrounded (@_SJPeace_) June 24, 2020
Sharing this GoFundMe to support a local Starbucks barista for standing his ground after refusing service to a customer not wearing a mask. Show him some love and support!#TheCustomerIsNotAlwaysRighthttps://t.co/kzOVKLXZr3

— Venus 🍎 ACNH | New Besaid (@kupomatic) June 23, 2020
Amber feels privileged to call out a Starbucks worker…the worker is doing/practicing the correct behavior. Wearing a mask to prevent viral spread.

Yep, then we look at Amber…Amber just wants her coffee order NOW! Shame on you girl- learn how to make your own coffee at home.

— birdseed✍🏼 (@birdsee44018322) June 24, 2020
After being inundated with messages asking for his side of the story, Gutierrez posted a Facebook video in which he thanked everyone for their love and support.
As he explained, he didn't even get so far as asking Gilles to put on a mask before she blew up at him.
"So on that day, I was assigned to the front register," he recalled. "This lady came up, she had no face mask. I asked her, 'Do you have a face mask?' and she told me, 'No, I don't need one.'"
"I was gonna show her the paper we've been provided, saying that we require face masks," Gutierrez continued.
"Before I can say anything, she flips me off, she says, 'No, I don't need one,' and she starts cursing up a storm. She started calling people sheep and she left. Within a few minutes she came back and asked for my name, she took a photo of me and said 'I'm calling corporate' and started cussing some more at everyone and just left."
Since the incident went viral, a virtual tip jar has been organized on GoFundMe to benefit Gutierrez, who works at Starbucks while pursuing his dream to become a full-time dance teacher.
"Raising money for Lenin for his honorable effort standing his ground when faced with a Karen in the wild," wrote the fundraiser's organizer, Matt Cowan. In just three days they have already raised $45,000 for Lenin, which should definitely help him out.
In a statement to San Diego's ABC 10 News, a Starbucks spokesman said they want everyone to feel welcome in their stores—without jeopardizing the health and safety of others.
"We respectfully request customers follow social distancing and safety protocols recommended by public health officials, including wearing a facial covering when visiting our stores," the spokesman added.