A teenager on TikTok is blowing people's minds after opening up a conversation about aphantasia, a condition where people are unable to visualize images in their mind. Never heard of it? You're not alone.
While scientists have known about aphantasia since the late 1800s, not much research has gone into the phenomenon—though interest has been renewed over the last few years.
Ultimately, what this means is that a lot of people who have aphantasia don't have the slightest clue, assuming instead that not being able to call up images at will is normal, and a shared experience among all humans.
But a viral TikTok video is opening people's eyes. Hümeyra, a high school student from Germany, recently discovered that she is among those who have aphantasia.
"I just found out that some people can see images in their minds," she says, somewhat stunned.
Hümeyra then explained how to know if you have it, too.
While this isn't an official scientific test, Hümeyra asks her viewers to close their eyes and imagine a red star.
All set? Great. "Now choose the number that best represents what did you see in your mind's eye, from one to six."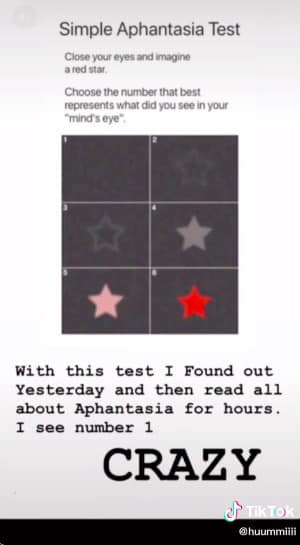 "If you saw nothing, like [in box number] one, you have aphantasia," she explains. "And the crazy thing is, some people can see six. Like, they can really see color."
The video was shared across social media, stirring up conversations about aphantasia, and throwing some unsuspecting folks for a loop when they realized they likely have it, too.
yo this fucked me UP ive been tryna see a red star for like 30 minutes now and i cant

— | nsfr (@spideysbowie) April 12, 2020
I have Aphantasia & I'm so pissed. So you're telling me, in school when the teachers would tell y'all to close your eyes and imagine this or that, Yall mfs REALLY saw what y'all imagined. That's fucking sick, I'm pissed. Fuck 2020 bruh I hate this year, completely ruining my life

— Miguelon El Cabron (@miguelito10918) April 13, 2020
This. Has. Me. FUCKED UP!
Are you serious? You can see things when you imagine them? I don't. Is this taking the piss? It's not real, right? I'm just here being gullible…? https://t.co/XjggsINyNS

— Sue Hulk (@SUEHULK) April 14, 2020
i just found out ppl CANT think images, i thought everyone did https://t.co/ejAZy0MkiD

— UYU | ️ee ❣️comms open❣️ (@ghoulrunnings) April 15, 2020
Explains why some people hate reading. I have books playing like movies in my head while I'm reading https://t.co/1QJop3214Y

— Sai ⛈ (@cuteccumberr) April 13, 2020
And there was some confusion.
Understandable, considering people who haven't been able to visually imagine things their entire lives may not understand the difference between what others see and what they don't (and vice versa).
I've really been wondering that too. Whenever I "see" things it's a whole diff plane of existence. Like w/ the star I don't even need to close my eyes to imagine 6, but I know I'm never going to actually see it.

— ✨ (@nite_writer_) April 12, 2020
Yh like it's not actually there but u kinda imagine what it would look like

— Sofia with an "F" (@_sofmo_) April 12, 2020
That's the norm, you don't see w your eyes it's in your head, that's 5-6

— Dar ⚔ (@sparkling_poo) April 13, 2020
I just really wish I could see through someone else's mind/eyes so I can know what these other people meaaannnnnn. like I need to actually experience it now to know if we're different or just interpreting things differently (but actually the same)

— RawBeautyKristi (@RawBeautyKristi) April 13, 2020
There was also a whole lot of sympathy for people who don't imagine via images. Do you even daydream, bro?
I CANT SEE ANYTHING AJDJSJ

— | nsfr (@spideysbowie) April 12, 2020
Same, that's only way I can get myself to sleep

— madison (@missssamericana) April 12, 2020
I dream! Sometimes I even vivid dream, and I'm pretty sure that I can visualise my dreams. But that's subconscious; I can't physically conjure up an image in my head.

— yeosang enthusiast⁷ (@shadowvixenn) April 12, 2020
Deadass same as a kid I couldn't wait to go to bed so I could make up movies in my head lol

— Noor (@NoooorrrrrNoor) April 13, 2020
So, can you imagine the star? Or do you close your eyes and see nothing but darkness?
More shocking stories: