Update 10/5/22:
Well, after jerking everyone around for months, it appears Elon Musk is finally moving forward with buying Twitter for the agreed-upon terms ($44B, @$54/share). From the AP:
Elon Musk sent a letter to Twitter Inc. on Monday seeking to revive his bid for the company at the original offer price of $54.20 a share, provided that the Delaware Chancery Court "enter an immediate stay" of Twitter's lawsuit against him and adjourn the trial scheduled to begin in two weeks, according to a filing with the Securities and Exchange Commission (SEC). Twitter in a statement on Tuesday said that the company intends to close the transaction at the offer price.
honestly I think he got ratio'd so hard last night that he decided to buy twitter after all

— sarah jeong (@sarahjeong) October 4, 2022
---
Unless you've been living under a rock, and that rock was blocking out wireless internet access, you probably heard that Elon Musk bought Twitter this week, for $44B.
Next I'm buying Coca-Cola to put the cocaine back in

— Elon Musk (@elonmusk) April 28, 2022
When something like that happens, just as when something small and insignificant happens, it is the law (not really but people act like it is) that you must issue a hot take on Twitter. The Musk news was no different, but even now, the reactions keep rolling in.
Here are some of the best you may have missed:
1.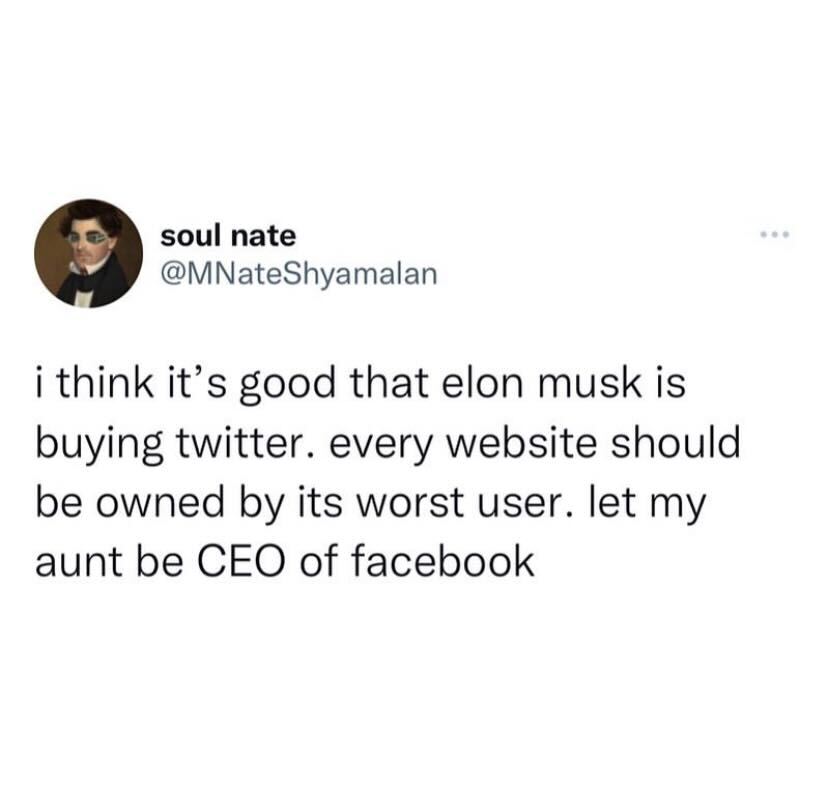 2.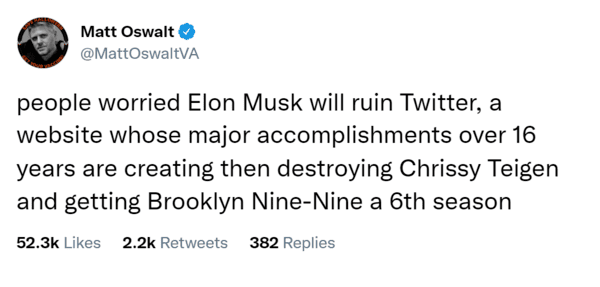 3.
When Elon Musk adds Trump back to Twitter pic.twitter.com/5Yoz570zGy

— Josiah Johnson (@KingJosiah54) October 4, 2022
4.
5.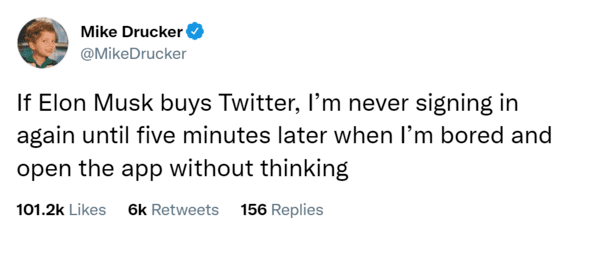 6.
7.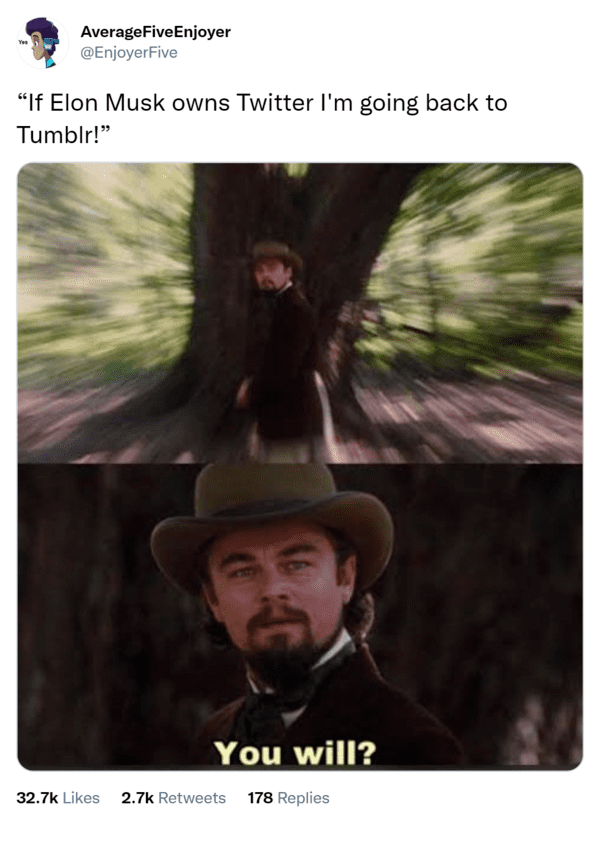 8.

9.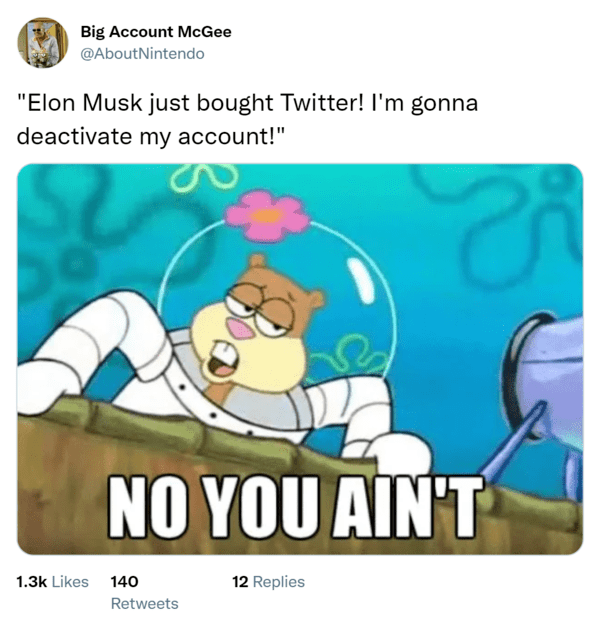 10.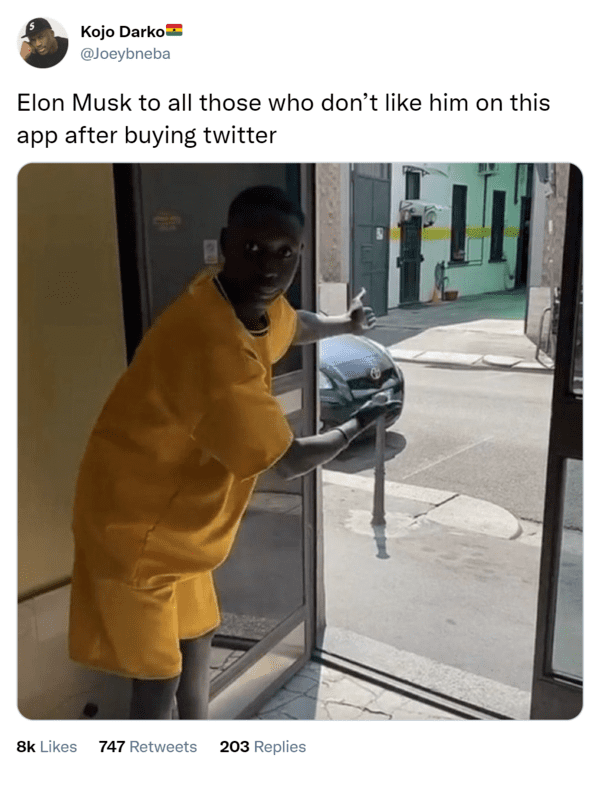 11.

12.

13.

14.
15.

16.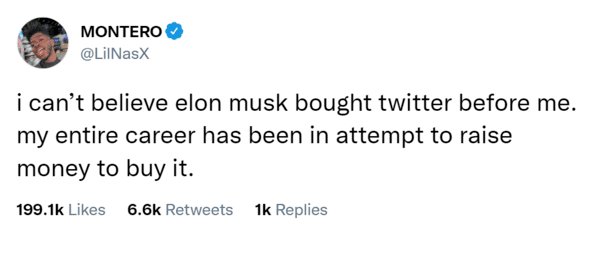 17.
18.

19.

20.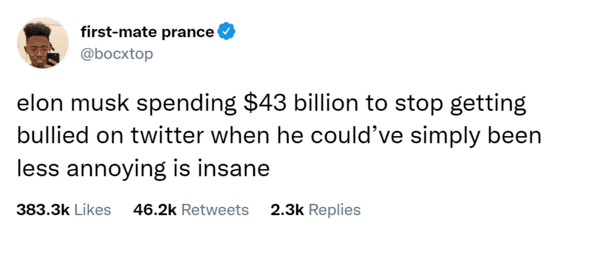 21.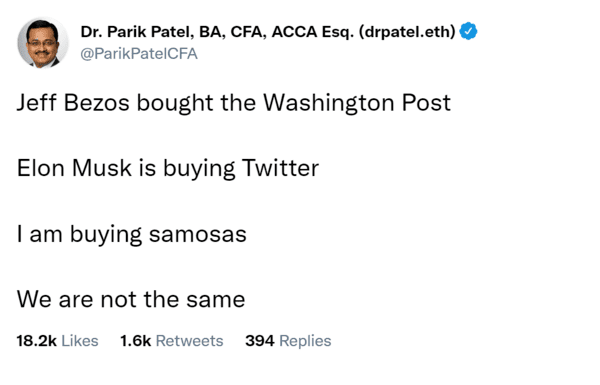 22.
Twitter users after Elon Musk buys Twitter: pic.twitter.com/HFVDkAkdMf

— Robin Tran 🏳️‍⚧️ (@robintran04) April 25, 2022
24.
elon musk spending $44 billion on an app where a shrimp fried this rice goes viral every week

— myesha thee stallion (@myeshachou) April 25, 2022
25.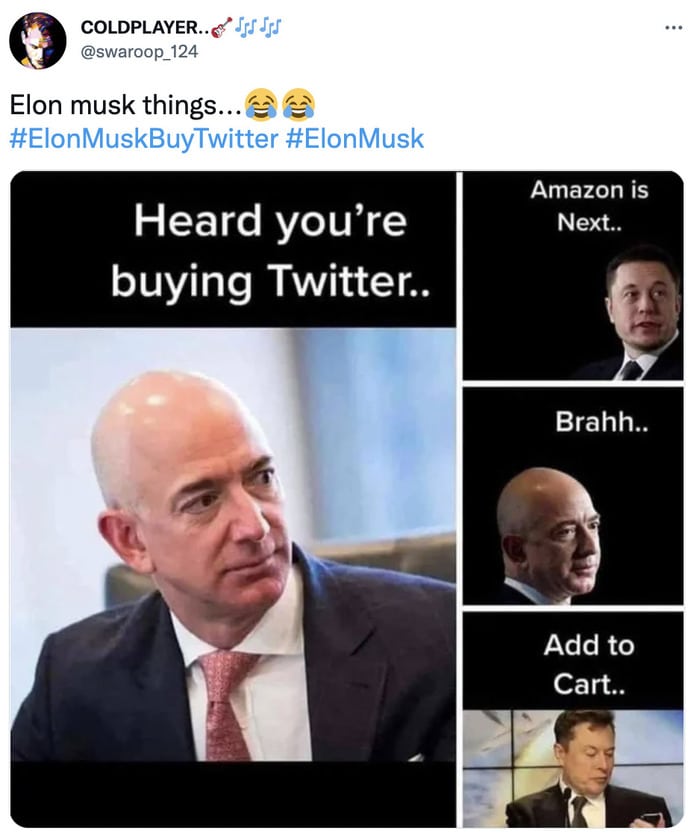 26.
27.
Twitter is just a Pawnee town hall

— jonny manganello (@jonnymangs) October 4, 2022
28. And of course, the man himself must weigh in.
Listen, I can't do miracles ok pic.twitter.com/z7dvLMUXy8

— Elon Musk (@elonmusk) April 28, 2022