YouTube can be a wonderful, supportive, connecting place for great people (see: NikkieTutorials). But it can also play home to some wretched, narcissistic personalities (see: Logan Paul). Sadly, we've got yet another dark YouTube story to tell you—and it's just as horrible as Paul's suicide forest atrocity.
This time, it's ImJayStation, aka Jason Ethier, a YouTuber who lied about the death of his girlfriend and published a tearful video announcing that she'd perished in a car crash.
This is the same YouTuber who exploited Mac Miller's death by summoning his ghost. This is the guy who tried to Ouija chat with rapper XXXTentacion after his death. He's known for being super insulting and generally very terrible in a bid to rack up more subscribers.
Ethier told the world that his girlfriend, Alexia Marano, died in order to get clicks and to promote a shared channel he said they'd be making videos for.
I am having a stroke. pic.twitter.com/kVvYyqVqEM

— j aubrey 🤠 (@jaubreyYT) January 26, 2020
Ethier went onto his YouTube channel and released a video saying Marano had been in a fatal car accident. The video was shared with his 5.4 million subscribers. He also faked a memorial plot for her.
The YouTuber then went on to share another video this past Sunday admitting that he actually lied and had lied in order to get more views to his page. He also said that Marano is trying to "ruin his life" and had tried to get him arrested. There's no evidence in that regard. Oh, and the original video was demonetized, thankfully. Ethier said his girlfriend was cool with the stunt, but who knows. In an emotional video she later made, people said she was lying too.
"I thought of the idea of faking Alexia's death and then doing a thing on YouTube thanking everyone and explaining to everyone it was just to gain traction," ImJayStation said in his video. He also played the woe-is-me card by writing a comment on his own video: "I fell in love with this girl, I tried helping her become famous on youtube, she left me without notice, and tried to ruin my life."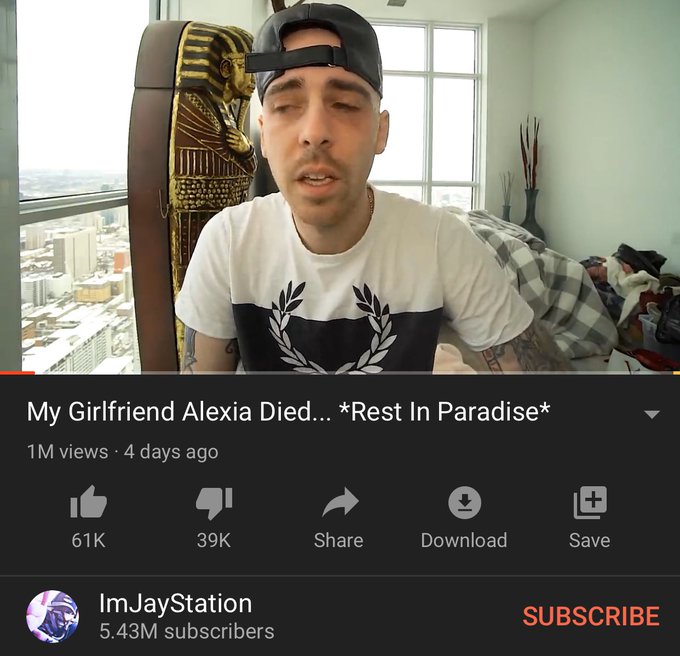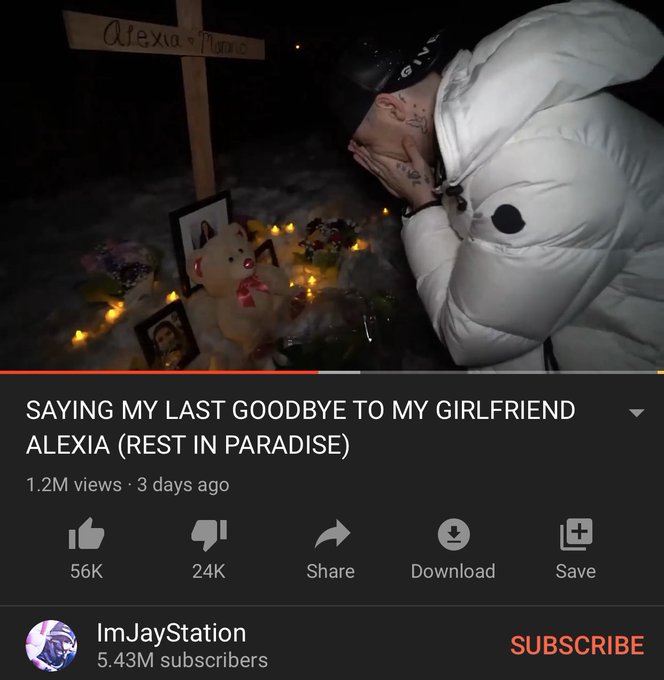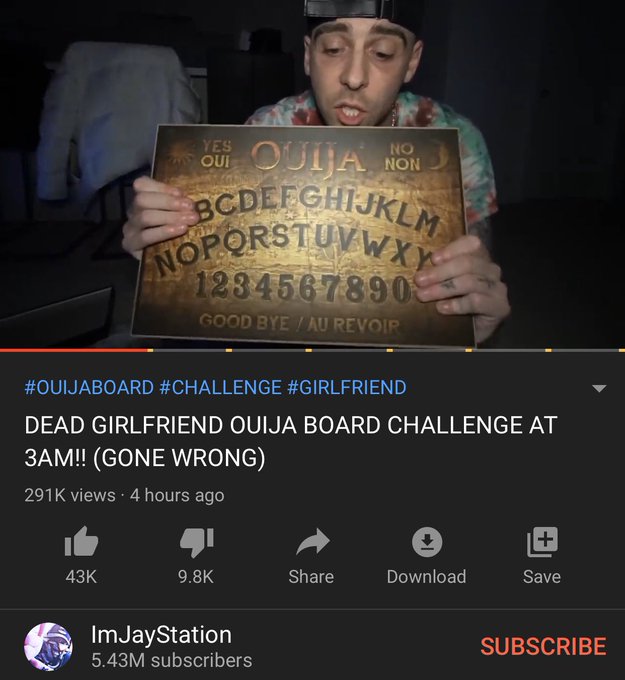 YIKES. Here's what people have to say about this clown. Hint: It's nothing nice.
ImJayStation is without a doubt the worst, most disrespectful channel I've ever seen on YouTube.

Wanker capitalized off the deaths off Mac Miller, XXXTentacion and even faked his own girlfriends death.

And monetized the absolute fuck out of all of them.https://t.co/3uc2DWJXNY

— TheNathanNS (@TheNathanNS) January 23, 2020
That's insanely gross

— Calla ♡ 💛 ♡ 💛 (@Survive_thriver) January 28, 2020
Imjaystation's entire brand is just "try and piss off as many people as possible to get views"

— Elvis The Alien (@ElvisTheAlienTV) January 23, 2020
Some people wished that his channel would die—and for REAL.
I hope someday someone will make a

"CONTACTING IMJAYSTATION BEYOND THE GRAVE!!!! 3 AM CHALLENGE (NOT CLICKBAIT) 😱😱"

when either him or his channel
inevitably dies

This man is the definition of human trash pic.twitter.com/awwBALRXYx

— Riverdude Covers (@RiverdudeCovers) January 26, 2020
Trash is a compliment compared to the things hes posted

— risotto (CEO of metal) (@DudeSocks) January 26, 2020
People remembered just how icky Ethier has been before all this:
I once saw a Memeulous video on Jaystation where he claimed he was beaten up……….

all he did was put fucking ketchup on his head, wrap it in a bandage and then proceed to call Jesus Christ on his iPhone…… who "healed" Jay. AKA someone wiped the sauce off his head.

— TheNathanNS (@TheNathanNS) January 24, 2020
Remember: This is a dude who made a "gay potion."
Roses are red

Violets are blue

Remember when ImJayStation made three videos about drinking a "gay potion" and how it turns guys into every stereotype of gay people and women, including lipstick and not having self-restraint from kissing other men without consent cuz I sure do pic.twitter.com/ti6Nh9xY9y

— Mason (@Selsimas) January 26, 2020
Many were worried that Ethier would make a Kobe Bryant video — and they were clear that this would be off-limits.
IF THAT LAME MOTHERFUCKER IMJAYSTATION MAKES A VIDEO ABOUT KOBE BRYANT IM GONNA HAVE A FUCKING ISSUE. YOU FAKE LAME ASS MOTHERFUCKER. DONT USE SOMEONES DEATH FOR YOUR SHITTY VIEWCOUNT YOU FUCK

— Xavien (@XavienWisdom) January 26, 2020
I swear if ImJaystation makes a video about talking to Kobe's spirit in 3 am I will fucking go berserk

— HeyoMaio (@NoRMarioo) January 27, 2020
It's truly sad to hear Kobe Bryant has passed away RIP.

Don't worry though I'm sure ImJayStation is working on a Ouija board 3am gone wrong challenge like he did for Etika, so we'll get to know what Kobe is thinking in the afterlife.

Seriously this guy has no shame @KEEMSTAR pic.twitter.com/iVCO9eHV1j

— (Fibrosis50) Mark (@fibrosis50) January 26, 2020
…to which he said, like a feelingless robot, he wouldn't:
Don't worry, I won't be doing a Kobe Bryant video.

— ImJayStation (@Im_Jaystation) January 26, 2020
Most people just want him banned:
I am so confused, @TeamYouTube You already demonetized and banned ImJayStation for breaking the law and squatting in houses. Why are you letting this guy target a younger demographic with inflammatory and objectively morally wrong content. Your putting every other creator at risk

— That Creepy Reading (@CreepyReading) January 27, 2020
#imjaystation made his new video to punish his girlfriend for leaving him after he coerced her into helping him fake her own death. He is an abuser, flat out. @TeamYouTube this guy needs banned immediately for breaking tos. Young boys are watching and learning from this conman!

— 🌻 breanne (@brananamuffin92) January 28, 2020
Considering how uptight YouTube can be about pretty much anything, it's strange they haven't banned ImJayStation or other controversial YouTubers like Logan Paul.
JayStation

Used celebrity's deaths for clickbait

Illegally broken into multiple buildings trespassing & got arrested for videos

Did suicide forest vid

Made vid of him buying a black slave. (Fake) but wtf ?

Faked be robbed at gunpoint

Faked his girlfriends death.

Ban him!

— KEEM 🍿 (@KEEMSTAR) January 23, 2020
ImJayStation: * Uses celebrities deaths and lies to get money and views .

YouTube: * Does Nothing

Logan Paul: * Films Dead body

YouTube: * Still nothing

Random Youtuber: * Says a bad word in video

YouTube: pic.twitter.com/0D8NK4QwZJ

— Brighton ( CEO of the E2 class ) (@Leonard07816662) January 26, 2020
More YouTube controversy: