Lava lamps are a symbol of the 1970s, but they scored a major comeback during the 1990s. There was a time when you couldn't walk into a Spencer's Gifts or Limited Too without seeing boxes of the trippy lamps stacked in a corner.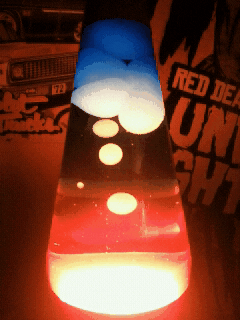 Every '90s tween wanted one to match their purple and pink furniture, and parents shook their head in disappointment when you "broke" the lamp by shaking it up. Now, you can relive that groovy nostalgia without worrying about accidentally knocking your lava lamp off your inflatable coffee table—by wearing it on your nails.
Allure has the scoop on the viral nail art trend taking over Instagram: lava lamp nails, a throwback you can wear on your fingers.
The trend involves using a stiletto nail shape, with a clear gel base to capture the floating colored wax. Nail artist Liam Peter kicked off the trend using the #lavalampnails hashtag, posting a photo of nails that look like tiny lava lamps, complete the silver metal base and tip.
"Layering jelly and neon gel polishes gives depth and makes it seem as though the blobs are really flowing around," Peter told Allure, and explained that the key to the effect is natural light.
https://www.instagram.com/p/BzUjzMllh-9/
"The real star, though, is the sunlight. Just like with holographic effects, these come alive when the sun hits the nail." Peter used gel polish by The GelBottle Inc. in the colors Bellini and Cosmopolitan to create the swirling "lava" effect.
Other nail art enthusiast gave a trend a try, with some using a colored background instead of clear gel, or going for a subtle look with simple blobs. We're always amazed at how creative people are with a space as tiny as a nail, and this trend makes us want to wear cherry lip gloss, body glitter, and spray ourselves with a Bath & Body Works mist.
Check out some of our favorites below for your next mani appointment.
https://www.instagram.com/p/Bzkt2_DglJM/
https://www.instagram.com/p/BznqnR1AdeW/?utm_source=ig_web_copy_link