Charlotte, North Carolina-based beauty and fashion influencer Temitope Adesina is pregnant. And like most influencers, she's finding ways to use her pregnancy to bolster her brand. One of the most unconventional? Giving her unborn child its own Instagram account to engage with her account in conversation. And social media users have a lot of opinions about Adesina's choice.
Adesina, who promotes Palmer's oils and creams on her account, took on the persona of her unborn baby to chat back and forth with her account.
"Mommy, is that me?" writes the unborn baby, aka Instagram user @naturallybabytemi, to Adesina's account.
"Of course it's you my princess," Adesina replies with a heart emoji.
There are some more exchanges, which are either adorable or creepy depending on who you ask. One Twitter user's post about Adesina's Instagram account went viral, with folks expressing disgust at setting an unborn child up on the Internet already and exploiting them or defending Adesina and explaining how it's totally relatable and normal for pregnant women to talk to their unborn baby.
This influencer is pregnant now she's talking to herself through her unborn child's Instagram. pic.twitter.com/9mHjiy7mIc

— adenike (@sometimesnike) December 29, 2019
Tell me social media isn't an illness pic.twitter.com/Enf3tCo0OB

— adenike (@sometimesnike) December 29, 2019
😂😂😂 Everyday we are straying from reality

— Katora (@Tinytoraa) December 30, 2019
Husband and wife are definitely allowed to have fun however way they want to. Y'all don't have to like it, it's not for u.

— Eu.🇳🇬 (@eu_neese) December 30, 2019
Y'all act like people haven't been doing this with their pets since the invention of instagram. Leave people alone. I can't believe ppl have no gone to start commenting on her insta 🥴

— Lacienega Boulevardez (@whitleygilbertx) December 30, 2019
Listen, I don't know what her pregnancy is doing to her. She's had to adjust to her body changing drastically & a million hormonal changes so if this helps her deal with it better, let her be. Pregnancy can be horrific so I say we let pregnant people deal however they want.

— AngelCollins323 (@ACollins323) December 30, 2019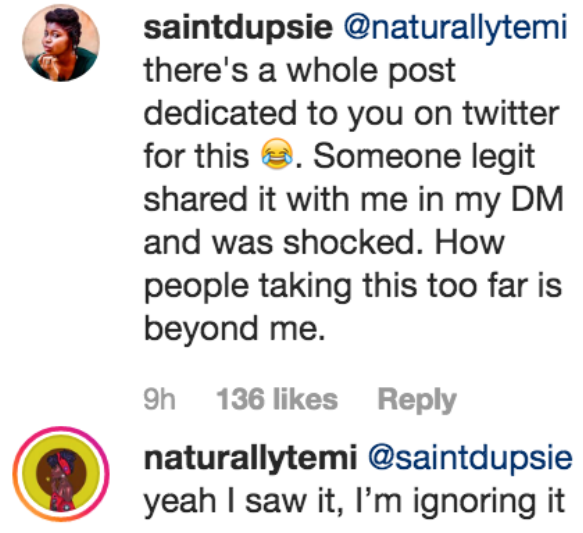 Regardless, Adesina's original post got way more attention than it would have. So I know at least one party who is pleased right now, and that's definitely Palmers.