Rihanna has single-handedly revolutionized the makeup and fashion industries with her dedication to inclusivity.
Her makeup brand, Fenty Beauty, launched with over 40 shades of foundation and 50 shades of concealer. Her lingerie line, Savage X Fenty, featured sizes from XS to 3X as well as models of all shapes, sizes, and ethnicities.
But the release of Rihanna's Savage X Fenty Valentine's Day Decadence Collection on Wednesday has been met with criticism after people on social media pointed out noticeably differences in design between her products' regular and plus-size designs.
This discrepancy was initially pointed out by Teen Vogue blogger Alysse Dalessandro, who took to Twitter to question the drastic differences using Savage X Fenty's "Hearts Half Cup Bralette" and "Hearts Unlined Bra."
S-XL vs 1X-3X.

I understand construction cannot always be the same for plus size (especially in lingerie) but I know you can do strappy bralettes in plus so why do brands do this? pic.twitter.com/vXvLDaB8Sk

— Alysse Dalessandro 🌈 (@readytostare) January 10, 2019
In the side-by-side screenshots, the straight-size version on the left and the 1X-3X on the right, the lack of "strappiness" on the plus-size photo is noticeable. Dalessandro followed up with examples from companies Cacique and Torrid, which manufacture sexy and strappy bras in larger sizes.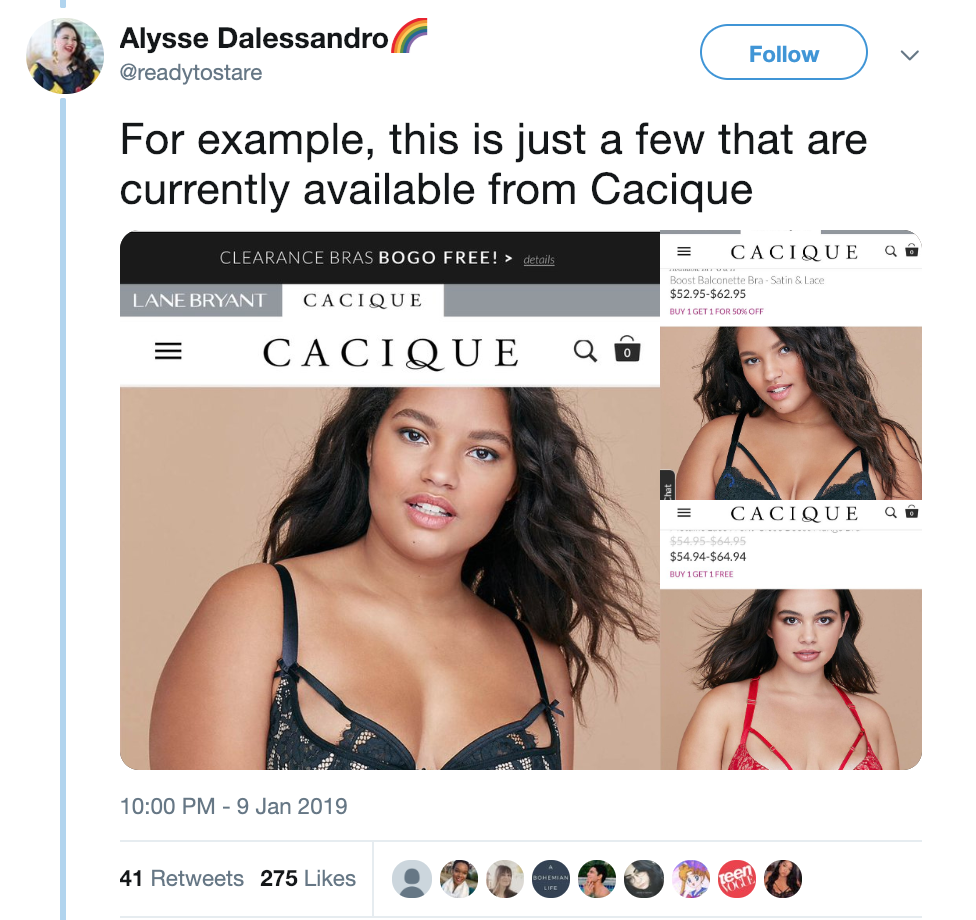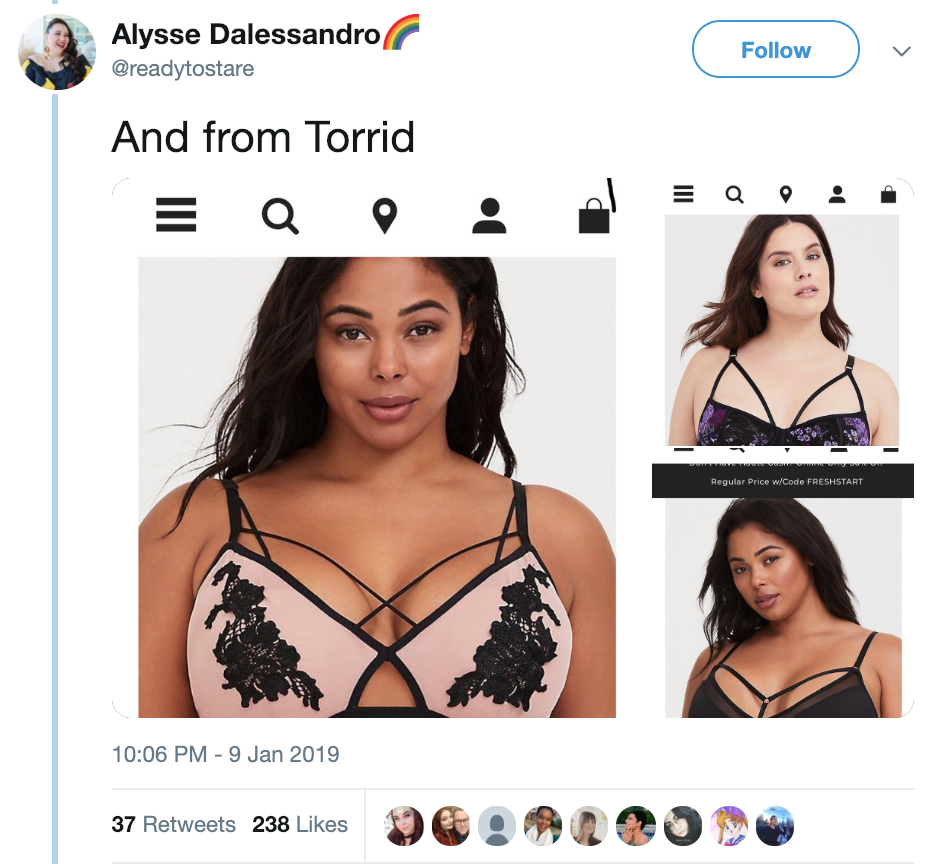 Many had similar responses to Dalessandro's observation, pointing out the lack of true size 'inclusivity' as well as the striking difference in body language between the two models.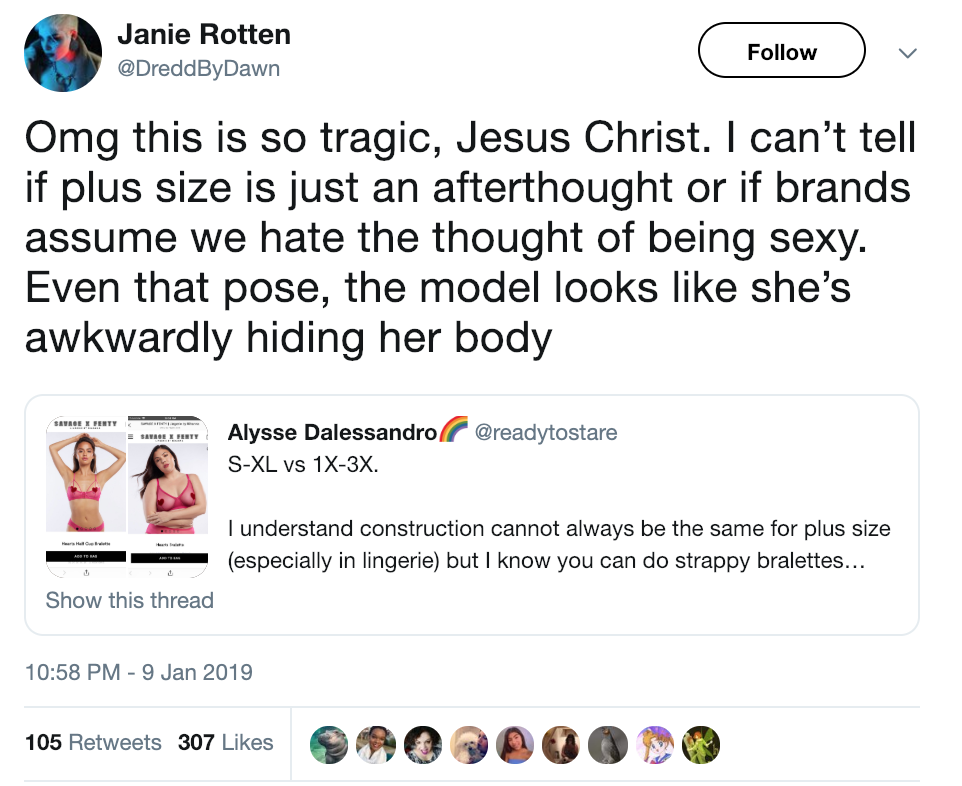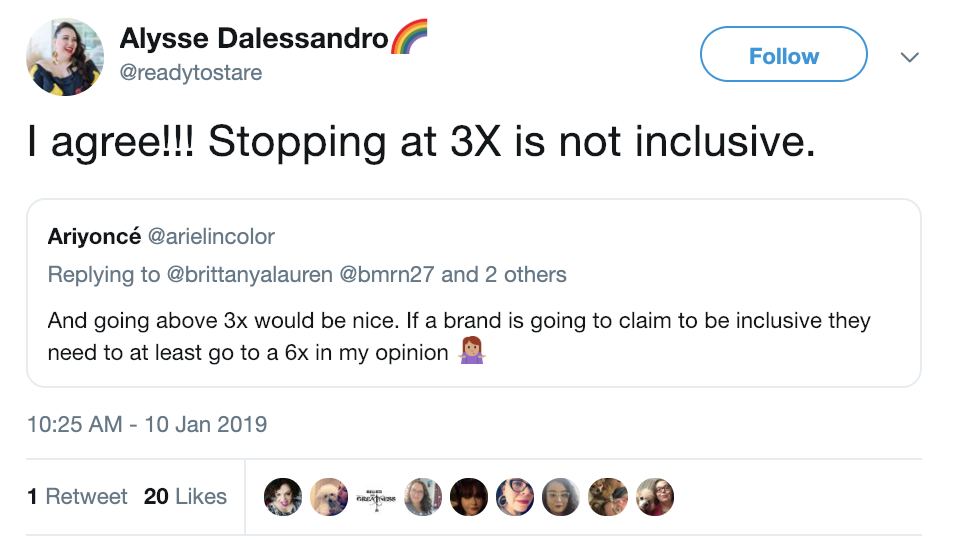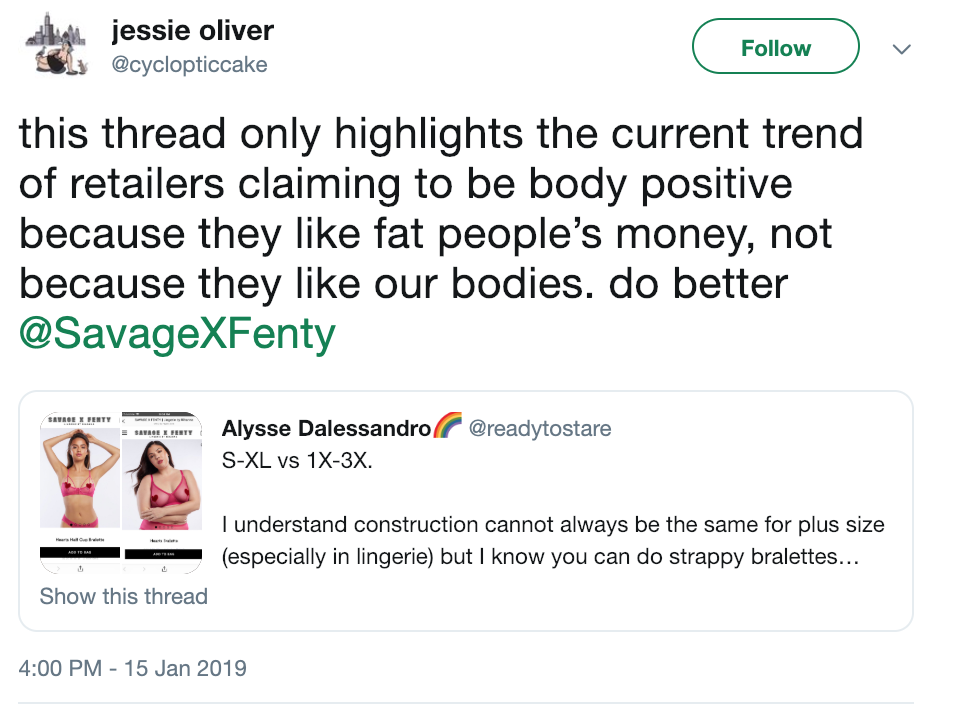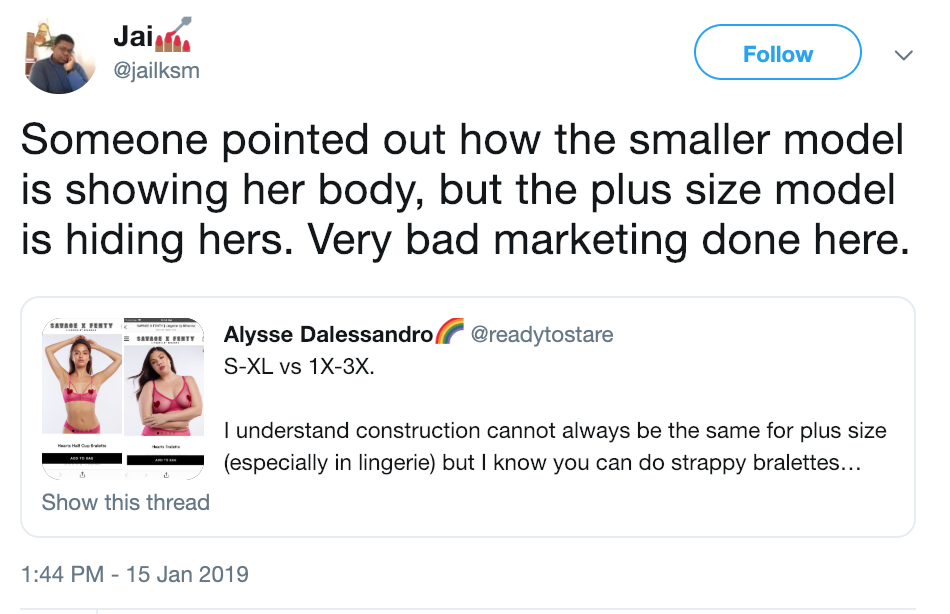 https://twitter.com/jillmacintyre/status/1083366799838769153
In an Instagram post, Ashleigh Nicole Tribble wrote that she had been calling out the lingerie brand ever since its debut a year ago.
She followed it up with this post:
Others disagreed, defending the brand's design choices.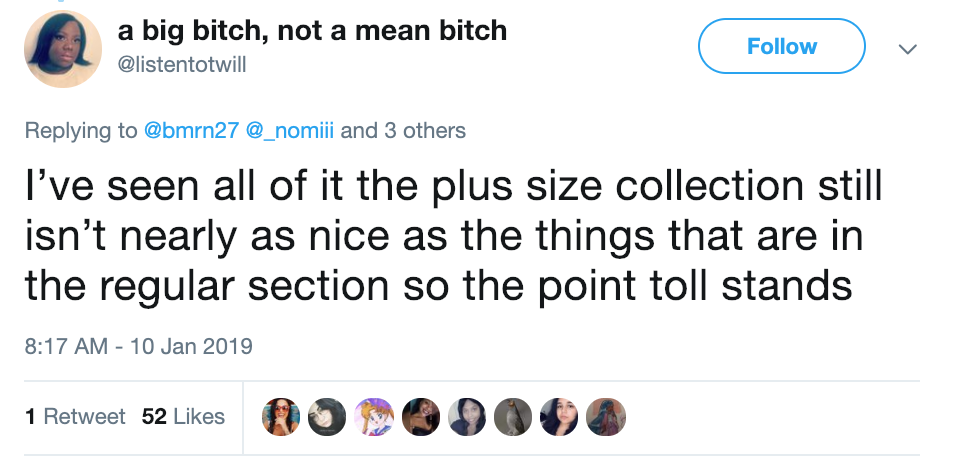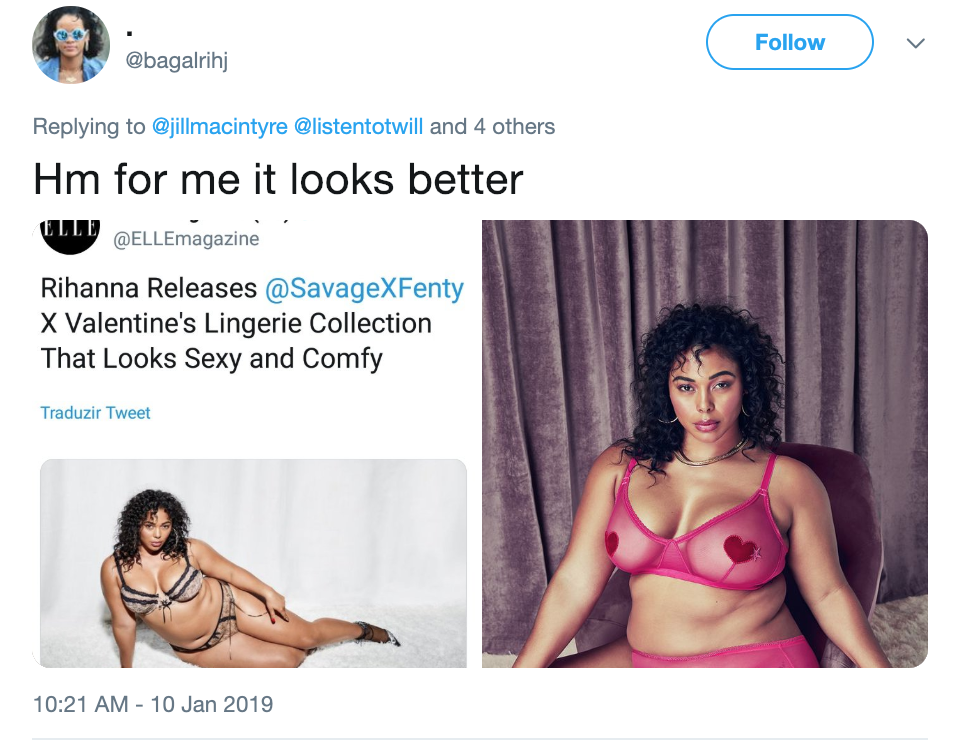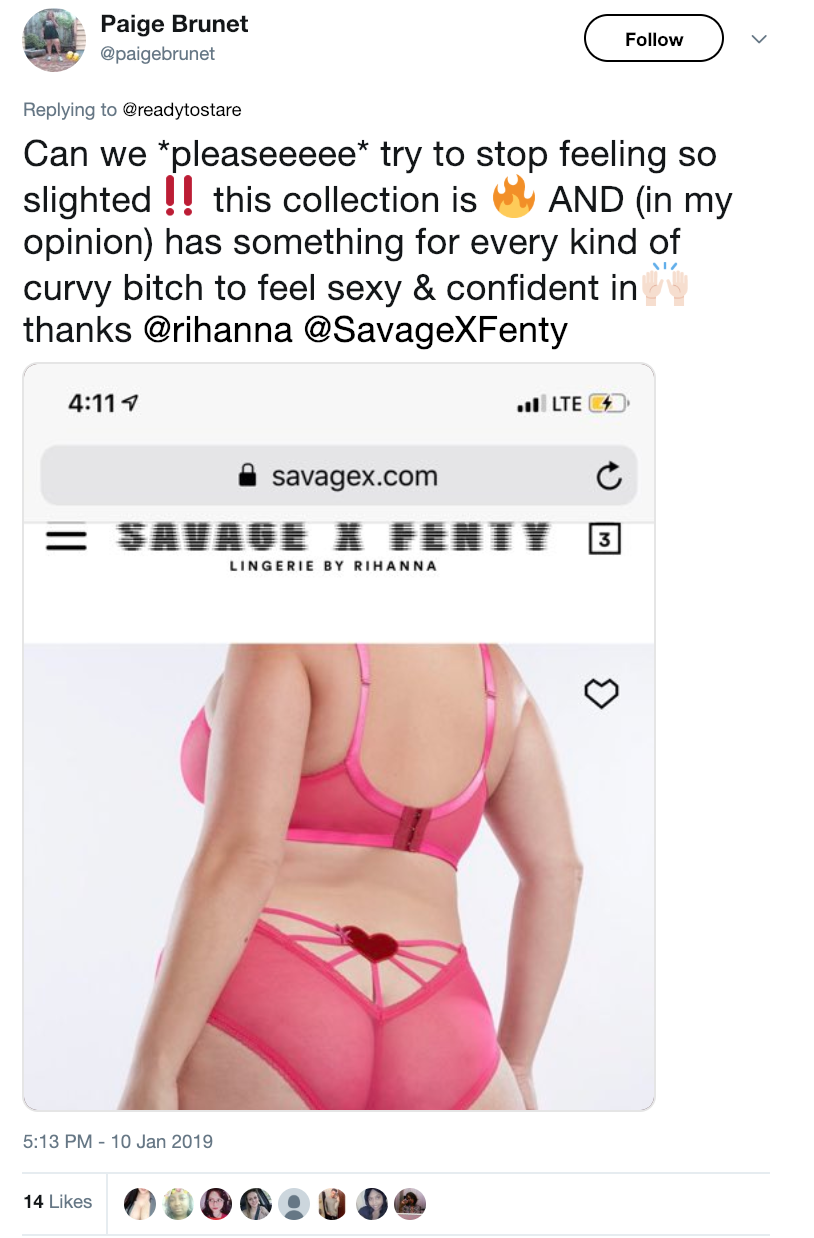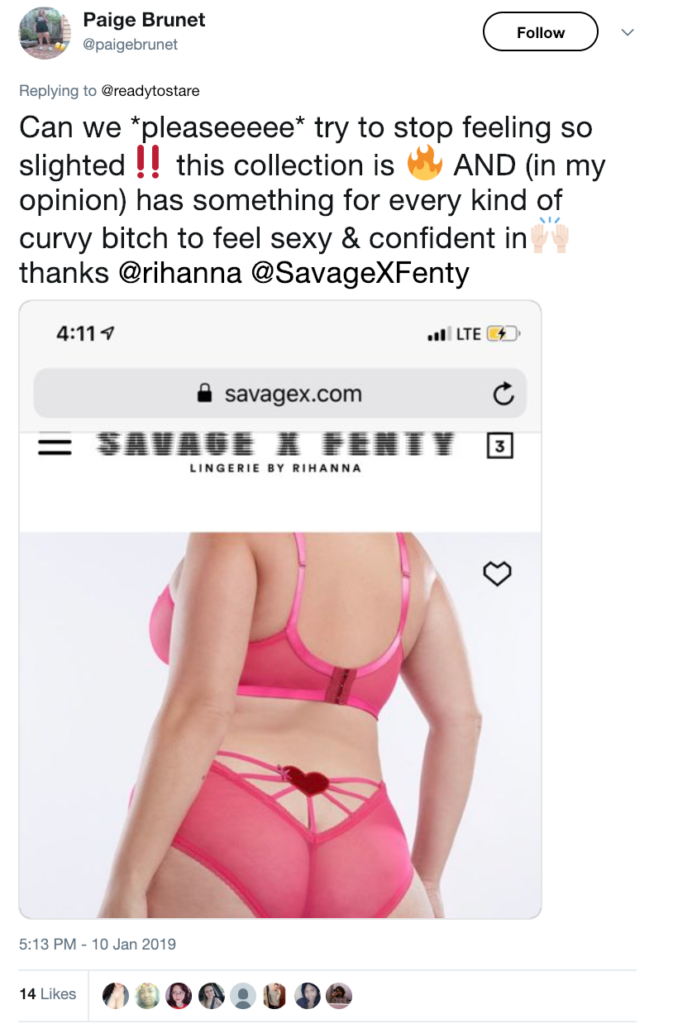 Dalessandro told INSIDER she didn't expect Savage X Fenty to create identical items for every size, but she didn't understand why the brand didn't choose to manufacture similar products for different sizes. "I never said [Savage X Fenty] should've made the same brain their full-size range," she told the publication. "But they could've made something more similar. The lack of straps on the plus-size bralette, and how much more covered-up it is, were the two things that really made it feel different to me."