Serena Williams is a feminist icon.
https://twitter.com/yashar/status/1148607157996335104
The tennis superstar has won the US Open six times, and has 23 Grand Slam singles titles and four Olympic gold medals. She's a role model on and off the tennis court. She's recently made that even more clear by showing a perfect example of how women can support other women. In a personal essay for Harper's Bazaar, Serena gave readers a look at the exchanges she had with her opponent in last year's US Open, Naomi Osaka. The notes that Serena Williams and Naomi Osaka sent each other are truly inspirational.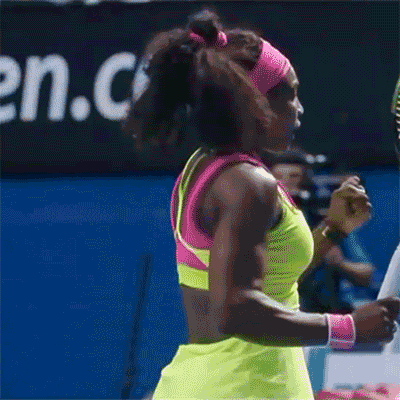 Williams stirred up controversy during the Grand Slam match in 2018's US Open.
During Williams' game against Osaka, Williams confronted the chair umpire, Carlos Ramos, because he issued her a series of what she thought were unfair violations. Williams called Ramos a "liar" and a "thief" for penalizing her by docking her a game. Osaka wound up winning the match, but much of the media attention focused on Williams passionate outcries.
Since then, Williams has had some time to reflect on the experience. She had trouble moving past it, believing she was punished for speaking her mind and standing up for herself. She also was upset that the celebration of Osaka's win was clouded by this other incident.
"I started to think again, 'What could I have done better? Was I wrong to stand up? Why is it that when women get passionate, they're labeled emotional, crazy, and irrational, but when men do they're seen as passionate and strong?'"
Williams decided to reach out to Osaka to apologize for taking away from her spotlight the day of her win. Williams wrote:
"Hey, Naomi! It's Serena Williams. As I said on the court, I am so proud of you and I am truly sorry. I thought I was doing the right thing in sticking up for myself. But I had no idea the media would pit us against each other. I would love the chance to live that moment over again. I am, was, and will always be happy for you and supportive of you. I would never, ever want the light to shine away from another female, specifically another black female athlete. I can't wait for your future, and believe me I will always be watching as a big fan! I wish you only success today and in the future. Once again, I am so proud of you. All my love and your fan, Serena."
When Osaka responded to Williams, tears ran down her face.
Osaka wrote back to Williams:
"People can misunderstand anger for strength because they can't differentiate between the two. No one has stood up for themselves the way you have and you need to continue trailblazing."
After receiving Osaka's response, Williams realized how important it is for women to continue to stand up for themselves and their beliefs.
Williams wrote in her essay:
This incident—though excruciating for us to endure—exemplified how thousands of women in every area of the workforce are treated every day. We are not allowed to have emotions, we are not allowed to be passionate. We are told to sit down and be quiet, which frankly is just not something I'm okay with. It's shameful that our society penalizes women just for being themselves.
Williams is once again blazing a feminist trail for all the women around her.