A 21-year-old student at the U.K.'s Robert Gordon University was so eager for her interview with Microsoft's University Recruitment team that she showed up an entire month early.
Laura MacLean had prepped for the interview for weeks, according to BuzzFeed. She had done hours of research, done mock interviews with friends and family, and even had an outfit ready to go.
The management and marketing major's Skype interview with Microsoft was scheduled for February 18th, 2019. On January 18th, MacLean sat by her laptop waiting for the Skype call. After staring nervously at a blank screen for 15 minutes, she decided to email the recruiter.
"I haven't received a Skype call yet for my interview? Just wondering if it's working?" she wrote.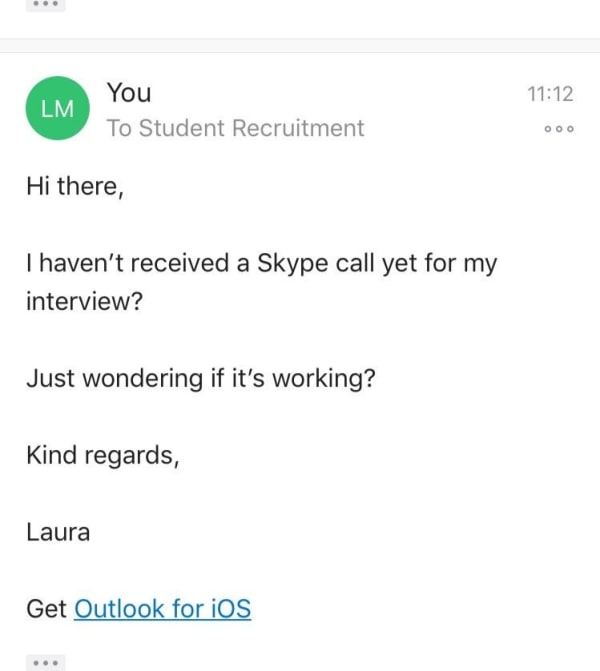 twitter
The recruiter responded with: "Our interview is scheduled for 18th of February at the same time. We look forward to speaking to you then."
twitter
Don't worry. It gets so much worse.
MacLean—still operating under the impression that it was a month later than it actually was—wrote back, "It is the 18th of February."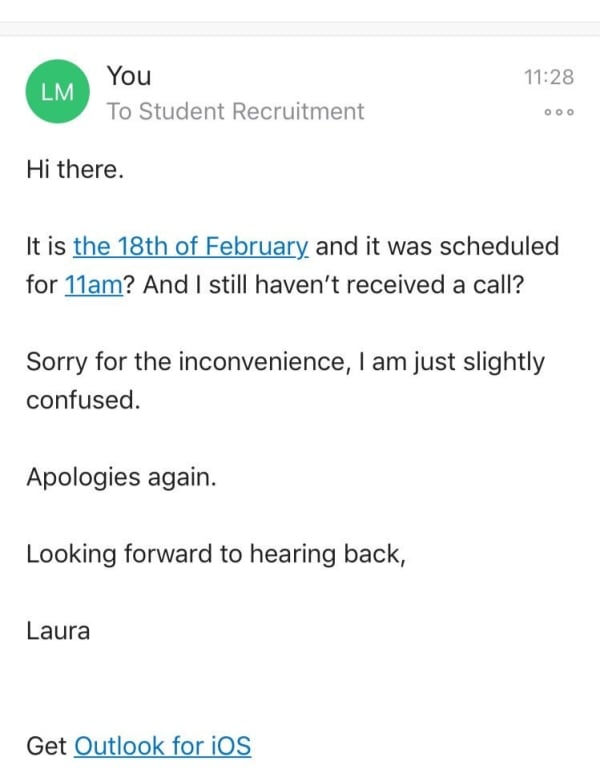 twitter
The patient recruiter responded, in bold, that it was January.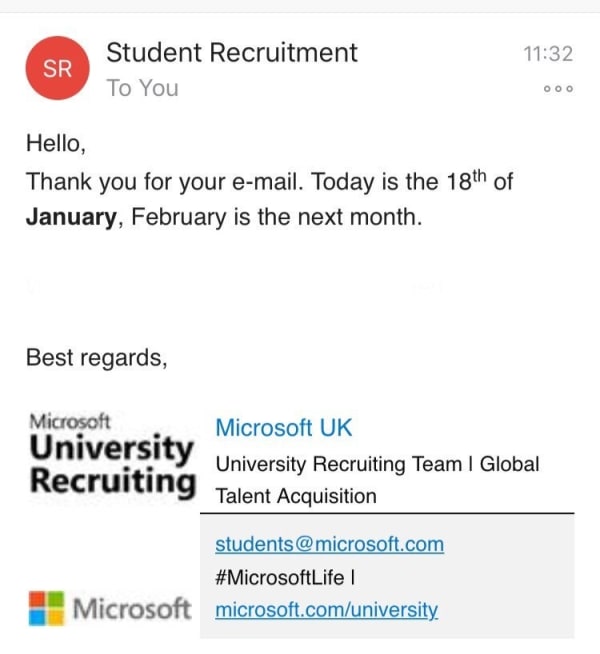 The embarrassed student shared the email exchange to Twitter, where it quickly began to go viral.
all dressed up ready n freaking out for my big skype interview with Microsoft and this happens. possibly the biggest noob on this planet hahahahaha if you don't laugh you'll cry pic.twitter.com/OKn2n8i39z

— laura maclean (@lauramacleann) January 18, 2019
"I didn't want to mess up my one chance," MacLean told BuzzFeed. "And these types of chances don't come around often with big tech companies like Microsoft." She added that she was just really excited for the interview and prided herself "in being very prepared and an organized person."
"Some mistakes just happen," the recruiter eventually responded .
People on Twitter joked that MacLean was just super dedicated to being on time…or early, more accurately.
You were a month ahead of your deadline, that's impressive tbh

— Kevin Swans A Swimming (@Kevin_J96) January 18, 2019
"What would you say is your greatest weakness?"
"I really hate being late for things"

— Jaymask OC (@mixtwitch) January 19, 2019
Yeah, she showed some intense dedication to punctuality

— Harkamal S (@harkamalsaran) January 19, 2019
Interviewer : what is your greatest strength ?

You: I am NEVER NEVER late. I am always early for work.

Interviewers : yes we could see that in your email responses 😭😂

— Chris (@Sharkfan20) January 19, 2019
Others chimed in to share their own experiences messing up job interviews.
I SORT OF DID THE SAME THING @ MICROSOFT. I added the wrong Skype address and missed the call! But they were lovely & called me back at a later time unexpectedly – I got the job (so don't worry too much!).

— Maira (@_Maira26) January 19, 2019
I once flew from London to New York a month early for a meeting. I only realised when I was resetting the time on my watch as we were on decent into JFK. Trust me. This is not the most embarrassing thing you'll ever do. ¯_(ツ)_/¯

— Alasdair Allan (@aallan) January 19, 2019
The Microsoft Twitter account found MacLean's viral tweet and wrote, "Can't wait to laugh about this on the 18th. Of February."
Can't wait to laugh about this on the 18th. Of February. 😉

— Microsoft Life (@MicrosoftLife) January 24, 2019
Chuck Edward, Microsoft'sHead of Global Talent Acquisition, wished MacLean "the best of luck" on her upcoming interview. He told BuzzFeed that the company is "always looking for candidates who have a growth mindset," adding that it means "taking initiative, leaning into uncertainty, looking for solutions, and recognizing our own mistakes."
We wish Laura the best of luck on her interview…next month.
h/t BuzzFeed