One of the Internet's all-time favorite pastimes is roasting meals that are sins against our taste buds. You've got folks submitting their hellish culinary creations to Gordon Ramsay's Twitter, with happiness stemming from his unabashed scathing reviews of the plates in front of him.
Painful https://t.co/cW8Ub6z86i

— Gordon Ramsay (@GordonRamsay) February 8, 2017
On Facebook, there are entire pages and groups dedicated to roasting photos of bad meals that members have come across, whether that be home-cooking or a restaurant. It's all in good fun, and no one takes the roasts very seriously, or is sincerely looking for a nice compliment on a terribly-made meal.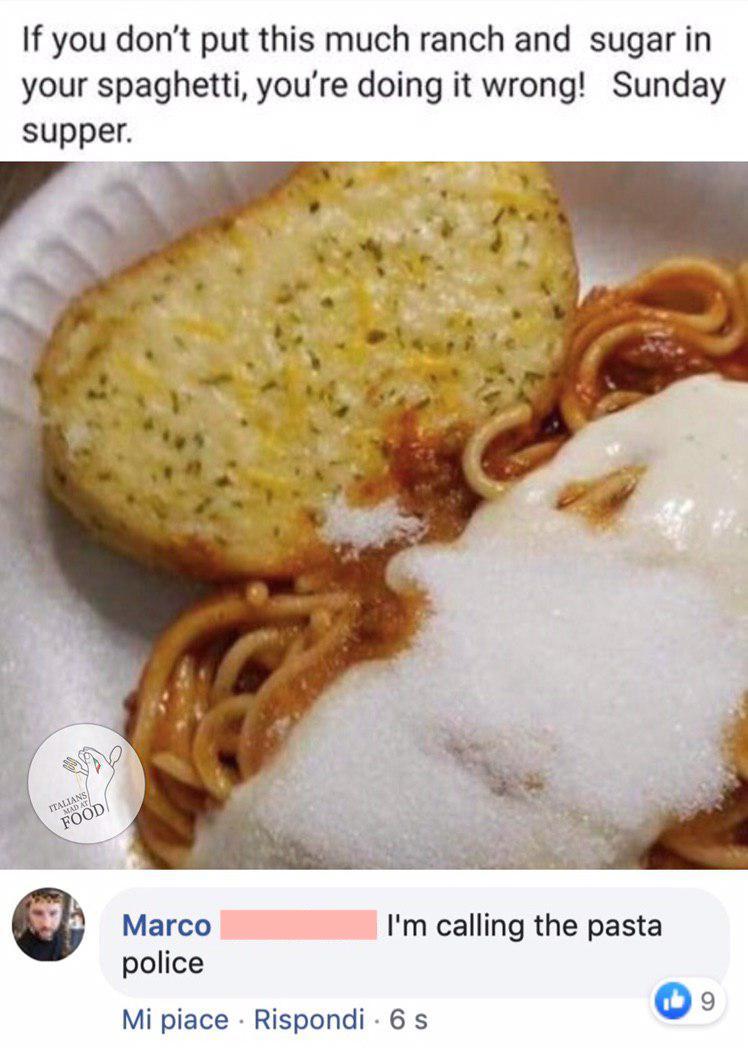 One such group, fittingly called "Italians Mad At Food," is normally the site of obviously bad food pictures and witty roasts as a result. No one's really complaining and no one is being over-the-top in their responses.
However, one man incurred the Internet's wrath after uploading a photo and complaining about perfectly fine meal his wife made for him.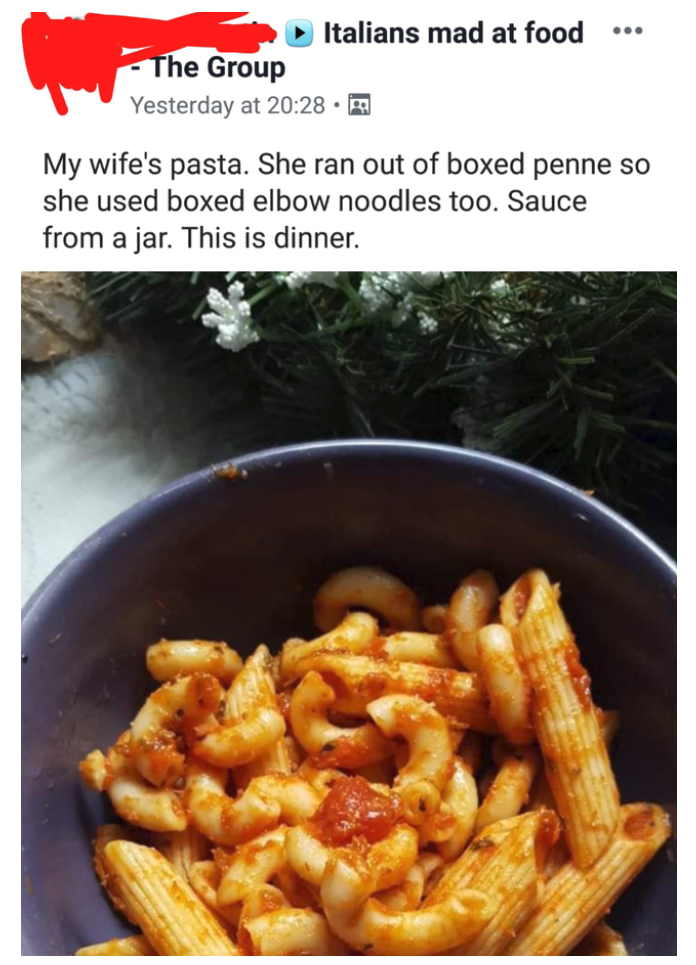 I don't know about you, but this looks totally fine. His wife got resourceful after running out of penne and threw in some elbow noodles as a substitute. Also, I'm not sure what fancy non-jar pasta sauce he's used to, but complaining about sauce from a jar is really the part that irks me most. This isn't a meal that deserves ridicule. It's just being ungrateful to your wife.
The post was uploaded to Reddit, where it was immediately torn to shreds.
If you're an adult and someone cooks you dinner you should be grateful. If you don't like the food you can cook for yourself, or better yet, cook for your partner. – Jacksane

The other day I went to cook rice to go with the curry I made and found we only had small amounts of brown and white rice. So I cooked both and mixed them. It was weird but i had a sick toddler and couldn't go out to get more. My husband ate it without complaint. I feel like this guy would divorce me. – King_regard

But you guys don't seem to understand! Some of the pasta is a DIFFERENT SHAPE! – justjoosh

Haha make your own f—king dinner. – welestgw

Nothing more alpha than needing a women to take care of you like you're a f—king baby. – directive0
Many began sharing their experiences with similar terrible spouses and exes.
My dad used to complain about what my mom cooked. She resorted to making menus daily based on what was in the fridge/pantry and making him pick what would be for dinner. He still complained about what he picked.

So she quit. She would make eggs for her own breakfast in the morning (and food for me and my brother if my dad wasn't home at a mealtime) but she hasn't made him food in over 30 years. They get along much better now than when I was little. – bethsophia

When I lived with my parents I noticed my dad did this shit ALL the time, and probably still does. He says he wants steak for dinner, mom goes out and buys it, marinates it for hours, grills it how he likes and his only commentary is, "It's not your fault, but this piece is so fatty!" and makes a dramatic scene of him spitting out "fat" from the highest-quality meat my mom could find. He says that every single time my mom grills steaks. – ShortFormal
The post was received so badly that the ungrateful husband took it down from Facebook. Here's hoping he's learned to show a little more appreciation for his wife or, better yet, gets off his ass to cook her something.
h/t: Reddit