Twitter user @zthunda posted a screenshot of a message from her roommate, captioning it "My roommate has lost her damn mind."
The text of the message from her roommate read, "Hey I'm not sure if you were aware but my boyfriend was here so if you could put some different clothes on or wait for him to leave to come in the kitchen next time that would be great."
She responded, "No," with a heart emoji. Powerful.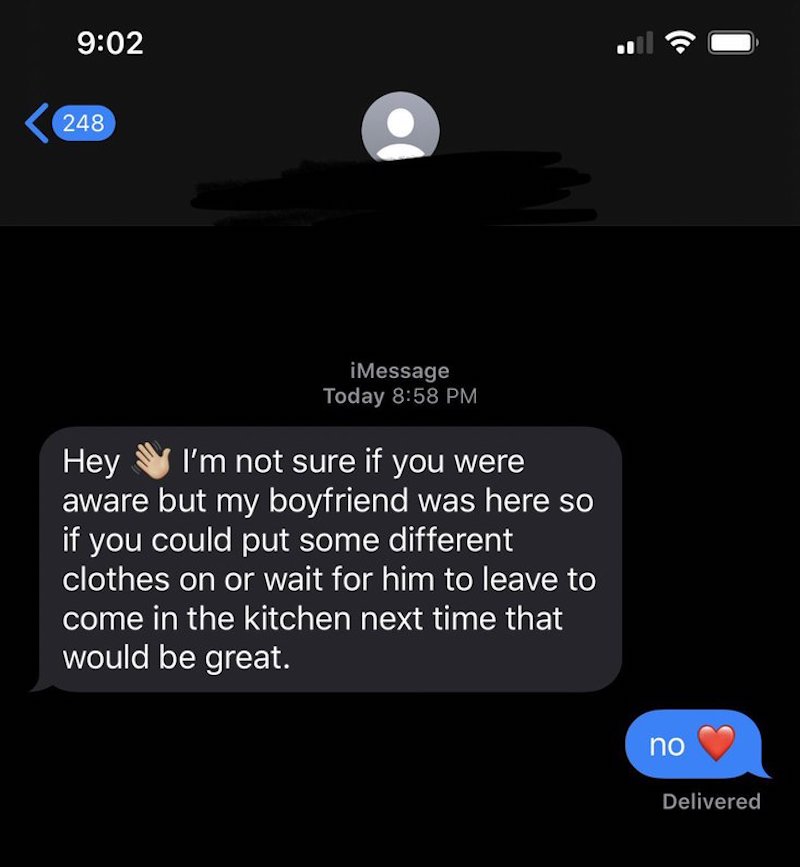 So, her roommate's boyfriend is in their apartment? And she's expected to dress according to his needs, which are to not get horny? Is he a human or an unneutered dog?
As the tweet took off and everyone started to share their opinions, @zthunda actually shared what she was wearing, which look like pretty normal pajamas and are about as modest as any comfortable outfit. She isn't in a thong and topless or a sexy nurse costume or anything weird: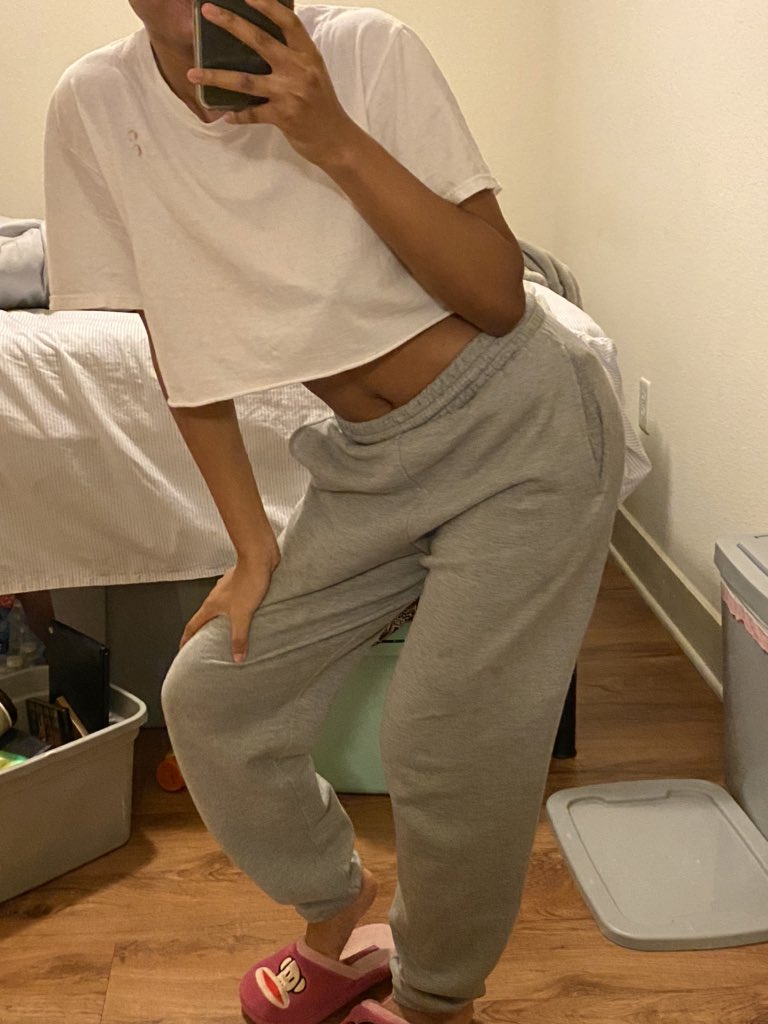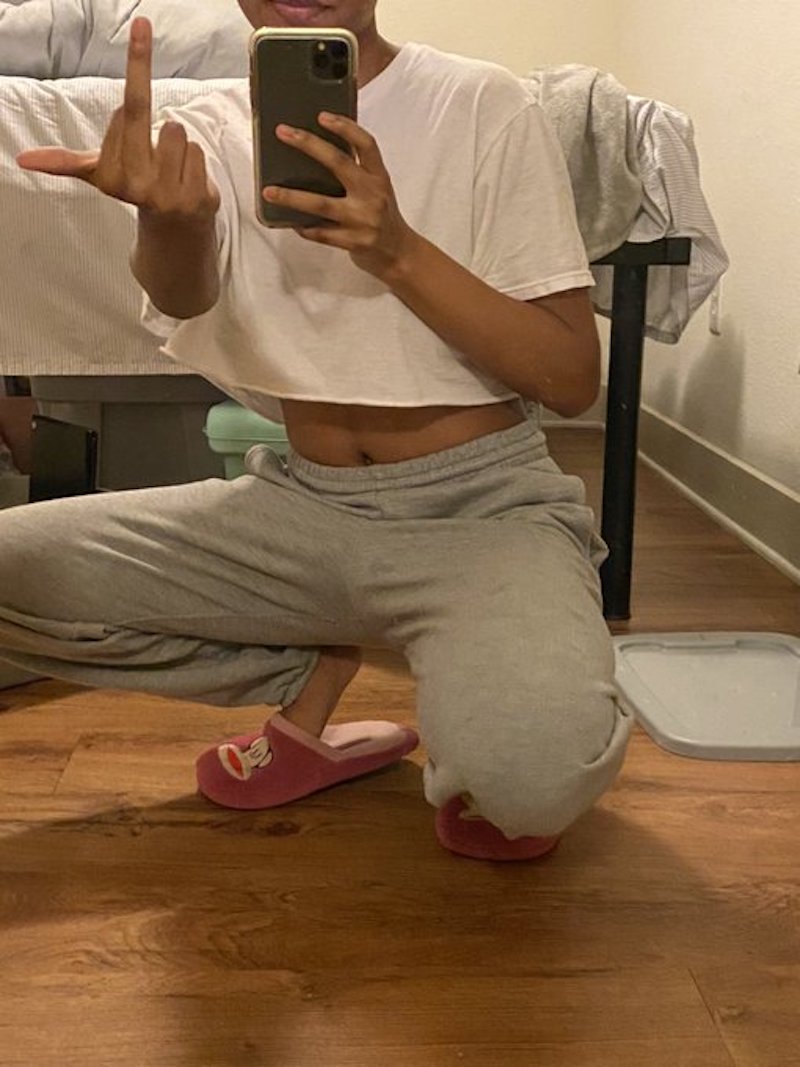 She also added some context, saying she barely sees this roommate and it's temporary housing, she'll be out in a few weeks. Thank goodness:
& the nigga is ugly y'all.

— z (@zthunda) July 30, 2020
okay last thing because i'm trying to unconfuse everyone lol i've never talked to her because she's never here & i'm staying in temporary summer student housing. i've only been here for 3 weeks & move out next week to my permanent apartment.

— z (@zthunda) July 30, 2020
But that didn't stop people from arguing under her tweet.
There are some people in the thread who say they get where the roommate is coming from and it's about "respect." Respect for what is unclear, but some of them even say you should hide your body in front of people's boyfriends and their dads. What kind of perverts are you all hanging out with?
Yall some hoes under this post! Its outta respect regardless if yall fw eachother or not dress appropriately when the boy is around, & im sure the picture she posted was not what she had on !

— Sy (@clarksyan) July 30, 2020
Facts.. regardless whether y'all both paying bills there or not outta respect you need to have on appropriate clothes infront anybody nigga or dad period.

— Peaches (@__richgoddess) July 30, 2020
Happily, for the most part people are on her side, because a grown man should be able to act polite in front of his girlfriend and not ogle someone going to get a soda in flip flops and sweat pants:
FR. Does she tell strangers on the street to cover up or wear something different when her BF is around? No, because that's clown shit. If your BF can't control himself around some sweats, the roommate is not the problem your BF is. Return him and get a new one.

— say guat? (@SpoiledGuate) July 30, 2020
Girl fuck that I pay rent, yo dude better go in yo room fym…. idgaf about none of that.

— jae (@uh8jaeee) July 30, 2020
All the women in these replies talking about

"Guess I was raised different."
"It's about respect"

Obviously grew up in an environment where your mothers told y'all to cover up in order to not tempt the men in the household instead of checking those weird ass men.

— MAKOTO REN (@MakotoRen_) July 30, 2020
Me going to stare at the light in the fridge for 20 minutes. pic.twitter.com/KEqd2rYpHj

— Schrodinger's Negro. (@SparklySketel) July 30, 2020
How about she talk to her boyfriend about him looking at another woman in her apparent presence

— ⛓Kaillum Kurta⛓ (@GLOCKCHAN) July 30, 2020
She had a shirt on? And pants? What does you not coming out shirtless have to do with that? She was dressed. Only her waist showing. The roommate has no respect for herself if she thinks her man is looking at other women for wearing sweatpants. She needs to leave him

— joy (@um_noooo) July 30, 2020
And in her opinion, the boyfriend wasn't even really doing anything:
i actually agree. he didn't do anything. i spoke to both of them when i walked in & he seemed to be minding his business.

— z (@zthunda) July 30, 2020

Insecurity ruins relationships with lovers and roommates.
Enjoy More Trending Memes & News, Or Don't, Your Choice