Just a short while ago Donald Trump tweeted this photo of himself with the following caption: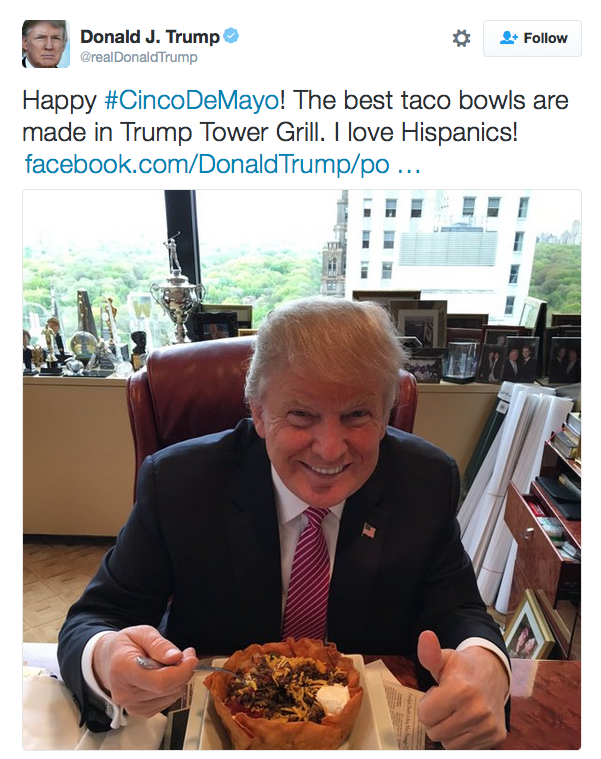 For some Donald Trump-esque reason, he doesn't see anything wrong with it. Luckily for the rest of us, the people of Twitter do and their responses have been hilariously amazing. Let's take a look at just a few to pop up in recent moments:
.@realDonaldTrump Any day is a great day for pho soup. I love Asians! pic.twitter.com/bB1S93E7BA

— nathan fielder (@nathanfielder) May 5, 2016
What the @realDonaldTrump pic.twitter.com/5VuWjM6KXd

— Sage Boggs (@sageboggs) May 5, 2016
holy shit pic.twitter.com/zJGcHSRGqa

— dan mentos (@DanMentos) May 5, 2016
. @realdonaldtrump I know you are celebrating your big win but this is a little much… pic.twitter.com/WtURdpYKgB

— MJ (@sucittaM) May 5, 2016
Trump wants to build a wall to keep Mexicans out but the wall has a slot that they can still give us tacos through?https://t.co/v0dj29KYTB

— Dan Duvall (@lazerdoov) May 5, 2016
Tune in tomorrow when Trump has pancakes with Aunt Jemima syrup and declares I LOVE THE BLACKS! https://t.co/o7n7db2Gqa

— side-eye spice (@goldengateblond) May 5, 2016
It's Holocaust Remembrance Day today too so I'm really looking forward to Donald Trump tweeting a picture of himself eating a bagel!

— maura quint (@behindyourback) May 5, 2016
This is going to offend a lot of people. There's NO WAY Trump Tower Grill makes the best taco bowls. #CindoDeMayo https://t.co/aoBdYMEPMf

— Schindizzle (@Schindizzle) May 5, 2016
Oh cool, he took taco meat and built a little wall around it. pic.twitter.com/AmR5oncVFv

— Bill Dixon (@BillDixonish) May 5, 2016
Donald is now his own parody account. pic.twitter.com/bubadI2IYq

— Elijah Daniel (@aguywithnolife) May 5, 2016
This whole Donald Trump Taco Bowl tweet storm is all just getting started, so I'm sure we've got plenty of more hilarity to look forward to.
And if you need more funny tweets in your life, be sure to check out The Funniest Tweets of the Week.