Every week, it is our duty to spend obscene amounts of time scouring Twitter for the funniest shit we can find.
And every week we narrow it down to our 25 favorite funny tweets that popped up in our feeds.
Now, they might be from this week or they may have been retweets of some very funny tweets from long ago.
Either way, these were the 25 funniest tweets we saw this week.
1.
MY DENTIST ASKED HIS ASSISTANT TO SUCTION (THE WATER OUT OF MY MOUTH)BUT I THOUGHT HE WAS TALKING TO ME SO I SUCKED HIS FINGER. IM MORTIFIED

— Sarah Lyons (@sarbeaaaar) January 3, 2017
2.
What she sees vs what I see pic.twitter.com/9qML6QknW9

— Abel (@deepfriedboi) November 3, 2019
3.
WOLF: I can't do this

FEMALE WOLF: Just focus on me, babe.

DAVID ATTENBOROUGH: The male penetrates the female

WOLF: He's so creepy

— Brian Doyle (@WritePlay) April 14, 2016
4.
https://twitter.com/icywiifey/status/1145350450545217537
5.
I like it when they put 'the end' after a movie, so that you know not to stay sat in your seat for the rest of your life.

— a skeleton head (@Death_Buddy) May 2, 2016
6.
Lord give me the commitment of a guy they forced into a polar bear costume going full method during an escape drill at a zoo pic.twitter.com/wPSBZ6hwpb

— James Felton (@JimMFelton) June 27, 2019
7.
8.
FIRST PERSON TO GET A CAT: haha this thing is an asshole I'm gonna keep it

— tater tot bros (@thetits) May 3, 2016
9.

10.
(to my date after each preview at a movie) the actual film will be much longer than that

— Bob Vulfov (@bobvulfov) May 2, 2016
11.
As the world gets dumber, I can't help but think Pizza Hut should give a personal pan pizza to every adult who reads 12 books over the summer.

— SCOTTY (@MarylandMudflap) July 10, 2019
12.
Congratulations on becoming a contestant on the Price is Right. Please, put on this clothing from 1979 and follow me.

— Chad Read (@squirrel74wkgn) May 2, 2016
13.
me chasing after the ice cream truck pic.twitter.com/uFh6F3ad7x

— batkaren (@batkaren) May 1, 2016
14.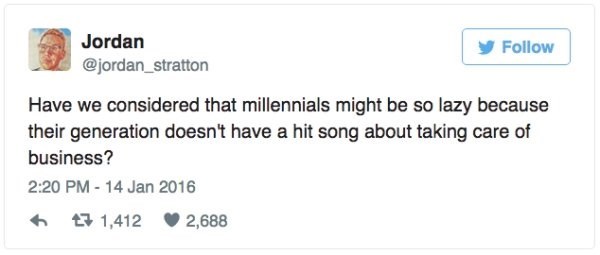 15.
tired of these mfs pic.twitter.com/NX6G3I2TMi

— . (@DickFooDog) July 16, 2019
16.
this is it. this is peak comedy. nothing will ever be funnier than this https://t.co/qNCwtrDtYm

— jen merritt!!! (@jennifermerr) June 23, 2019
17.
I'm sorry the what now pic.twitter.com/OpxK1FKiZY

— skep (extremely inessential) (@goodhairperson) July 16, 2019
18.
wheres my fuckin son pic.twitter.com/QM2nh5AYKs

— gary from teen mom (@garyfromteenmom) January 9, 2019
19.
When your anxiety is at a 12 but you're just going about your workday like pic.twitter.com/HN0aMx6RGx

— Mike Primavera (@primawesome) July 16, 2019
20.
God: you're my son

Jesus: do I have super powers 😀

God: you can turn water to wine, walk on water, uh bread

Jesus: :/

God: …fish

Jesus: so who's my enemy

God: Satan. he has shapeshifting, fire, rock n roll, charm

Jesus: wow that's cool 🙁

God: oh he's super duper cool

— clean slate (@PleaseBeGneiss) June 13, 2019
21.
Me, in hell: I was told there would be a "special" place for me?

— Historically Blocked by Shaun King (@alicewetterlund) February 25, 2019
22.
when u got a promotion at work but the chardonnay is subpar & your marriage is slowly crumbling pic.twitter.com/Rwo8cuwURt

— lil jon lovitz (with other natural flavors) (@liljonlovitz) April 28, 2016
23.
"Yea, when my mom fell down the stairs and broke her hip, we just shot her." pic.twitter.com/7t197jKoD0

— Jason Mustian (@jasonmustian) April 16, 2018
24.
i havent fully stopped at a stop sign since i was born

— emma (@emmachamberlain) February 26, 2019
25.
HER: do u have a condom
ME: u bet [whistles]
[an eagle flies thru the window & drops off a cat]
H: holy shit
M: ya sometimes he brings cats

— never better (@AbrasiveGhost) May 3, 2016
More of the funniest stuff we saw this week: