Kens and Karens are only now getting their time in the spotlight, but as someone who used to work in the service industry for a long time (and a long time ago) I can say that they've ALWAYS been around.
Stupid customers asking for stupid things and throwing a tantrum when they don't get what they want. There just haven't been cameras recording them and screenshots of texts to shame them with. Which is unfortunate.
GrubHub delivery driver and Twitter user @decentbirthday recently shared a text exchange between a customer who texted them, "Can you ask for no cheese on my cheeseburger."
No please or anything!
When @decentbirthday replies "Yeah and apparently the hamburger is a dollar cheaper if you just want that," doing the customer a favor by offering to save them a dollar, they reply, "I do not want a hamburger. I want a cheeseburger with no cheese," and then: "If I wanted a hamburger, I'd order a hamburger."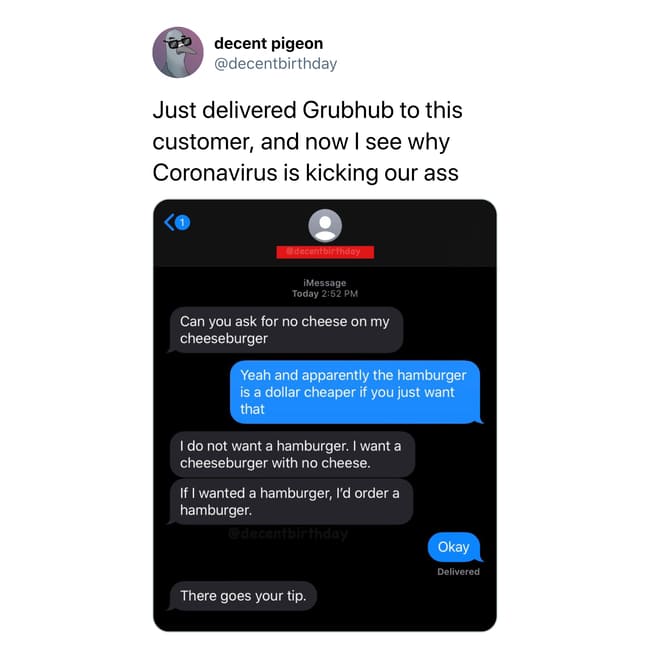 When @decentbirthday just replies back, "Okay," the customer rudely tells them "There goes your tip."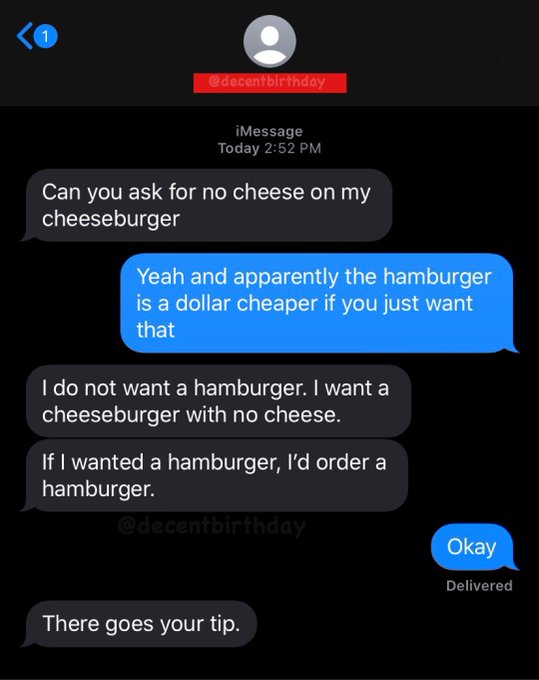 "Just delivered Grubhub to this customer, and now I see why Coronavirus is kicking our a**," @decentbirthday captioned the screenshot.
This tweet went viral and people began sharing their own experience working in the food industry and service, specifically with stupid customers who modified their food orders in stupid ways. GrubHub even saw the tweet, and replied: "DM us for your well-deserved tip."
P.S. DM us for your well-deserved tip

— Grubhub (@Grubhub) July 15, 2020
1.
2.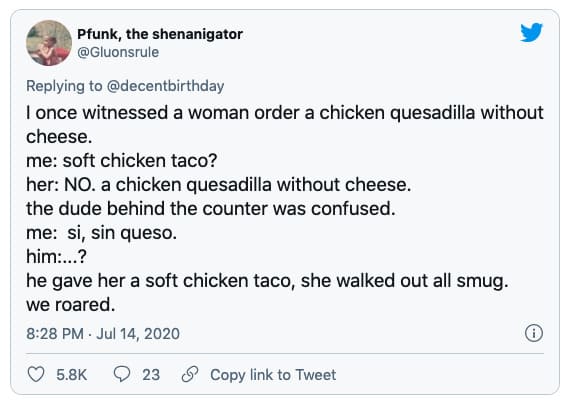 3.
People used to yell at me when I worked drive thru at wendy's when I would punch in hamburger instead of cheese burger no cheese. Same story when they ordered the deluxe plain (the only thing that makes deluxe different is the added toppings)
Like alright waste your money then.

— Ross is trans™ (@queer_hellenic) July 15, 2020
4.
(2/2) she then complained to him that the night before she had purchased a HOT latte because she was planning on drinking it early the next morning.. then in the morning she goes to drink it and it's COLD. She was dead serious about getting it remade. I hate people.

— (@Moonpie_Luna) July 15, 2020
5.
I worked at Arby's for a few years and I wanted to die every time I heard "What kind of cheese comes on the 'Beef n' Cheddar'?"
I used to think those Critical Thinking exercises in school were dumb… BUT APPARENTLY PEOPLE NEED THEM!

— Arawn Nox 🔞 (@ArawnNox) July 15, 2020
6.
Customer: large nacho meal.
Me: okay, what three dips would you like with your nachos?
Customer: coke.
Me: sorry, I need to know what dips you need first
Customer: *flashes card* card.
Me: no I really need to know which dips you want
Customer: *puts card in machine*

— abbie (@AbbieDavy) July 15, 2020
7.
I once had a customer ask me for a Mocha but no espresso in it so I just told him oh you want a hot chocolate? And he was like no I want a mocha. I explained to him what a mocha was but he still wanted a mocha with no espresso. So I charged him for a mocha n gave him choccy milk.

— [email protected] sadness (@lucipurrrrr666) July 15, 2020
Also another customer asked for a latte with no espresso so I told them you just want steamed milk? And she said no a latte with no espresso. So I gave her steamed milk and then she complained that it tasted like milk. Like????

— [email protected] sadness (@lucipurrrrr666) July 15, 2020
8.
My friend's ex husband, not born and raised here, used to ask for a cheeseburger without cheese all the time. She never did get through to him. The kids refused to go get fast food with him. ‍♀️

— Kristina of ⭐️⭐️ (@maytagsmom) July 15, 2020
9.
Adjacent to this: one time I went into a cafe, politely asked for a coffee and sandwich, and the barista broke down crying.

I asked what's wrong and what she said hurt my soul:

"It's just… you've been the first polite, nice customer all day!"

It was noon. They opened at 7.

— Jamie Jeans (@JoltStudios) July 15, 2020
10.
"How many slices come with a large pizza?"
"We normally cut them into 8"
"And a medium?"
"Also 8, but we can cut any pixxa differently if you'd like."
"That's a rip off! Why don't you get more slices with a large pizza?"

— el decay (@notsuohsports) July 15, 2020