Hey, great job making it through another week in one piece (or however many pieces you're in right now). You probably need a break and a laugh too. We've got you. These are some of the funniest tweets tweeted by women this week. So take a deep breath, sip that pumpkin spice latte, and enjoy.
1.
2.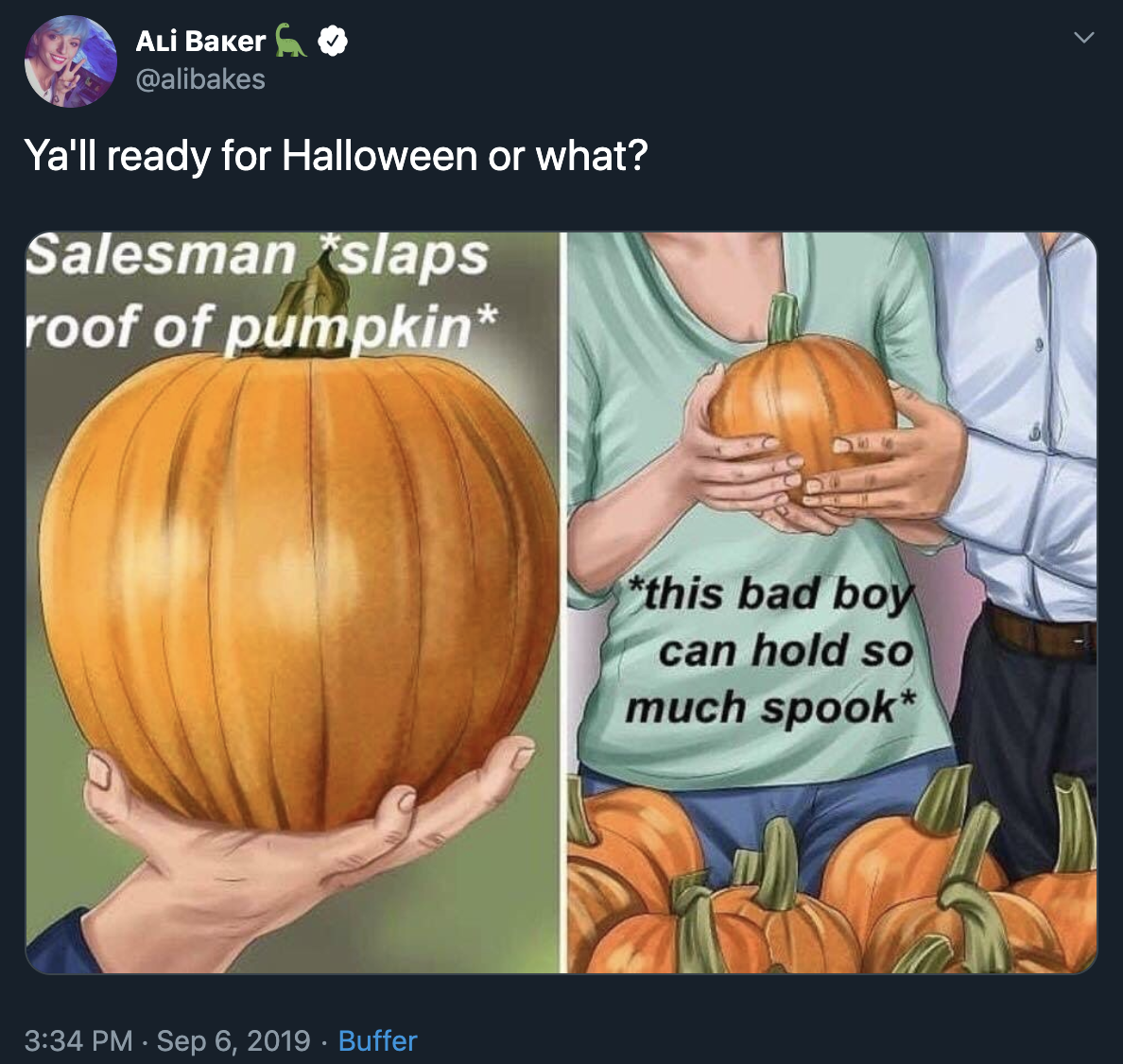 3.
the book I ordered from Ikea arrived! pic.twitter.com/dDjUfaHozn

— merry ditzmas (@DitzMcGeee) September 3, 2019
4.
INMATE: What got you in here?

MS. FRIZZLE: *takes a long drag from cigarette* I accidentally unshrunk a bus from inside a kid.

— Sara Wren (@sarawrencomedy) September 5, 2019
5.
MY DENTIST ASKED HIS ASSISTANT TO SUCTION (THE WATER OUT OF MY MOUTH)BUT I THOUGHT HE WAS TALKING TO ME SO I SUCKED HIS FINGER. IM MORTIFIED

— Sarah Lyons (@sarbeaaaar) January 3, 2017
6.
Is it possible to be Moe, Larry AND Curly? pic.twitter.com/1cg3GtlAuD

— Sarah Silverman (@SarahKSilverman) September 5, 2019
7.
why are ghosts in movies always making scary noises you gotta follow and why are people always following them? if you wanna kill me you better come to me, I'm busy

— dev, a good girl (@bummermaid) September 4, 2019
8.
"yo they lookin for u outside, i bit a kid." pic.twitter.com/g3BKz2eHvp

— pau 🍃 (@iicywifey) June 30, 2019
9.
when i haven't done any actual work but i still tell everyone that i had a productive day https://t.co/aqv9Wa7dhB

— Anne T. Donahue (@annetdonahue) September 6, 2019
10.