The internet is divided over a tweet revealing that one family uses the same bowl for making cakes and when someone is going to be sick. Not at the same time, obviously!
Twitter user Sarah Turner started the whole conversation after tweeting about how her children came to that realization.

The tweet resonated with many, others however were disgusted:




While folks on Twitter were shocked, this isn't the first time this conversation has come up online.
Last month, TikToker raggedywench shared a video mocking people who think "white people don't have any culture." "Yeah? What about the popcorn vomit bowl?"
The video spread amongst fellow TikTokers who stitched the video asking their white friends to explain the popcorn vomit bowl.
TikToker Jory asked their friend Max what the vomit bowl was and he explained, "the bowl you used when you're too sick to make it to the toilet that your mom gave you so you can stay safe."
Unlike folks on Twitter, viewers on TikTok defended the popcorn vomit bowl.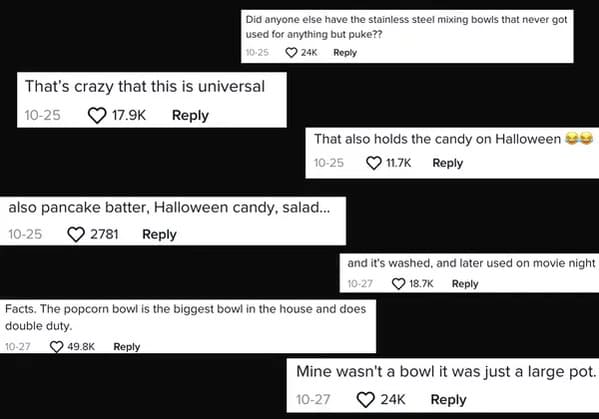 h/t: Buzzfeed