Therapy can be a real lifesaver when a person is struggling with their mental health.
It's wonderful to have an objective person to help you learn why you're making mistakes and how you can change your behavior to be a healthier person. But because of all the weird acceptance and validation issues so many of us have, therapy can also be weird and funny. After all, laughter is still the best medicine.
Well, laughter and exercise. So maybe read these while you're on the elliptical machine and get more bang for your (free) buck.
1. It's not just a one-way street…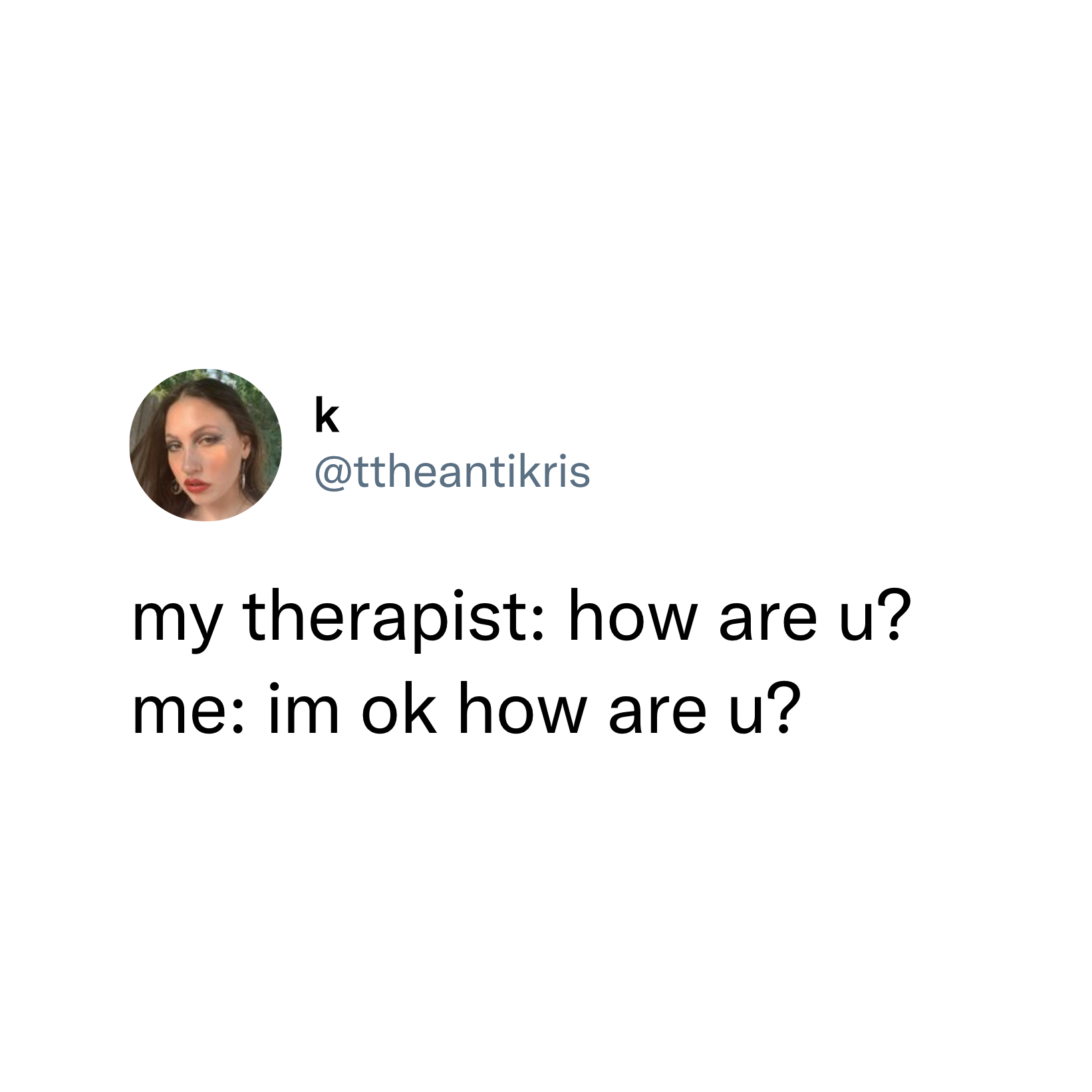 2.
My therapist: <laughs at a joke I said>

Me (to myself): This is great. I'm going to get a good grade in therapy, something that is both normal to want and possible to achieve,

— dug up a fifth of ivermectin (@yellowcardigan) March 6, 2019
3.
My therapist said it was ok: a life story

— Aparna Nancherla (@aparnapkin) September 2, 2015
4.
me: so you might not remember this guy I went on a date with two years ago—

my therapist: the one with two dogs and a car?

HOW DOES SHE DO IT!!!

— THE SECRET, two! (@TamingofdeSchuh) March 7, 2019
5.
whenever i get to my therapists office early she's like feel free to grab some coffee while u wait i'll be ready in a bit. you want me to just…. Do That? just Make Coffee? just make myself at home? i can't do this. i'd feel guilty

— murk (@debugdance) March 6, 2019
6.
Not to brag but my therapist told me I am fascinating like 6x today.

— Mrs. Fab (@toujours_fab) March 23, 2017
7.
I literally just thought "I can't remember what homework my therapist gave me but I think I've been doing it pretty well"

— Mathilda (@MathildaKF) March 12, 2019
8.
My therapist thinks I'm funny and smart and I can't tell her my real problems cause I want to keep up this image

— the ultimate boss babe (@sug_knight) October 12, 2018
9.
Me? Worrying about what my therapist thinks of me? Haha

— Pussy Daddy (@gamergirl2001) March 11, 2019
10.
Me, in my therapists office, even though it's her office: https://t.co/c25vwRhsAR

— Sue Surestack (@2rahhh) March 8, 2019
11.
my therapist: what's on your mind?

my brain: https://t.co/9cN7mWc3o6

— Rachel Whitehurst (@RachLWhitehurst) March 14, 2018
12.
someone's therapist knows all about u

— jen (@httpjens) December 4, 2015
13.
therapist: why don't you tell people when they hurt you instead of pushing them away without an opportunity to show you if they care enough about you to change their behavior

me: pic.twitter.com/wXlB5IEFt2

— anna borges (@annabroges) February 15, 2018
14.
therapy is helpful because every two years I figure out what happened five years ago

— aubrey (@aubreybell) July 13, 2018
15.
when my therapist says she wants to see me twice a week pic.twitter.com/LvHtJk174N

— Catherine Cohen (@catcohen) March 12, 2019
16.
me telling my therapist abt a breakdown i had: omg yes that was a classic that was a classic

— taylor (@oatm1lkbimbo) March 11, 2019
17.
i just want to know that my therapist likes me more than her other patients and also how much more and why and a gold star sticker for my dream journal would also be great is this really too much to ask?

— molly Kirschenbaum (@prince_gxrlboss) March 9, 2019
18.
When my therapist delivers me a hard fkn truth pic.twitter.com/5yrnv36L4U

— Goosebumps Slime (@spo0kysadghoul) March 12, 2019
19.
I'm not sure how well therapy is working but this week my homework is to write my obituary and it's the only thing I've been excited about in months

— Shelby (@smelbz) March 20, 2019
20.
My therapist: so did you try those new coping mechanisms I told you about?
Me: pic.twitter.com/GgZMqeHuWn

— alicia (@nerdjpg) March 16, 2018
21.
me: i want a therapist to call me on my bullshit
my therapist: your thoughts are wrong
me: ey fuck you too pal

— merritt k (@merrittk) February 6, 2019