Normally, a Fleshlight—the popular brand of silicone sex toy shaped like a flashlight—will set you back around $80. However, Austin-based artist Malek Lazri is attempting to sell a custom version molded into the shape of the plump German caterpillar Heimlich (voice by the late Pixar animator Joe Ranft) from the 1998 Pixar movie A Bug's Life for a cool two grand! That's right! A Bug's Life fleshlight!
Lazri has listed his creation on Craigslist and eBay—though it seems like more of an Etsy thing to be perfectly honest. Currently, the eBay listing has zero bids but 13 people watching it.
"This is it, the holy grail, one of 4 in existence. 1998 A Bug's Life promotional fleshlight, never publicly released only given to a select few high ranking Pixar executives for personal use," Lazri wrote in the Craigslist ad, which was posted about a month ago. "100% satisfaction guaranteed very light wear, gently used, do NOT SLEEP on this one folks!!!
Despite the ads claim, however, Lazri admitted to Vice that he personally designed the Heimlich Fleshlight, and that he got the idea from one of the Heimlich Fleshlight memes (yes, there were multiple) that had been circulating on Reddit a few months back.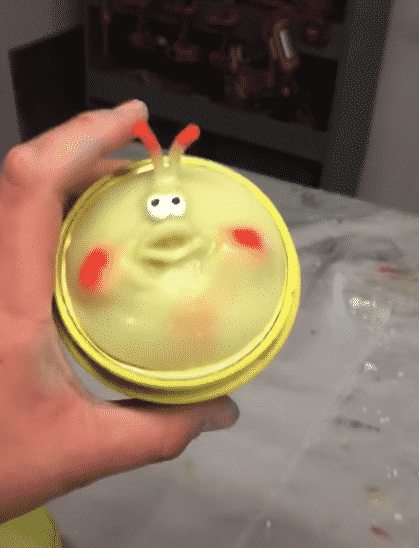 I just thought it would be so great to make that a reality, to make it in real life," he told Vice of the Bug's Life fleshlight. "I put my own little spin on it."
To make his Heimlich, Lazari formed a clay mold, then filled it with silicone, then filled that mold again with the silicone that makes up the final product. He colored its face with permanent markers, "kind of like makeup," he said. The casing is a real Fleshlight case, painted to look like the cartoon caterpillar.
One might imagine that someone in Lazari's unique position might be concerned about legal ramifications from Pixar—or even a cease and desist order. But on the contrary, Lazari says he would welcome it.
"I would love that," he said, "just to receive that email would be great."
He's since taken his Fleshlight Heimlich to TikTok, where it has predictably gone viral. In just four days, the post has gotten nearly 60,000 likes and received over 300 comments.
More things that'll ruin your childhood: