11.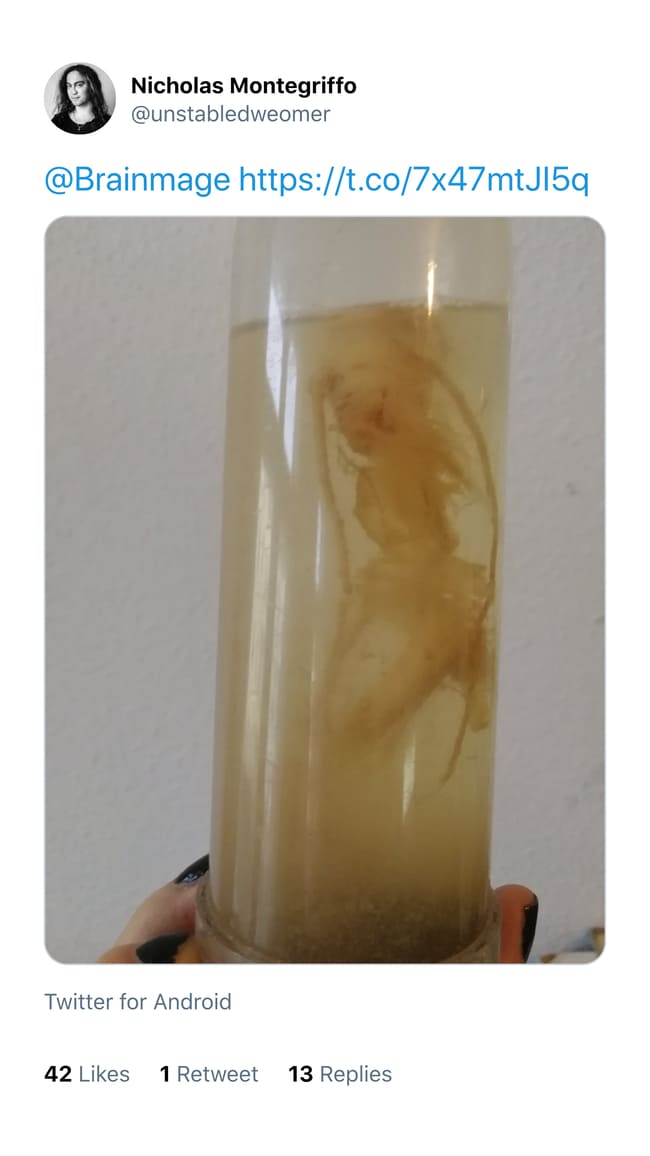 12.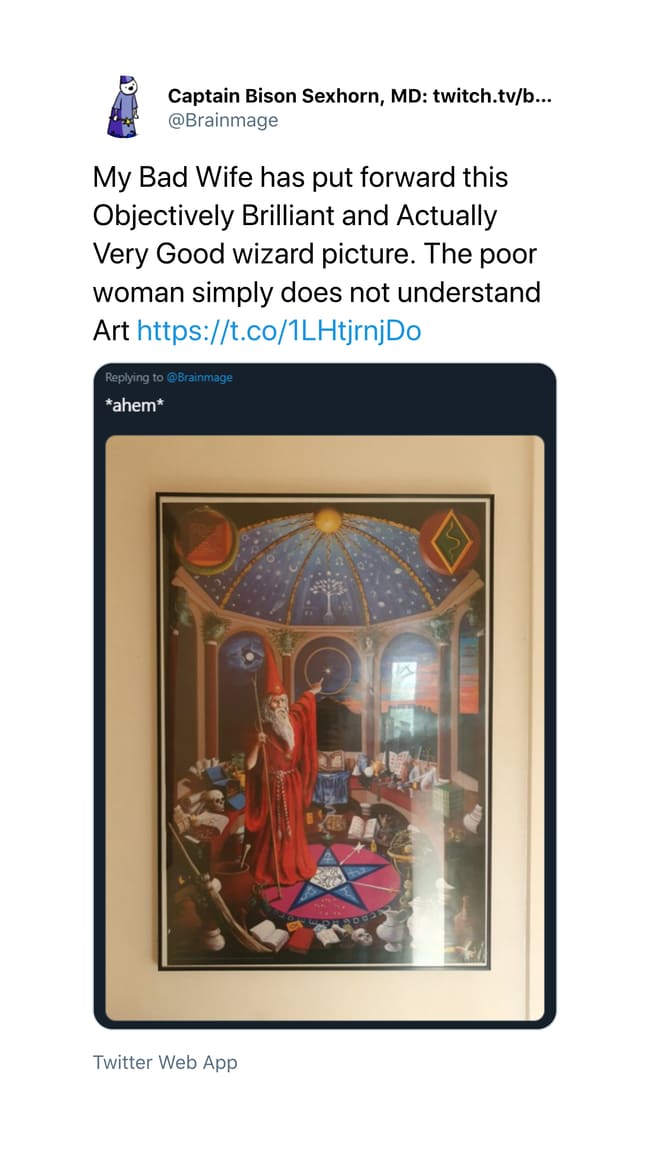 13.
There pre-colombian pots. A gift from my father. Still not sure why he looked at these and said to himself "my daughter needs these". pic.twitter.com/O58quiYXsI

— Lisa B. (@politeracy) February 4, 2020
14.
At first I couldn't think of anything so I decided to ask my boyfriend. This is a gift he got from a relative at some point because he likes computers.

IT HAS GOOGLY EYES WHICH MAKES IT EVEN WORSE pic.twitter.com/3hTakZIiJG

— Gulleko (@Gulleko) February 3, 2020
15.
Apparently this was a custom-made souvenir from Jersey Zoo. What animal it's actually meant to represent is, and probably always shall be a mystery. Best £1 I've ever spent pic.twitter.com/QGyKv9LETB

— Jennie Findlay (@jenniefindlay) February 3, 2020
16.
My boy showed me something he made at pre school and now I fear soon I will wake up in a Wickerman being sacrificed to the Dark Gods of the woods pic.twitter.com/QhO8SbHtyn

— Disappointed Optimist (@disappoptimism) May 11, 2019
17.
This is Sid. He also has a lion's tail. I love him. pic.twitter.com/FrN33CupZM

— bessie (@amyjayem) February 3, 2020
18.
— Dave Môrgan 🏴󠁧󠁢󠁷󠁬󠁳󠁿 (@pugnaciously) February 3, 2020
19.
This (cursed) painting that my mum commissioned of my children – who don't look anything like these scary things. I'd throw it out but I'm sure it'd come back! pic.twitter.com/IUxC8FHfBO

— Jeanna Louise Skinner (@JeannaLStars) February 3, 2020
20.
Meet Ginger. She lives in a cupboard now. She was made by my wife's aunt for her, the aunt died later. When my wife bit her face aged 5, black stuff started oozing out of it. All her childhood friends are petrified of it. pic.twitter.com/FIJLrmPkvL

— Geeza. (@romfordgeeza) February 3, 2020
21.
I've kept this pic.twitter.com/pnFsSND44y

— Boots McGoot is in the house (@BootsMcGoot) February 3, 2020
22.
Allow me to introduce you to Catherine the Grate. She was a Christmas present from my parents (back when she had two eyes), and I still don't know what I did to deserve it. pic.twitter.com/K5SotPRz8v

— Fiona Feane (@fiona_feane) February 3, 2020
23.
My son went New York. This was what he brought back for me. The git. pic.twitter.com/smiJ0ayPbT

— LukeB_MTB (@LukeB_MTB) February 3, 2020
24.
My Mum owns this but it was in my bedroom from when I was born until I was about 10. pic.twitter.com/olPMXbIJ7X

— AJ Jefferies (@moonjam) February 3, 2020
25.
When we first moved into our current house, a dear friend decided to paint us a "family portrait". It is huge and touching and very deeply cursed. pic.twitter.com/a4wHldwKyh

— The Eponymous Jonny (@jonnywaistcoat) February 3, 2020
26.
I also have a Satan Claus. I apparently picked him out when I was 3 and he spends every Christmas under the tree. Each year my husband a d 1 take a pic of him with a knife. pic.twitter.com/1RA33q3e2O

— Patti Murray (@WildFlowr_AL) February 3, 2020
27.
CURSED pic.twitter.com/gMpw0vAioJ

— AlexWattsEsq (@AlexWattsEsq) February 3, 2020
28.
My son's grandfather bought him these. We keep them in the baby's room because he refuses to go sleep with them in his room. pic.twitter.com/VS2wZ9DfFb

— Chris Farnell (@thebrainofchris) February 3, 2020
29.
This is a portrait of me. The eyes say it all. pic.twitter.com/1sk28nrTqv

— Lindsay Galvin (@LindsayGalvin) February 3, 2020
30.
During renovations, I found this doll buried in a mound of ash in the attic. We live in a Victorian farmhouse. pic.twitter.com/ZyjpJVTJNt

— Jeremy C. Shipp (they/them) (@JeremyCShipp) February 3, 2020