The Internet can bring along a roller coaster of emotions. Within a few scrolls, you can wander across heartwarming videos of people showing kindness to one another, funny, random events that you never would have seen without the magic of social media, and terrifying clips of world news.
However, nothing quite compares to the recently surfaced spoof on a "temperature blanket" TikToker Madwil (mwilson203) brought upon the world.
May I present to you the blanket that has broken the minds of the most acclaimed psychiatrists and left millions speechless…A soon to be artifact that may one day be spoken of as that of the Mona Lisa… Ladies and gentlethems; the "sh*t blanket."
What started as a normal year for Madwil quickly turned into the creation of a new beast. Over the course of 2022, this TikToker sh*tted and knitted her way into making a niche play on the trending "temperature blanket." The idea behind these blankets is that crocheters add a line of yarn each day based on the weather outside. Ideally, they're left with a multi-colored blanket of many wonders!
Madwil, however, had a different idea. She decided to track her bowel movements throughout the year by taking the same concepts used for the temperature blanket and applying them to her estranged sister-blanket, the "sh*t blanket." The mind behind the blanket explained her reasoning for how she was to make it…
"One row a day in which the color of the yarn was determined by the number of sh*ts I took the previous day." She explains. "The texture of my sh*t determined the stitch."
The TikToker documented her progress throughout the course of creation. Below are some of her most inspiring (?) updates…right up to the sh*tty grand finale!
Jan. 2, 2022: Day 1 of creating her sh*t blanket and sharing it with TikTok. Madwil explained that she had found "beauty in sh*t":

The TikToker's "crocshitting" took a while to gain its following. By day one of progress, she didn't have many standing behind to support her. Despite being in the face of adversity, Madwil pushed through with her work, and… other things.
As days went by, she continued to use the restroom and her crocshitting hooks to invent her masterpiece. Within no time, the two had formed an unbreakable bond. In a 50 day update, she shared what her and the blanket had been up to.
March 18, 2022: Day 50 of Madwil's journey with her peculiar blanket. At this point in time, she had began to bond with the art, sharing a TikTok of their fun times together.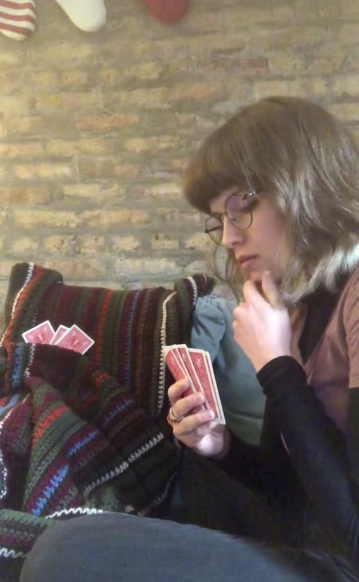 After her update in March, Madwil began to gain supporters on her endeavors. Her fans appropriately deemed themselves "Sh*theads" and supported the creators madness with enthusiasm to spare! As the year went on, and every one else continued about their normal lives, taking normal bathroom breaks and knitting their normal temperature blankets, Mad-scientist-wil (as I like to call her starting right now) crocshitted away in her evil lair.
In the month of October, a shocking status update on the blanket brought in 1.9 million viewers, some of which were soon to be sh*theads!
October 12th, 2022: Day 285 of the conception of the sh*t blanket. In a video update, the TikToker revealed what her creation had come to be:

In her most recent update, posted at the end of December, Madwil and her special blanket made their grand appearance together on the popular social media platform. The blanket, nearly spanning the length of her entire living room was filled with many different colors and stitching variations.
Each blue stripe marked a month, and all the multi-colored stripes in between symbolized the TikTokers bowel movements throughout.
Madwil's reveal of her beloved "sh*t blanket" grabbed the attention of 9.8 million people and counting! You best believe her work moved the hearts and bowels of all who laid their eyes upon it.
"I finished my sh*t blanket," she says in her final video. Madwil displayed her hard-work, explaining "it's like a temperature blanket, but um, disgusting."
Below is the moment you've all anxiously been waiting for, the final reveal of the one and only "sh*t blanket"!


What noteworthy thing did you do over the course of 2022? Maybe you wrote a book or beat a new personal goal.
Perhaps you found a cure for a rare disease or won a Nobel peace prize. No matter what you did, it doesn't quite compete with one woman and her documentation of all her bowel movements from 2022 with, well, with a sh*t blanket.