In case you missed it (or you don't follow YouTubers), this weekend beauty vloggers James Charles And Tati Westbrook went at it online and things were insane.
Who is Tati Westbrook?
Tati Westbrook is a well-known beauty mogul and vlogger who has long been a staple of the online beauty industry. Not only is she one of the original beauty gurus on YouTube, but she also founded the company Halo Beauty.
Who is James Charles?
James Charles was a young kid who was taken under Westbrook's wing and coached, mentored, and trained on how to become a successful beauty vlogger. To date, Charles had gained millions of followers with the help of Westbrook. Charles was even made an honorary Covergirl cover girl and developed his own makeup brand.
What's the James Charles-Tati Westbrook drama?
Drama sparked between the two after Charles started promoting a brand that competes with Westbrook's Halo Beauty. Westbrook said she felt betrayed that Charles would cash in on promoting another company even though she had plugged Charles for years.
Westbrook released a YouTube video (a 40-minute long YouTube video) basically trashing Charles and telling the world how horrible he is, and all of the disgusting things he's done over the years. It's truly…mindblowing. The drama, the tea—it's everywhere.
Later that night, Charles released an apology video—after losing over a million subscribers in 24 hours, setting a new YouTube record.
People online were quick with the jokes for this one, y'all. They were so quick, we had to pull the best ones for you to enjoy with your scalding hot tea.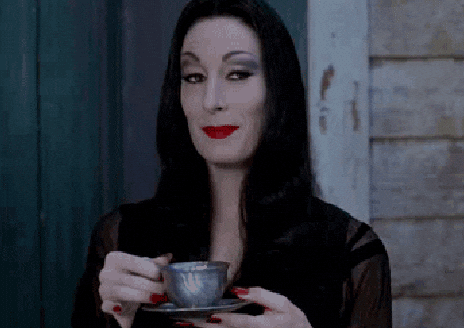 1.
Me after spending 45 mins of my day, avoiding my own responsibilities to watch the James Charles and Tati drama. pic.twitter.com/IXaTIocOja

— Josh Kane (@Joshkaneee) May 10, 2019
2.
me getting ready to watch a 43 minute video by tati westbrook, whom I have never heard of, exposing james charles, whomst I only know about from memes of him not being able to sing and wearing assless leather pants pic.twitter.com/jXMmd9sMXG

— marshall lo (@firmlyclimactic) May 11, 2019
3.
Tati snatching James Charles' career back pic.twitter.com/bbc537VePI

— Ryan Khosravi ✨ (@ryepastrami) May 11, 2019
4.
me watching all 43 minutes and 8 seconds of that tati video without knowing a single thing about her, james charles, or any products/events she mentioned pic.twitter.com/AiKEY96m84

— dani nett (@dannynett) May 11, 2019
5.
As YouTube makeup influencers feuded with each other, I couldn't help but wonder: Had their relationship been built using a bad foundation? pic.twitter.com/HBQcKbwL32

— grant👨🏻‍🦱 (@urdadssidepiece) May 10, 2019
6.
Shane Dawson running to James Charles house to film a new documentary series pic.twitter.com/KzbOQpqld9

— Arab (@Allahyekhdne) May 11, 2019
7.
James Charles doesn't feel so good after Tati Westbrook SNAPPED!! pic.twitter.com/KLKiCVUfwg

— *—FMUOASL—* (@KhannVictt) May 10, 2019
8.
Watching Tati Westbrook's 40 minute video exposing James Charles pic.twitter.com/zTPB6PmWJV

— Lukas (@lukas_crowder) May 10, 2019
9.
Me: I could care less about James Charles

Tati: BYE SISTER

Me: pic.twitter.com/414J6ijFR4

— Cody (@Thot_Pocket) May 11, 2019
10.
James Charles making an 8-minute apology video to Tati's 43-minute masterpiece and only addressing the sugar bear hair issue is like arguing w a boy and him responding to one point in your 3 paragraph text message

— nasty little (b)rat (@brian_conor_) May 11, 2019
11.
Did I ever care or give 2 fucks about James Charles? No. Did I watch the 43 minute long video of him being exposed? Absolutely!

— osqueer (@_oskie_) May 11, 2019
12.
Them: you can't dance to James Charles apology video

Me, an intellectual: pic.twitter.com/GhJoKo0kA8

— K (@OnlyVocalists) May 11, 2019
13.
Me when Tati told Jame's mom to stop being on Instagram and take care of her kids pic.twitter.com/7HBe5VvDls

— Claudia⁷ (@Claudiukys) May 10, 2019
14.
me explaining the Tati and James Charles drama to my dad pic.twitter.com/LobpLo73fk

— what 🦋 (@wantstobebambi) May 11, 2019
15.
James Charles: *pretends to cry*
Tati Westbrook: pic.twitter.com/ElopQBXtY6

— Valentine𖤐 (@ValentineDiablo) May 11, 2019
16.
https://twitter.com/blaxkpinkbts/status/1127048563408683014?ref_src=twsrc%5Etfw
17.
https://twitter.com/dorkishastro/status/1127019610191073280
18.
LMAO WHO DID THIS #jamescharlesiscancelled #jamescharles pic.twitter.com/m0ed3RJyA3

— 디머디네아 (@trustfoster) May 11, 2019
19.
Remember when James charles sub tweeted this, I – pic.twitter.com/owkvEz4jS3

— ☁️ angel ☁️ (@axngelic) May 11, 2019
20.
https://twitter.com/felizkrennews/status/1126971143116742656?ref_src=twsrc%5Etfw
21.
james charles making his apology video for tati pic.twitter.com/uLrF38Izb6

— arminé (@armineshaaa) May 11, 2019
22.
how i'm gonna look using my james charles palette now pic.twitter.com/bieJ5LYziK

— saniyya (@notsaniyya) May 10, 2019
23.
https://twitter.com/needyaddiction/status/1127206756399165442
24.
https://twitter.com/mogbeanhead/status/1127276472341868548?ref_src=twsrc%5Etfw
25.
James Charles preparing to give a convincing apology video: pic.twitter.com/Yd8nrNDD4d

— ✨ quarantined insomniac ✨ (@judgewhooty) May 11, 2019
26.
can anybody please tell me how to lose weight as fast as James Charles is losing subscribers and followers? #jamescharles pic.twitter.com/CXvxDxAHm5

— Fabrizio Valerio (@frabiziovalerio) May 11, 2019
27.
my last three brain cells trying to solve 1+1 on my math final #JamesCharles pic.twitter.com/816RKXSUoO

— rengoku enthusiast (@muhnickah) May 11, 2019
28.
https://twitter.com/hamteatime/status/1127055174198005760?ref_src=twsrc%5Etfw