Everyone knows about the spring breakers who partied their way through Florida while the rest of us were starting to hunker down to flatten the curve and slow down the spread of coronavirus throughout America. We've made fun of them, called them careless and selfish, and nobody was surprised when reports started rolling in confirming at least several who returned home afterward have since tested positive for COVID-19.
But it's one thing to know, logically, that these zoomers could easily have tracked coronavirus across the country, infecting numerous people along the way. It's another to see what that actually looks like.
And now, a simulation created by Tectonix is giving us a sobering picture of just what that unrelenting drunk debauchery could have meant for the rest of the country.
Using anonymous location data points from cell phones, the company created a map that tracks the movement of people who were on a single beach in Fort Lauderdale during the two weeks of spring break and shows how they spread across the country over the remainder of March.
Want to see the true potential impact of ignoring social distancing? Through a partnership with @xmodesocial, we analyzed secondary locations of anonymized mobile devices that were active at a single Ft. Lauderdale beach during spring break. This is where they went across the US: pic.twitter.com/3A3ePn9Vin

— Tectonix GEO (@TectonixGEO) March 25, 2020
One party could have done a lot of damage.
This shows the location data of phones that were on a Florida beach during Spring Break. It then shows where those phones traveled.

First thing you should note is the importance of social distancing. The second is how much data your phone gives off. pic.twitter.com/iokUX3qjeB

— Mikael Thalen (@MikaelThalen) March 26, 2020
We know that young adults converging in Florida to party in March generally aren't from Florida, but here we can see just how quickly they scatter back across the country.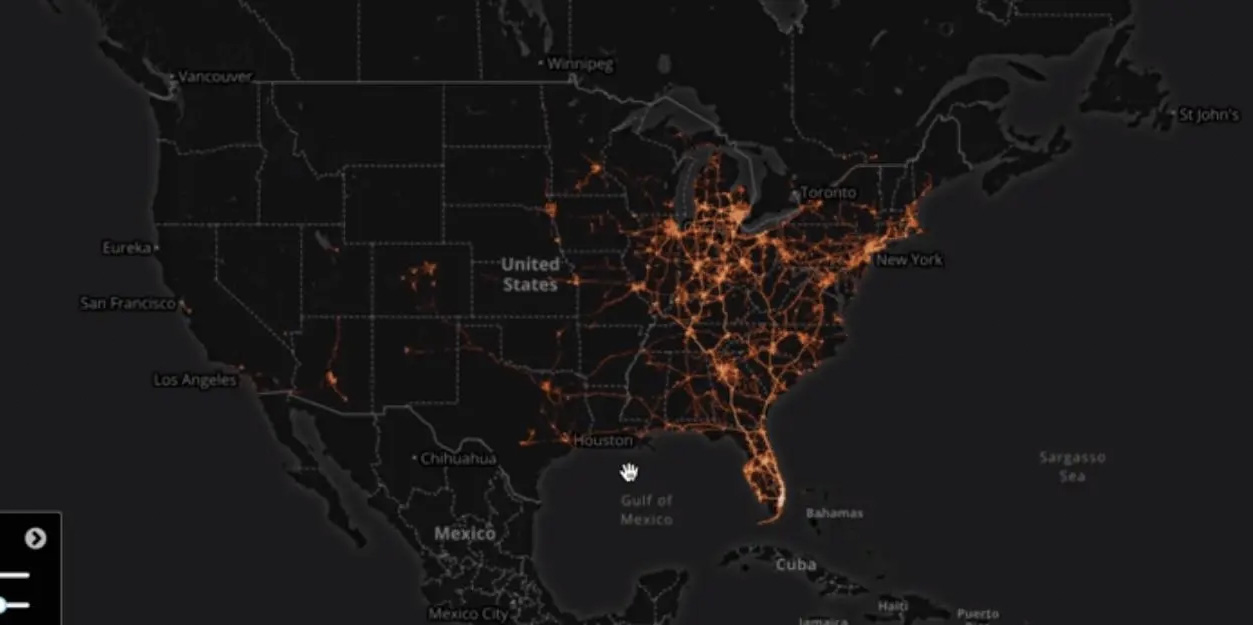 The visualization has people angry about spring break all over again.
This is terrifying for two reasons:
1) incredible spread of a "small" group over large geography
2) there is no such thing as anonymized location data that includes timestamps and histories, so this PII was shared with multiple companies.

— Brian McClendon (@bmcclendon) March 27, 2020
Unreal that a bunch of Spring Breakers, who think they are invisible, could have spread Coronavirus far & wide, including family & friends. I love that there are so many great young people but we also have many selfish inconsiderate ones with self-importance, GFY attitude 2Party!

— Jan Greer (@greer_jan) March 27, 2020
Would like to see how many of those devices ended up visiting an ER over the following weeks

— ₮ⱤØ₲ ⚕ (@TrogMD) March 26, 2020
Thanks a lot spring breakers, you killed America…

— Beans & Cornbread אֵת (@frijoles12) March 27, 2020
This is impressive. We need more like this for those who fail to grasp the consequences of not physically distancing.

— Karen Gustafson 🌊🌊🌊🌊🌊🌴🇺🇸 (@KarenGustafso10) March 28, 2020
One piece of good news is that the map only shows the movement of people, not the virus.
We don't yet know how many people who popped down to Florida for spring break may have come in contact with or contracted COVID-19, but we can be reasonably sure it wasn't every single one of them.
However, with over 100,000 confirmed cases in the United States and counting, we know that the disease spreads easily and rapidly, and it's incredibly unlikely that we won't hear more reports of people who were in Florida for spring break testing positive.
Seeing just how easily and how far coronavirus could spread from a single party is enough to convince just about anyone to stay home.
More sobering stories about coronavirus: