Hello, I'm Matt Shirley and I make a new chart every day (or at least I try to.)
While that may not seem like a huge accomplishment, I assure you coming up with an original idea consistently is no easy feat. Plus, then I have to illustrate them. All while trying not to get distracted by the Internet.
A few years ago I started an Instagram account with the goal of creating a chart every day. I started out sketching charts on a dry erase board, but soon evolved to digital charts. Now I am commissioned to make charts for cash money. And I even have a Patreon, ahem if you want to check it out.
Anyway…
Here's the chart that started it all: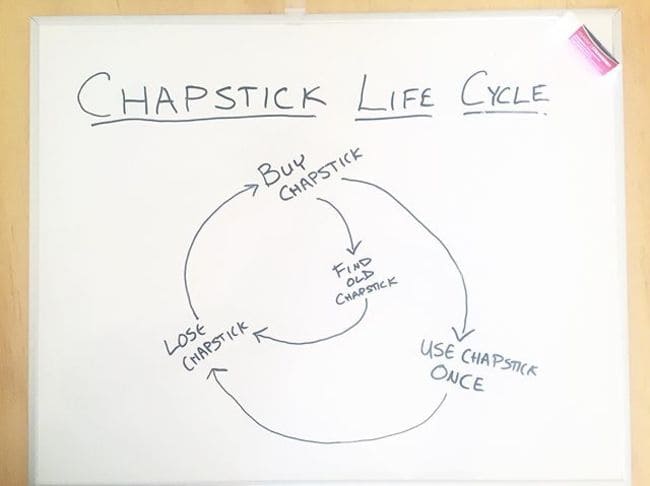 And a few of my favorites…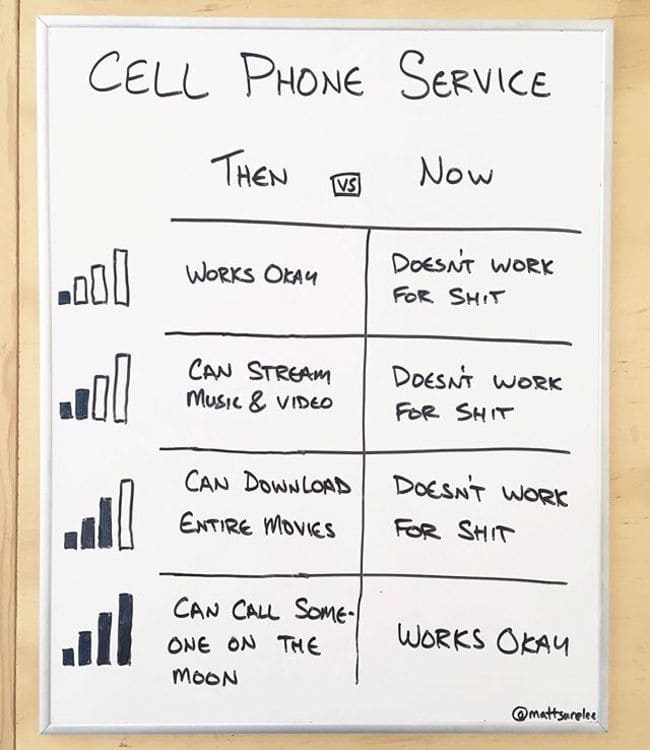 God, I love a good Venn: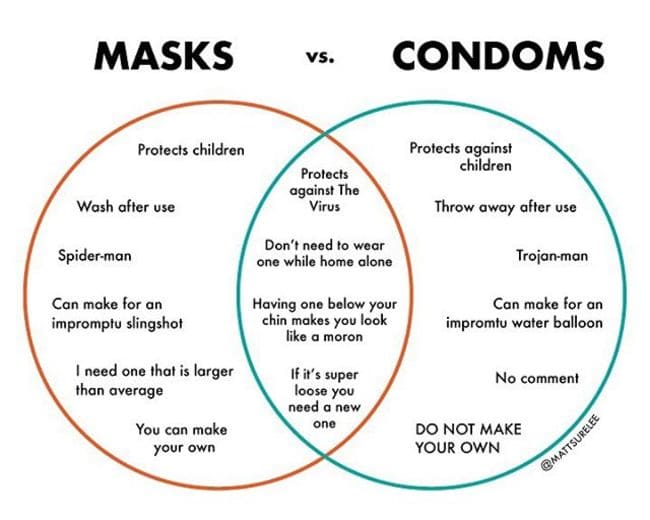 Venn, Venn, Venn…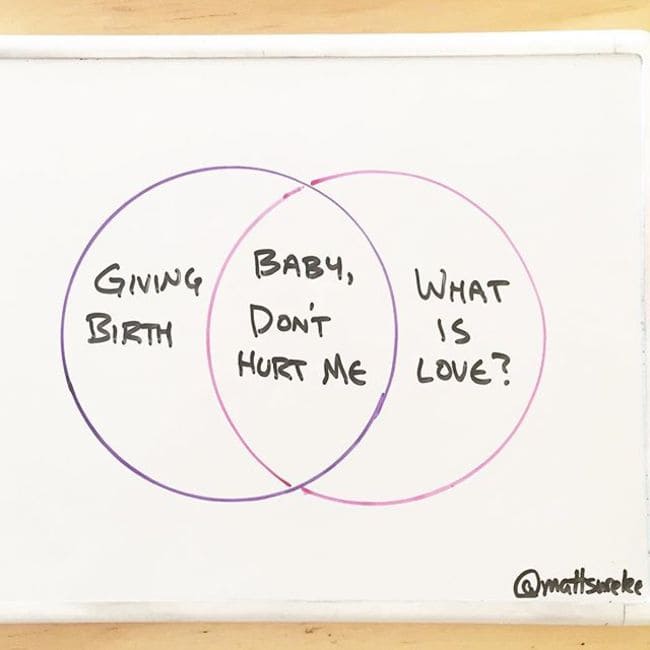 They can look a little more professional when digital, but I like both TBH.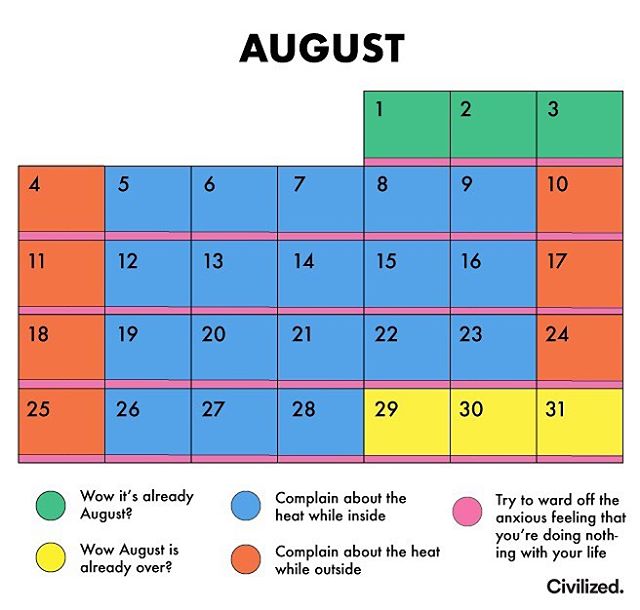 As my following has grown, I've been able to crowdsource data to make charts more accurate.
One of my favorite examples of this is my most recent map chart when I asked followers to weigh in on the worst tourist attraction in their states.
Now, this isn't my first rodeo when it comes to the highly divisive state map polling. First, I did every state's "least favorite other state."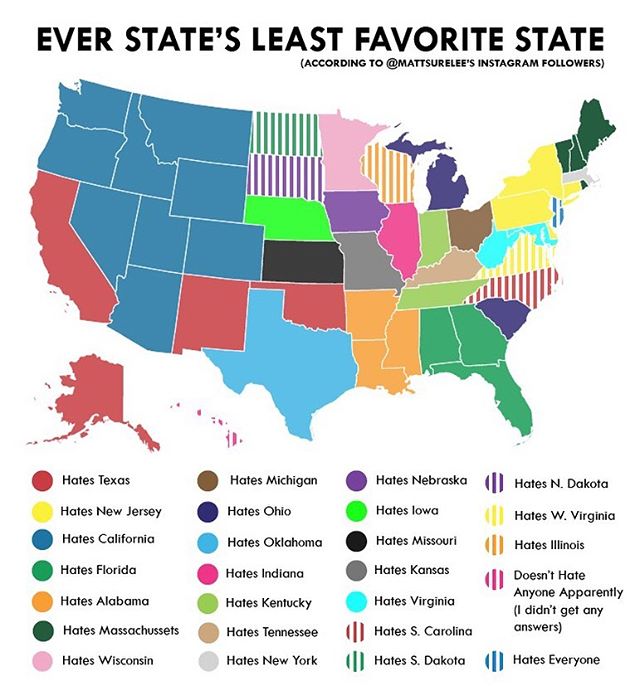 And then just "The Worst Thing About Every State…"
Most recently I decided to poll followers about the worst attractions in their state, and well, it's causing some debate.
Now, every state has something going on for people to see when they're driving through to something more interesting.
Some states are perhaps TOO full of stuff to see and the people who live there are always having to host and guide guests to these terrible attractions. I can't tell if it was exhausted locals or disappointed tourists who weighed, but they're all arguing about the results.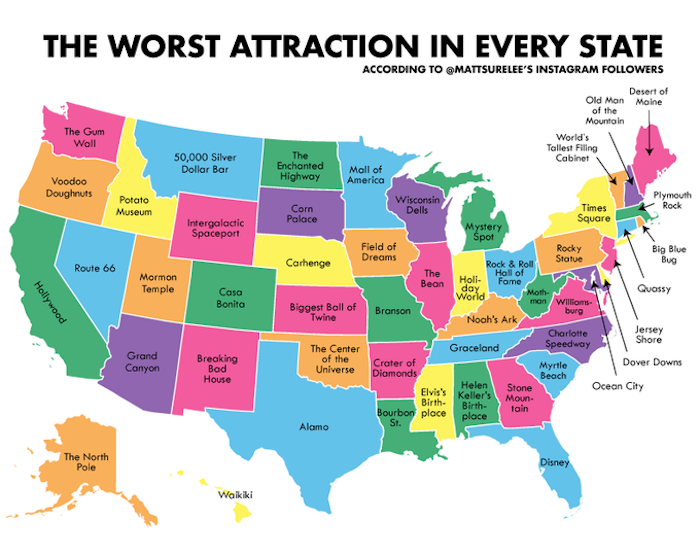 The map has sparked quite a debate because some people are taking criticism of their state's main attractions pretty personally. Some profess to even like their horrible attractions that everyone else hates. It's called state pride, baby. Here are some close-ups, so you can see if you've checked off every location on the list or need to avoid them.
Here's the North:
Here's the South: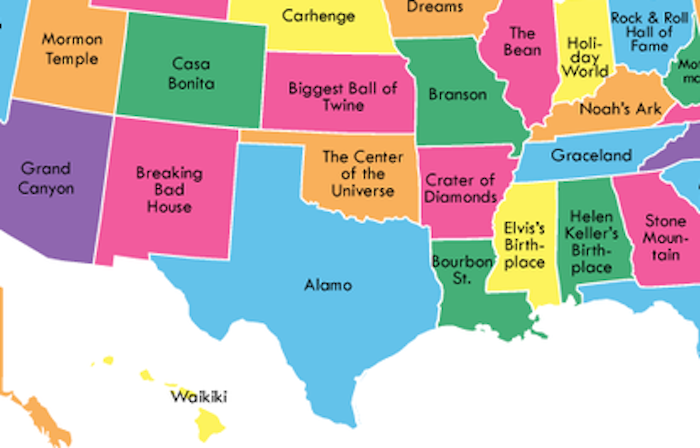 To the East:

And On the West:

Here are some very angry opinions, especially from the people of Illinois, who that anyone insulting The Bean in Chicago is banned from eating deep-dish pizza for life:
I assure you it is not hard to find something worse to visit in Illinois than The Bean

— ゝ( ' o ' )くorigami fruit roll-up (@digilotl) August 21, 2020
I literally can't disagree with any of these. Hollywood (I love these but gotta be honest) for instance is a LITERAL trash can. https://t.co/Y255PqWWRk

— Wʏɴᴛᴇʀ Mɪᴛᴄʜᴇʟʟ (Rᴏʜʀʙᴀᴜɢʜ) (@wyntermitchell) August 22, 2020
The bean the worst attraction in Illinois lmao who made this terrible list https://t.co/5opS3b7o87

— Joey Ingram #passion (@Joeingram1) August 22, 2020
I think this is the only attraction people have ever been to in Arizona. There is no other explanation because the GC might be the only good attraction in AZ.

— Sharskee (@sharskee) August 21, 2020
Not fair for Idaho because their worst attraction is also their best. Accurate most other states https://t.co/gpbhqVdZpI

— 🏴‍☠️ Maddox 🏴‍☠️ (@maddoxrules) August 21, 2020
There's gotta be a worse attraction in MD than Ocean City, which is a pretty par-for-the-course East Coast beach town. https://t.co/EAgkWK2zUd

— Ernie Tedeschi (@ernietedeschi) August 21, 2020
People who have never been to Los Angeles are often under the impression that there is a place to go, called Hollywood, that is an attraction.
The distance between your statement and their expectation is the very reason it's the top of the list.

— Jessica Al(l opinions my own)sberg (@jessicsm) August 21, 2020
Probably why it's such a lame attraction there.

— Ron (@ronfromsandiego) August 21, 2020
Accurate for NY.
But I love Disney. I make no apologies for my Minnie Mouse love. https://t.co/eR1SK9G6te

— Jedediah Bila (@JedediahBila) August 21, 2020
Some of these are accurate but THE GRAND CANYON BEING THE WORST ATTRACTION IN ARIZONA?!

Who are these people?

Few things have taken my breath away as the Grand Canyon did when I saw it as an adult. https://t.co/etzIwiWk9t

— Yashar Ali 🐘 (@yashar) August 21, 2020
Like many Texas schoolchildren, I did school field trip to the Alamo. The whole class was like, "This is it?" I do think historical exhibits can be underwhelming. People lived and did historical things in much smaller spaces back then. Even so . . .

— "All Republicans Are Trump" #ARAT (@HaikuStock) August 21, 2020
I'm only one Chicagoan, but anyone saying the Bean is our worst attraction has never been to Navy Pier https://t.co/K7pHVU7SLb

— Ronell Whitaker (@MisterWhitaker) August 21, 2020
I forgot Carhenge and Cadillac Ranch were two different things and thought "Why is Carhenge nakey??" pic.twitter.com/33du5LrreW

— mbee bIm+acab (@suddenly_mary) August 22, 2020
I don't have any strong opinions about most of these attractions, not even Times Square, which is at least a real experience—a bad one, but memorable! As a tourist, however, I've never felt more baffled or unimpressed and pretty grossed out as I was when I saw the Gum Wall entirely by accident in Seattle. Thankfully, coronavirus has probably made it a health hazard.
More interesting U.S. maps: