If you're lucky, you might one day meet your biggest celebrity hero. If you're very unlucky, you will immediately say the worst possible thing to them. This has happened to an alarming number of people, according to responses to a question presented by Twitter user @rachyymarshall. They actually posed this question long ago, in late 2018, before we knew what this year would hold. I guess we need some quality embarrassing celebrity stories again to get us through the quarantine because it started circulating once more this week
"What is the stupidest thing you've said to a celebrity?" they asked.
People have said all sorts of stupid things to folks they wanted desperately to impress, it's adorable. So many people have said stupid things to Tom Hiddleston I had to start being selective about which ones to include. Maybe the more accessible a celebrity is, the more likely it is that a fan will verbal diarrhea all over them. On the bright side, this puts embarrassing stuff you could say to a celeb in perspective—it might haunt you, but they've definitely forgotten about it.
1.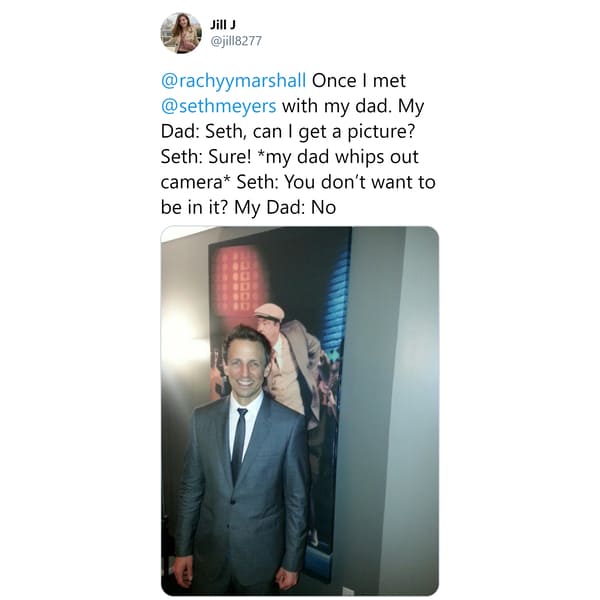 2.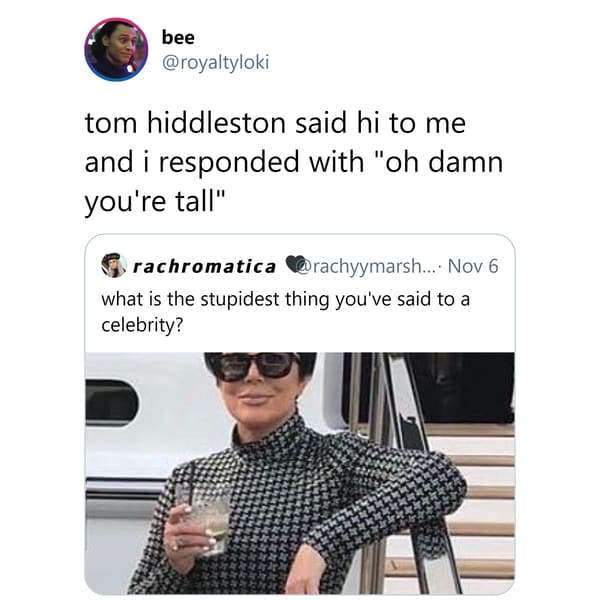 3.
Martha Stewart: "So are you an avid [horseback] rider?"
Me: "What does avid mean?"
WHAT THE FCHSKKS

— sarah (@thismomentxox)
4.
i once told gaga she looked like MARY antoinette (i meant marie) pic.twitter.com/gs6KcSWjRm

— (@rachyymarshall) November 8, 2018
the moment in question and my face says it all at the end pic.twitter.com/nNEgp17Vfk

— (@rachyymarshall) November 10, 2018
5.
I asked Amy Poehler where she gets her ideas from.

She replied, "there's a small well in my backyard guarded by a gnome." https://t.co/Hzn0bCmsiw

— Jarett Wieselman (@JarettSays) May 1, 2020
6.
also kevin said "hi, how are you?" and I said "thanks".

— consuelo (@conscielo) November 11, 2018
7.
Gabrielle Union was with a group of 6 friends. I went up to Dwayne Wade (her husband) and asked for a photo. It wasn't Dwayne. Gabrielle told me to go away. I'm dead serious. Mortified.

— Caroline Shores (@carolineshores) November 10, 2018
8.
When i met camila and lili from riverdale instead of asking for s group hug i said "Could you sandwich me" and everyday i regret that ajdbsks but they laughed and were nice about it so i guess it was okay ‍♀️

— Lexi (@bluejoohoney) November 9, 2018
9.
when my friends and i met chris martin and we were playing one of his songs and he said "nice song" and i looked him in the eye and said "ya thanks"

— ⟭⟬ ellie⁷✨ (@jooniewinklee) November 9, 2018
10.
I asked Monica Lewinsky "where do I know you from?" https://t.co/1mtJQkqHfH

— Philip Ellis (@Philip_Ellis) May 1, 2020