It's hard to get straight guys to do anything remotely feminine. I can't tell you how many bottles of fancy SPF moisturizer I've bought for my exes, only to watch them collect dust on their dresser. Which is why, along with the rest of the internet, I pumped my fist in the air when I saw this boyfriend take his girlfriend's swimsuit request very literally, in the most adorable way.
Twitter user @gisexllee, named Giselle, shared a short story about her very kind and enterprising boyfriend, who we'll call Bikini Babe. Apparently, some clothes she ordered from Fashion Nova arrived their home, and like all of us, she was an anxious to see her new goodies.
"I told my boyfriend to show me pictures of my outfits that I ordered," she wrote, "[but] I for sure was not expecting this."
Giselle included three photos of Bikini Bae, casually posing in her new crop top, biker shorts, leggings, and bikini top, alongside a hilarious text convo.
I told my boyfriend to show me pictures of my outfits that I ordered and I for sure was not expecting this… pic.twitter.com/98gKpOKzvc

— Gigi🍒 (@_asapgigi) July 31, 2019
"Package came," Bikini Babe initially texted her. Obviously, Giselle wanted pics, and he was happy to oblige. Bikini Bae took off his manly t-shirt, and tried on her red, black, and white racer-style crop top and biker shorts.
"They look nice," he says, as though nothing is weird at all. "BABE WTF" she replies, but Bikini Babe isn't done yet…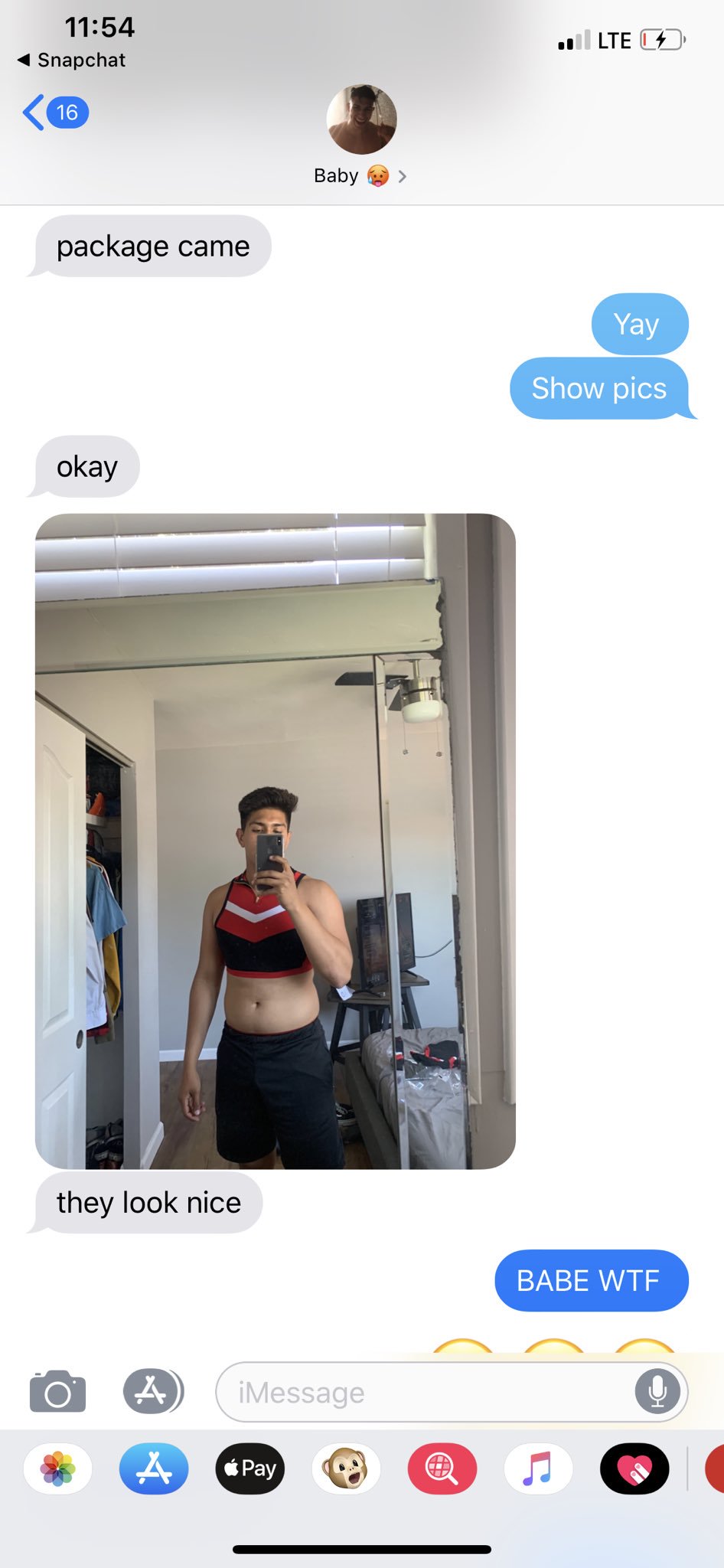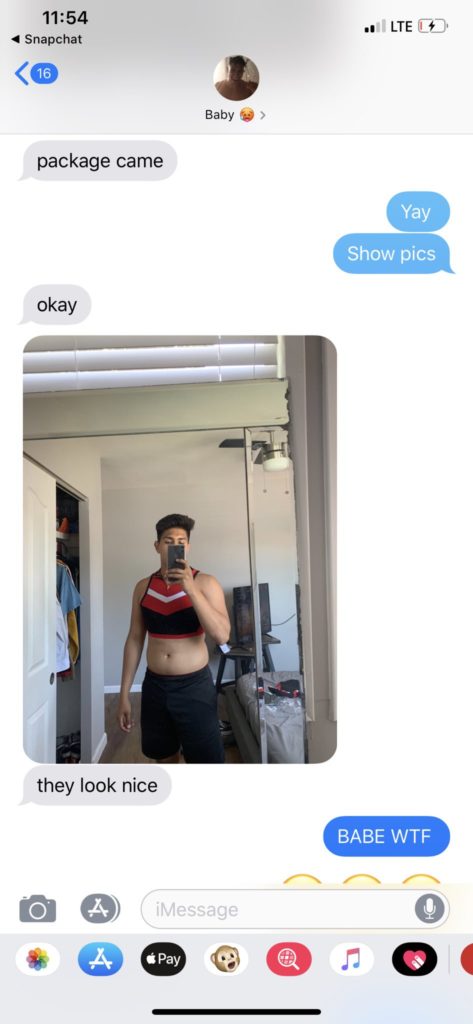 Next, he laces up a checkerboard-print bikini top. With matching leggings, naturally.
Um, he looks kind of…great? Those biker shorts really flatter his figure. And lots of folks on social media agreed: as Giselle's post went viral, commenters wondered if Bikini Babe could be their babe too. Others raised their eyebrow — not because of the gender fun, but because those too-small clothes are getting stretched out on his frame. Which, if I'm being honest, was my first concern.
Single-handedly ended toxic masculinity

— arina 🌙 (@frangipasta) August 1, 2019
First off you stretching my shit out

— GG👑 (@chanellouieysl) August 1, 2019
Those are his outfits now sis. 😂😂

— Taylor 🧜🏾‍♀️ (@TaylorrBrielle) August 1, 2019
Lmao boyfriend of the year. It's hot boy summer 😂😂 pic.twitter.com/q2DS6DE2L7

— ♡Anti🌹Mómì♥ (@Adez_sw) August 1, 2019