Even when it feels like the whole world is falling apart, one good pure thing remains true: Channing Tatum is sexy as hell. While my entire body and face deteriorate, he remains swole and handsome. This beautiful man has reached out to us all via social media and given a wonderful gift, and that's a thirst trap that somehow manages to be tasteful and bucking traditional gender expression at the same time. I love it.
Tatum posted an image of himself as his "inner child" to promote a children's book he wrote called The One and Only Sparkella, which he dedicated to his little girl and the little girl within.
View this post on Instagram
"Guys, I don't know about you but things got a little weird for me in quarantine," he captioned his picture. "I ended up accidentally locking myself in my 7-year-old daughter's room. And I ended up finding my inner child. So this is what I created for my little girl. From what is, I guess, the little girl in me. Thanks for reading."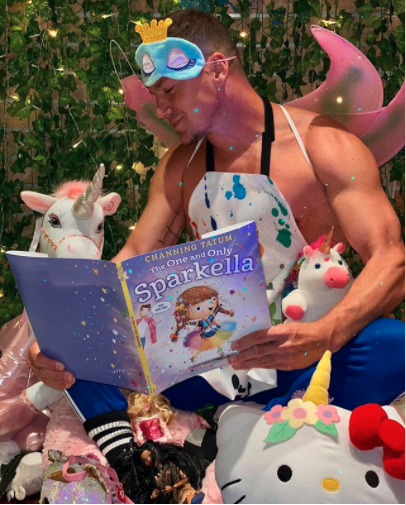 Tatum often posts about his daughter, who does seem to be living a sparkle princess life:
View this post on Instagram
The book's description says it's about a girl named Ella who has a bad first day at school when the kids make fun of her, so she tries to tone down the sparkles. It's a "charming ode to self-esteem and the love between a father and daughter." I'm guessing she learns to shine again with the help of her dad.
That's very nice and cute, but most of us are enjoying these pictures for less wholesome reasons. And as Twitter user @VaVaGloom pointed out, Tatum is clearly holding an empty book sleeve for his fake unicorn daughter:
a beautiful himbo angel, look at him 🥰 he's reading an empty book sleeve, an inspiration to himbos everywhere https://t.co/gFr4jfn5VV

— ladies.ladies.ladies.ladies (@VaVaGloom) August 31, 2020

It may be the perfect image:
Oh to be a fluffy unicorn in Channing's arms pic.twitter.com/PiXJs7sQUZ

— Lav n' dur 💀👻 (@ViolentLavender) September 1, 2020
yes

— rock lee stan account (@mdizzle2017) September 1, 2020
It's this one for me pic.twitter.com/ciezWX9hzL

— i'm 6'2" (@ym_cmb_) September 1, 2020
Thank you, Channing Tatum, for giving me back my self-esteem. Self-esteem is when you thirst-reply tweet to a famous actor, right?
More celebrity thirst traps: