I mostly associate Martha Stewart with three things: her amazing home decor. Spending time in prison. And how surprisingly funny she was at the Comedy Central roast of Justin Bieber.
Oh, also that VH1 show she did with Snoop Dogg, where it was heavily implied that they were getting baked while baking? So four things. I guess I know four things about her.
Anyway…
One thing I definitely do not associate her with is thirst traps, but that's on me apparently. I mean, just look at her as a young woman:
But let's not even talk about how young Martha could get it. Let's talk about how 2020 Martha blew up on Instagram this week.
Now, look, the year is 2020, and all we have right now are thirst traps. Martha Stewart also has a gorgeous pool to quarantine in, so naturally, she'd take a picture of herself getting all sexy in that pool.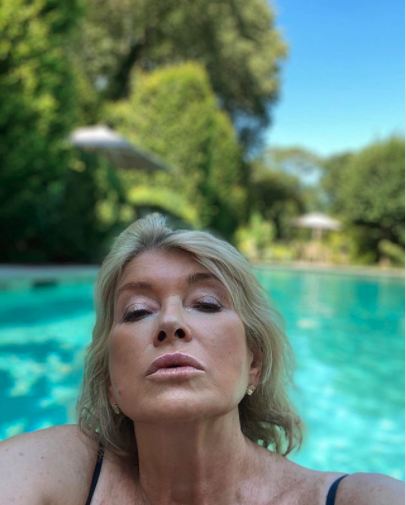 And here it is, duck lips and all:
View this post on Instagram
She captioned it:
My pool in East Hampton is the place to be on a 89 degree day! When I built the pool thirty years ago it was designed to be as chlorine free as possible, with a natural concrete finish-no paint- and it fit in a long narrow space between the house and the property line. I made it extra deep for diving and with no protruding steps so we could really race the length without worrying about obstacles. After all these years, It is a fun place to swim!!!
The caption is a bit more informative and neutral than the picture.
People were seemingly shocked that Stewart would drop this on main. So shocked, they felt the need to comment on it, like Chelsea Handler.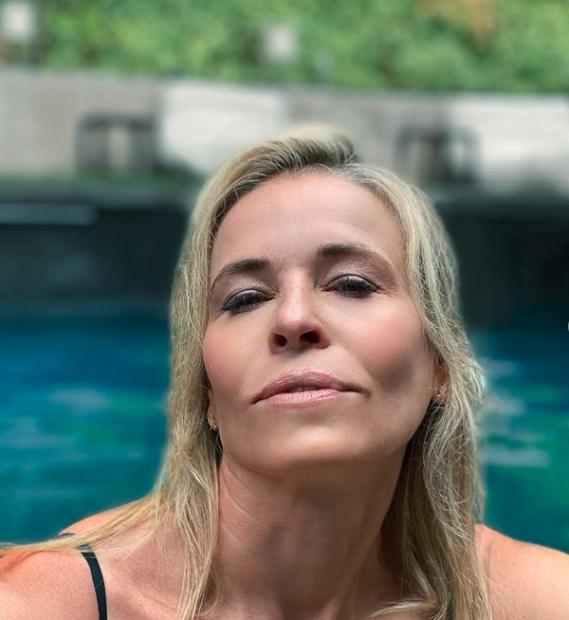 Handler posted a pic that mimicked Stewart's on her Instagram, writing, "I'm here to take @marthastewart48's swimming lesson. If I look this good at 78 I better still have a pool to show myself off in."
View this post on Instagram
Martha Stewart saw the post and responded. If, like me, you remember her roast of Justin Bieber, you knew what was coming. She torched Handler so hot her pool probably steamed away.
"Dear Chelsea, I'm so happy that you liked my post well enough to emulate it," she commented. "I do think my pool is a little bit prettier than yours and that my facial expression is a little bit more relaxed. Nevertheless you are a beautiful girl and F—KING too young to be emulating me. Continue with your comedy, your humor, and your amazing ability to gather around you political liberals. We need it! Love Martha."
Yowza!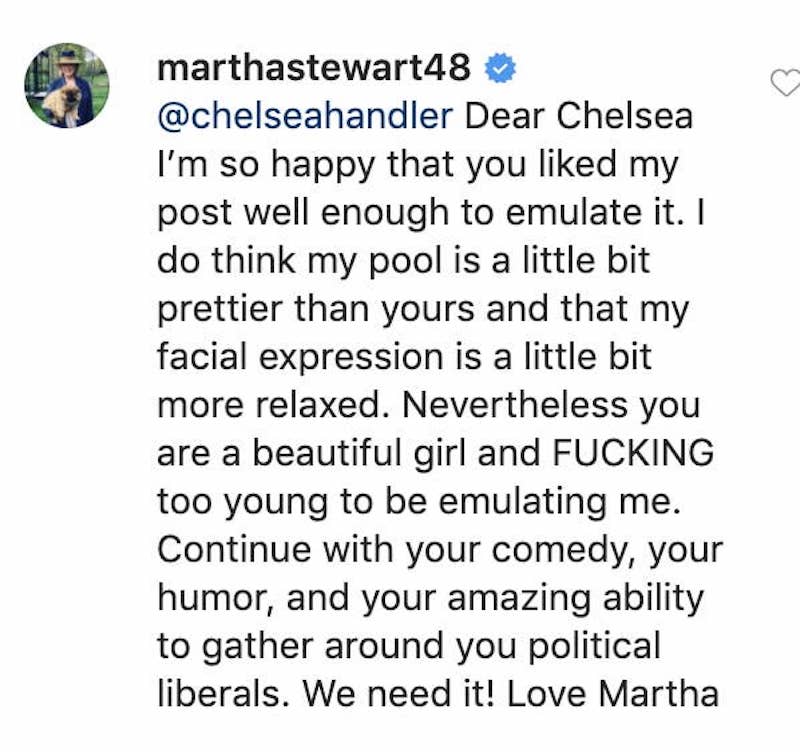 And people were…amazed. Including Antoni, of Fab Five Fame: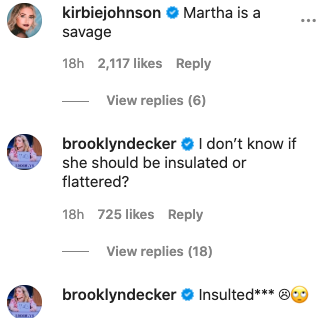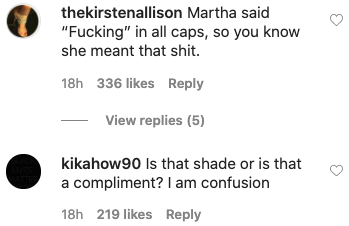 Don't ever try to one-up Martha Stewart. Her business is being the best.
More of the best celebrity clapbacks: